If you're a Montessori parent or teacher, you know how challenging it is to have the necessary information and high-quality printables that are so helpful for teaching young children. I'm hosting a number of awesome free Montessori downloads from KHT Montessori for parents and teachers. They're all instant downloads except for the 177-page geography album, which is free to my newsletter subscribers.
Note: This post is always updated with my latest KHT Montessori post.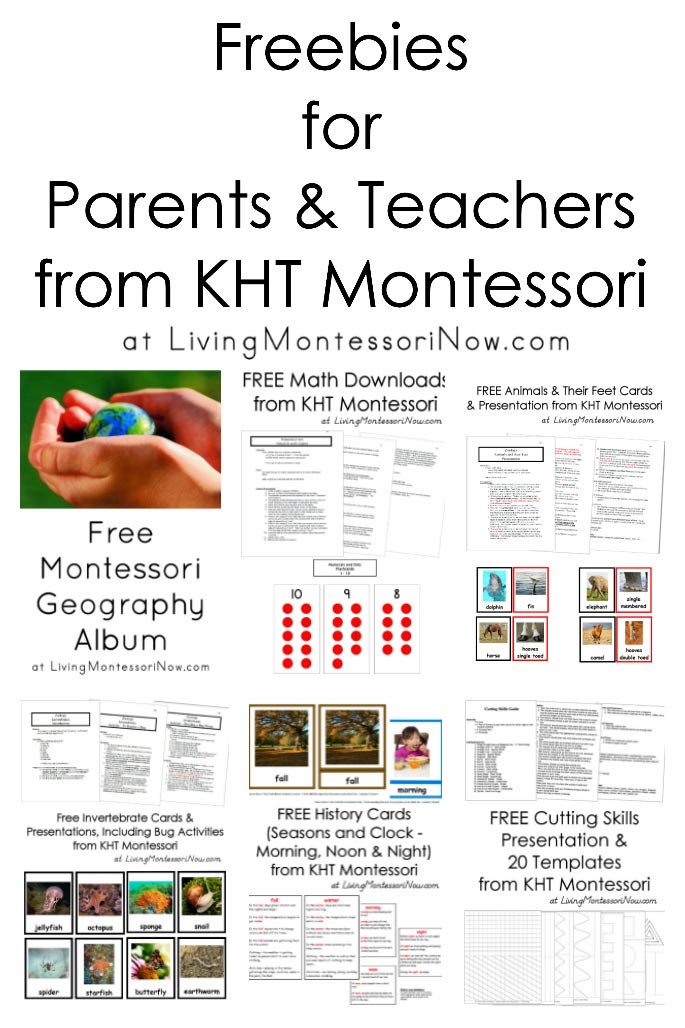 Free KHT Montessori Geography Album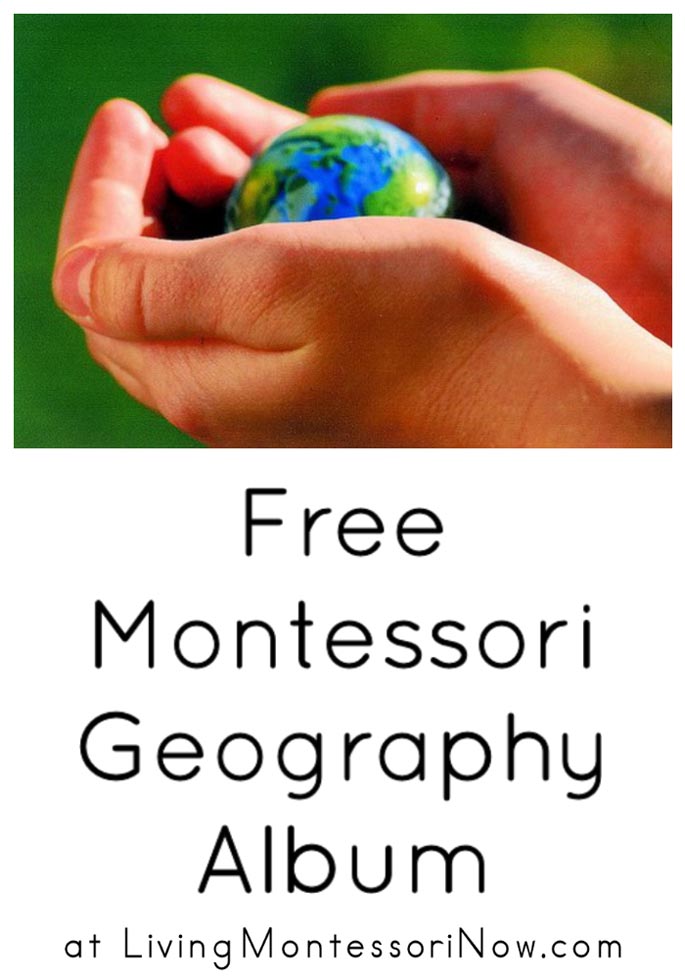 You'll get the entire 177-page KHT Montessori geography album if you simply sign up for my newsletter! You can also read more about my experiences with KHT Montessori in this post. I highly recommend Karen's KHT Montessori training! It's great for all sorts of people, including homeschoolers, Montessori teachers who want to refresh their training, and preschool teachers who'd like to add Montessori activities to their preschool classrooms. Karen also has all the details at KHT Montessori. 
Free 73 Pages of Physical Science Lessons from KHT Montessori 
You can get 73 pages of physical science lessons from the KHT Montessori Physical Science Album free in an instant download!
Free History Album (First Half) from KHT Montessori
You can get the whole first half of the history album from KHT Montessori for free in an instant download!
Free Astronomy Cards from KHT Montessori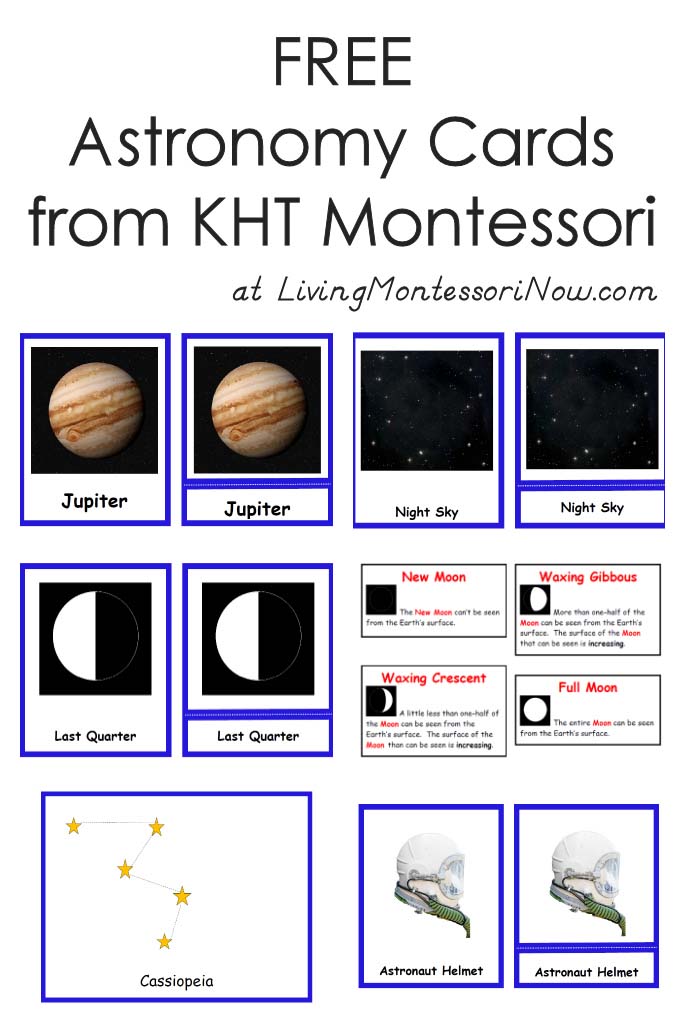 You can get free astronomy cards (instant download) from KHT Montessori. The printables includes universe and solar system cards, phases of the moon cards, constellation cards, day and night sky cards, and space travel cards.
Free Cutting Skills Guide and 20 Templates from KHT Montessori
You can get a free cutting skills presentation and 20 templates (instant download) from KHT Montessori. The printables include presentation suggestions and 20 printable cutting templates in a zip file that's one easy download.
Free Absorbent Mind Resources from KHT Montessori
You can get free resources and information about the absorbent mind (instant download) from KHT Montessori.
Free History Printables (Seasons and Clock – Morning, Noon and Night Cards and Presentations) from KHT Montessori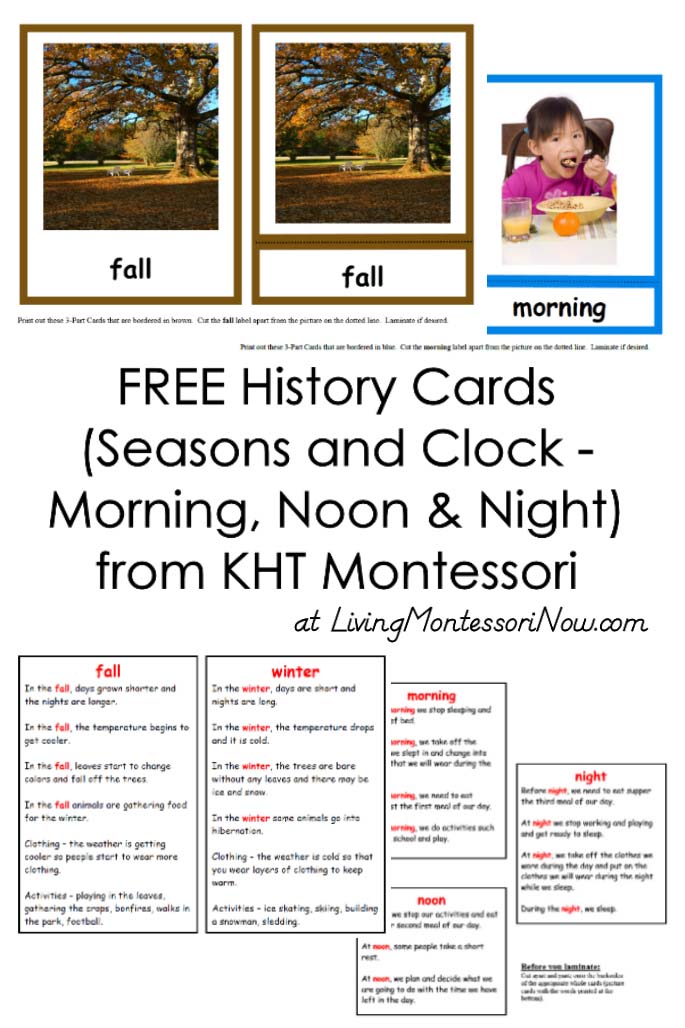 You can get free history – seasons and clock cards (instant download) from KHT Montessori.The printables include presentation suggestions and descriptions for the backs of the whole cards.
Free Invertebrate Cards and Presentations, Including Bug Activities from KHT Montessori

You can get free invertebrate cards and presentations, including bug activities (instant download) from KHT Montessori. These instant downloads have two great zoology printables.
Free Animals & Their Feet Cards & Presentation from KHT Montessori
You can get free animals and their feet cards and presentation (instant download) from KHT Montessori! This instant download is a printable with 7 animal cards and 7 animal feet cards along with preparation and presentation directions.
Free Math Downloads from KHT Montessori
You can get free math downloads (instant download) from KHT Montessori! The numerals and counters presentation from the math album along with printable numerals and counters cards can be used as a first introduction to Montessori numerals and counters.
KHT Montessori Course Schedule for 2019
ENROLLMENT OPENS 60 DAYS PRIOR TO THE START DATE. 
HERE ARE THE 2019 START DATES FOR THE KHT 12 MONTH ONLINE CERTIFICATE COURSES:
– FEBRUARY 25TH 2019
– APRIL 22ND 2019
– JULY 15TH 2019
– SEPTEMBER 9TH 2019
– DECEMBER 2ND 2019
The Structure of the KHT Montessori Online Course with Class Forum Example and 12-Month Syllabus
If you wonder about how the course is structured, check out this information by Karen Tyler about the forum based classroom: "Let's be honest here, most of us are very busy with family, outside jobs, etc.  We also all live in many different time zones.  Most "virtual class rooms" require you to log in at a specific time to be part of a live webinar/class. Self-paced online programs do not offer the personal direction and discussion with a teacher nor classmates.  We have created a Forum Based Classroom that can be accessed any day of the week any time day or night. You can log in on your schedule and read the lectures, ask questions, join in on the discussion and I check in daily to reply and keep the class moving forward. It is the benefits of a live classroom but on your schedule!"
You can see an example of the forum (answering the question: "Is Montessori education rigid?") here. (Click on the forum image to see it at full size.)
You can download the 12-month KHT Montessori Online Course Syllabus here.
More about the KHT Montessori Online Certificate Program
You'll find lots more information about what's included in the KHT 12-month online course in this post.
Giveaway – KHT Montessori Online Course and 12 Albums (ARV $330)! The giveaway is now closed.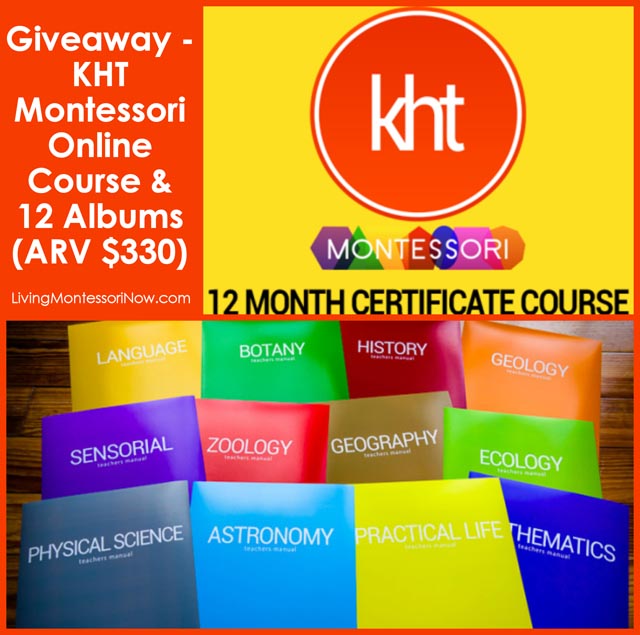 What You Will Win: Karen Tyler's Complete Montessori Training Course that starts April 30 AND the 12 Montessori teacher training albums/manuals that are full of curriculum!!! (ARV $330)
Who is Eligible:
This giveaway is open to anyone 18 and older worldwide. The first entry is mandatory. You must leave a blog post comment telling why you want to win (and be sure to say you did that on the Rafflecopter form)! After you've completed your mandatory entry, there are lots of optional entries. You have many chances to win! (Note: For the extra entries, you may count ways of following that you already do. For example, if you previously followed @DebChitwood on Twitter, you may still count that for your "follow @DebChitwood on Twitter" entry!)
It's easy to enter giveaways with Rafflecopter! Just follow the directions to enter.If you still have questions about the Rafflecopter form, here's a video with quick directions for entering through Rafflecopter. (Note: If you have problems with the Rafflecopter form, you can sign up on the Rafflecopter form at the Living Montessori Now Facebook page. Just be sure to leave your blog comment here! Both Rafflecopter forms are the same, so it doesn't matter which one you sign up on.)
You must complete the Mandatory Entry to qualify for any additional entries. The giveaway closes 9:00pm PST on Tuesday, April 24.  
Best of luck!


a Rafflecopter giveaway

UPDATE:
It's Wednesday morning, April 25. I really appreciated all the comments and 1,015 entries. A winner has been selected using Random.org through Rafflecopter!
The winner of the $330 KHT Montessori Online Course with 12 Montessori Teachers' Manuals is Michelle M from Equador!
I'm so happy for Michelle, who had multiple entries! (Note: Michelle, you have 48 hours to respond to my email, or a new winner will be chosen.)
The comment for Michelle's mandatory entry (why she wanted to win the online training course) said:
"I would love to win this giveaway. Where I live it is difficult to get montessori training and I have heard great things about this course."
CONGRATULATIONS, Michelle!!! Thank you SO MUCH to KHT Montessori for sponsoring this awesome giveaway – and thank you to everyone who entered! Note: A new KHT Montessori course starts April 30!
And, always, thanks so much to all my blog sponsors!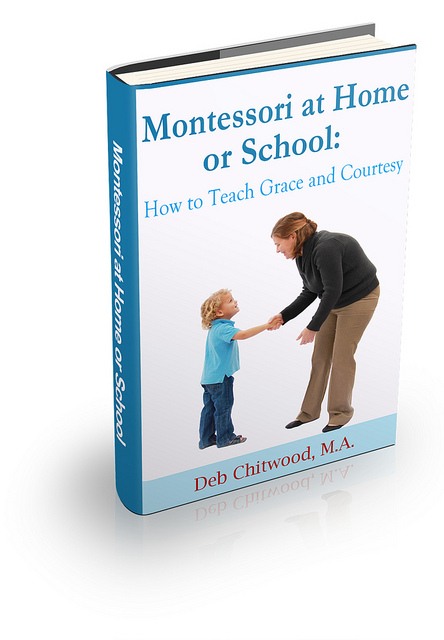 Learn more about my eBook Montessori at Home or School: How to. Teach Grace and Courtesy! I'm also one of the coauthors of the book Learn with Play – 150+ Activities for Year-round Fun & Learning!
The Montessori at Home! eBook and Montessori at Home! eBook and Materials Bundle are AMAZING resources! You can learn more about them here. Buy them in the Living Montessori Now shop.
If this is your first time visiting Living Montessori Now, welcome! If you haven't already, please join us on our Living Montessori Now Facebook page where you'll find a Free Printable of the Day and lots of inspiration and ideas for parenting and teaching! And please follow me on Pinterest (lots of Montessori-, holiday-, and theme-related boards) and Twitter (blog posts by me and others along with the Parent/Teacher Daily and other interesting information). You can find me on bloglovin', Instagram, and YouTube, too.
And don't forget one of the best ways to follow me by signing up for my weekly newsletter. You'll get awesome freebies  in the process!