My 2-year-old granddaughter, Zoey, has been in love with the moon for quite awhile now. I wanted to help extend that interest. So I've gathered some Montessori-inspired moon activities that work well for toddlers or preschoolers.
Disclosure: This post contains affiliate links (at no cost to you).
Observing the Moon
Zoey has the most contagious excitement about seeing the moon! So, of course, we have to look for the moon each night. We sometimes even look during the day. Talking about moon phases has already become a long-running activity of ours.
Moon Shelf for Toddlers and Preschoolers
I often use tabletop easels to display the books we're focusing on at the moment. If you have book displays that allow your featured books to face forward, that's great, too. Or you might place your featured books in book baskets if you don't have room on your shelf.
Pocket Hugg-A-Planet Earth and Moon – 2 Piece Bundle Set
We had been using an old National Geographic beach ball globe, so I wanted to get something a bit more current for our globe. With Zoey's love of the moon, I thought the Pocket Hugg-A-Planet Earth and Moon would be a nice choice for her. I like that the moon can be stored in the planet earth's pocket. It's a snuggly set that can be used for babies or toddlers and can be a fun toy when Zoey plays catch with her grandpa. So it's a perfect addition to our Montessori-friendly home.
Montessori-Friendly Moon Books for Toddlers and Preschoolers
We used the The Earth and Sky (A First Discovery Book). This is the main book with the solar system that I kept from when my kids were little because the information has changed. But the transparent overlays in this series are very appealing (and Zoey absolutely loves them). So I just change the information on the one page about the planets. On Amazon, there are complaints about the moon phases description, so you can easily change that part when you read it. With a toddler, you generally won't read all the words anyway. And you can get the book for $0.01 plus $3.99 shipping. Zoey has loved these books since she was a young toddler, so I don't mind correcting a couple bits of information.
Otherwise, my main focus right now was on some books made with free printables. Zoey loves handmade books, and these were very easy to put together. Zoey adores the moon phases mini book, a free printable from 123 Homeschool 4 Me. It's a super-cute idea … an 8-page pocket book that only requires cutting and folding a one-page printable on regular printer paper.
I also printed out two free books: My Moon Book and My Phases of the Moon Book from A Day in First Grade. To keep the books Montessori-friendly, I didn't attach the last page of My Moon Book because of the smiling moon. Zoey liked both of the books.
Which moon books you choose to buy or get from the library will depend a lot on the age of your child. Of course, if you have a toddler, you can't skip the classic Goodnight Moon, even though it isn't "Montessori friendly." Yes, it does have unrealistic images like the cow jumping over the moon and "3 little bears sitting on chairs." But it's too beautiful to pass by. And Zoey loves to laugh at the cow jumping over the moon and say, "That's silly."
Moon Orbiting the Earth Activity for Toddlers and Preschoolers
We used the Pocket Hugg-A-Planet Earth and Moon for Zoey to demonstrate the moon orbiting the earth. Zoey loved to have us take turns holding the moon while we walked around the earth. Because of Zoey's age, I didn't focus on where our orbit was or that it needed to be an elliptical shape. We just focused on the concept that the moon orbits the earth and reflects light from the sun.
More Moon Activities and Resources for Toddlers and Preschoolers
A Goodnight Moon unit is lots of fun for toddlers and younger preschoolers.
Montessori-Inspired Moon Unit, my roundup post, has many activities that would work especially well for a moon unit for older children while younger children have a Goodnight Moon unit.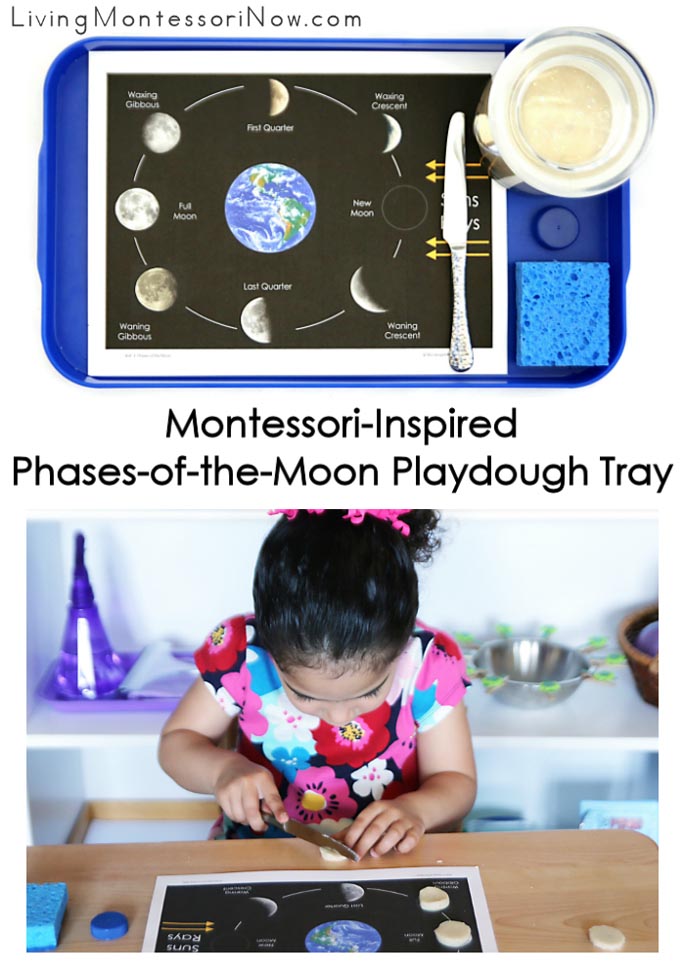 We love our Montessori-inspired phases-of-the-moon playdough tray!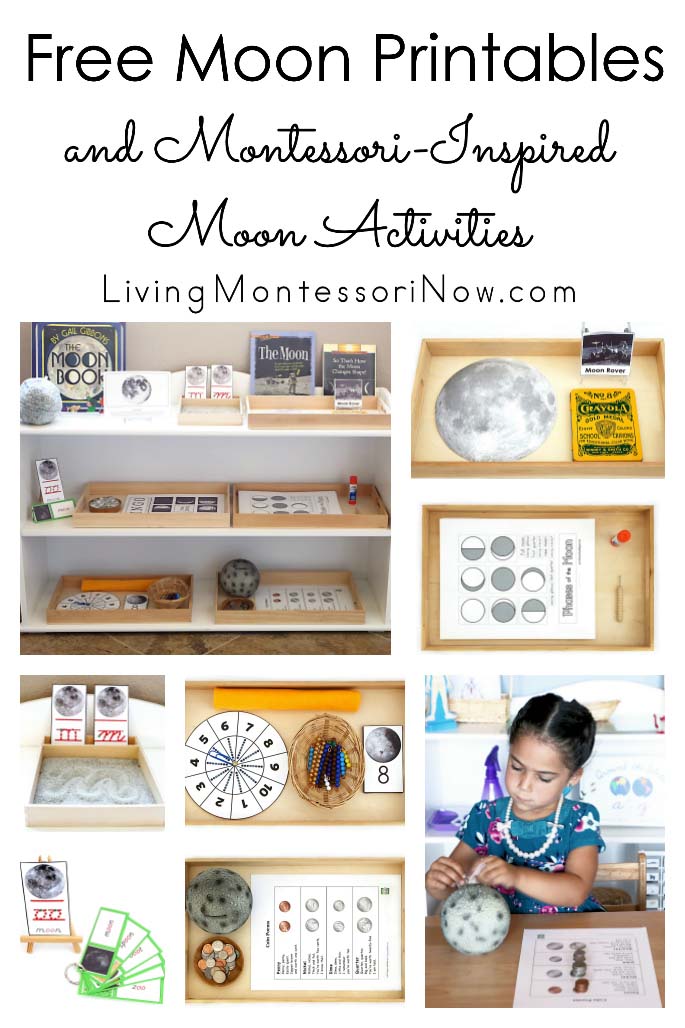 My Free Moon Printables and Montessori-Inspired Moon Activities post has lot of great printables and activities for a moon unit.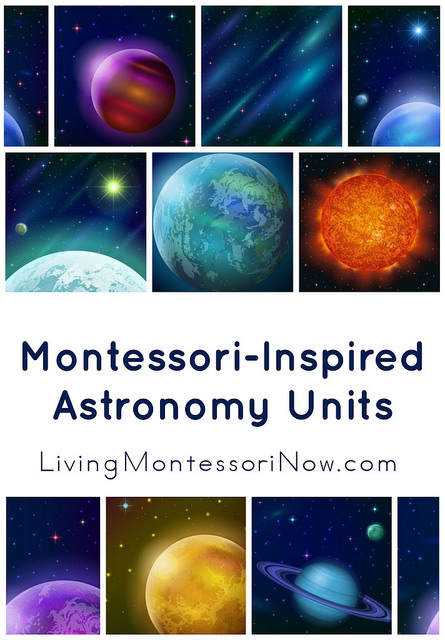 You'll find links to all my Montessori-inspired astronomy units in this post.
You'll find more great moon activities (and other astronomy activities) in the links below!
This post is part of the 12 Months of Montessori Series!
12 Months of Montessori Series – Astronomy
Do you have a favorite moon book or activity for young children?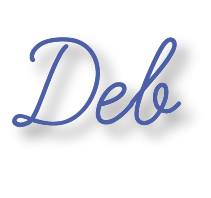 Learn more about my eBook Montessori at Home or School: How to. Teach Grace and Courtesy!
If this is your first time visiting Living Montessori Now, welcome! If you haven't already, please join us on our Living Montessori Now Facebook page where you'll find a Free Printable of the Day and lots of inspiration and ideas for parenting and teaching! And please follow me on Instagram, Pinterest (lots of Montessori-, holiday-, and theme-related boards), and YouTube. While you're here, please check out the Living Montessori Now shop.
And don't forget one of the best ways to follow me by signing up for my weekly newsletter. You'll receive some awesome freebies in the process!