It's time for some fun calendar observances for educators and families … Dr. Seuss's birthday is March 2 and Montessori Education Week is often the same week! Many families and educators are also celebrating Dr. Seuss's birthday all week.
If you're a strict Montessorian, you might not like all the fantasy in Dr. Seuss books. If you're an eclectic Montessorian like me, though, you can love both Dr. Seuss books and Montessori education. Many Montessorians and Montessori schools are celebrating Dr. Seuss's birthday as well.
I think Dr. Seuss's birthday can be made even better by adding a touch of Montessori. Here are some ideas for using Montessori principles when creating activities for a Dr. Seuss celebration with preschoolers (imagination plus Montessori!):
General Ideas for Using Montessori Principles to Make Activity Trays
1. Try to create hands-on activities. There are often ways you can make activity sheets into hands-on activities.
2. Put the materials for each activity on a tray on a low shelf in the appropriate area (language activities on the language shelf or language area on your shelf).
3. Show your child how to use the activity.
4. Allow your child to use the activity as long as he or she wants (great for improving concentration) and to repeat the activity as many times as he or she wants (important for fulfilling the needs of your child's sensitive period).
5. Have your child put the materials back on the tray and return the tray to the shelf when your child has finished using an activity.
Dr. Seuss Ideas Using Printables from Seussville.com
Disclosure: This post contains affiliate liks (at no cost to you).
Here are just a few ideas on how to use Montessori techniques to convert the whimsical printables from Seussville into activity trays. I'd recommend standing the corresponding book on the shelf next to the tray for added interest.

The following ideas use the  Hop on Pop language printables . These are especially good for young readers. Even if a younger preschooler is able to read, converting activity sheets into hands-on activities helps young readers meet the needs of their sensitive period and developmental needs that an activity page might not.
"Pup and Cup" Printable: The above photos are of an activity created from this printable. You can make a hands-on activity that can be used many times rather than an activity page in which your child underlines the word "cup." If this is for a homeschool and used for a short time, you could print the page on glossy photo paper to avoid the time and expense of lamination. I simply printed out the cards, cut them apart, and added cups and a miniature toy dog. You could use whatever type of miniature dog you might have. Your child sounds out each phrase phonetically and places the dog and cups in the appropriate position. For a younger child, you could print out two pages and make 3-part matching cards. Here's an article with more information on 3-Part Cards from Montessori Print Shop.
"This or That?" Printable: For this activity page, you could use movable alphabet letters if you have them or else any letters (preferably lower-case) in which the consonants are red and the vowels are blue (if you want to be consistent with the Montessori movable alphabet). Have enough letters available for your child to spell the words hat, cat, and bat. Your child can sound out the word matching the picture and spell the word with the movable alphabet letters next to the page rather than crossing out the word that doesn't belong on the activity page.
"All and Tall" Printable: This activity would be best for a child who has been introduced to "all," so this wouldn't be as good for beginning readers who are just starting to sound out 3-letter phonetic words with short-vowel sounds. Instead of having your child underline the all's, you could make an activity tray by cutting apart the sentences and pictures. Then your child could read each sentence and match it to the appropriate picture. There's a control of error because the sentence and picture at the end won't match if your child makes a mistake.
Activities from Other Blogs Combining Dr. Seuss and Montessori Principles
Here are some fun ideas to celebrate Dr. Seuss's birthday:
Happy Belated Birthday Dr. Seuss from Montessori Mama
More Dr. Seuss from Montessori Mama
The Dr. Seuss Creature Creator from LaPaz Home Learning
UPDATE: Seuss-y School from The A-Priori Mommy has Montessori-inspired Dr. Seuss activities.
Montessori-Inspired Dr. Seuss Activities has lots of activities from 2012 and beyond.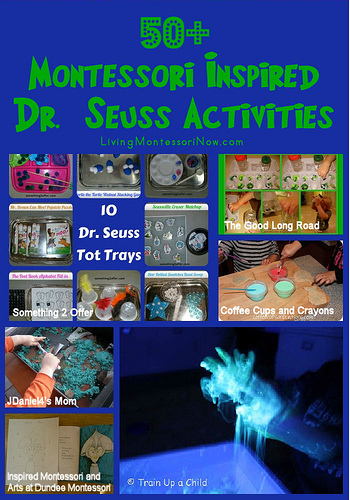 See 50+ Montessori-Inspired Dr. Seuss Activities for a huge roundup!


Have fun thinking of how you can make Dr. Seuss's birthday even better by adding a touch of Montessori!
Linked to AfterSchool Linky Party, What's on the Tray Wednesday, The Mommy Club Resources and Solutions at Milk and Cuddles and Crystal & Co. , Thrifty Thursday, Living Life Intentionally Linky Party, Preschool Corner, Fun Frugal Friday, Show-and-Share Saturday, The Sunday Showcase at Mom to 2 Posh Lil Divas and Classified: Mom, Link & Learn, and Virtual Book Club for Kids