Many people think golf is only for the wealthy. Actually, the game of golf can be accessible to many through affordable golf programs run by towns and cities. You can often even find free putting greens. Golf is a great activity for children as young as preschoolers (it doesn't have to be played competitively). And a golf unit can be especially fun in the summer (maybe around Father's Day if you have a father in the family who loves golf)!
Today, I'm sharing lots of resources for a golf unit: golf activities and free golf printables, including our new Montessori-inspired golf pack (subscriber freebie)! In addition to our new golf pack, I have a special instant download from The Montessori Company with a hand-painted golf culture card!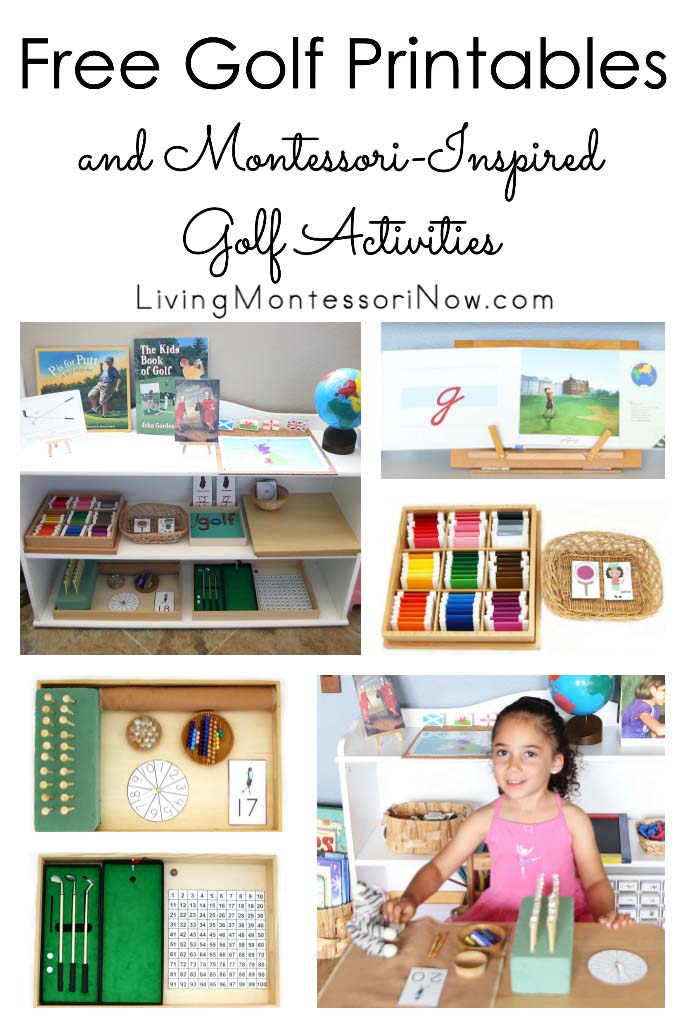 The links are for free golf printables for preschoolers through 1st graders. I don't share coloring pages unless a page has a specific educational purpose related to golf. There aren't a lot of free golf printables available for preschoolers through first graders. If you have one that I missed, let me know in the comments!
Disclosure: This post contains affiliate links (at no cost to you).
Montessori Shelves with Golf-Themed Activities
My shelves with golf-themed activities include a free golf culture card designed by The Montessori Company. You'll also find Montessori-inspired golf numbers, letters, and and more (part of my subscriber freebie pack, so just sign up for my email to get the link and password … or check the bottom of your latest newsletter if you're already a subscriber)
I always have related books available throughout a unit. On my top shelf, I have P is for Putter and The Kids Book of Golf. These books are both Montessori friendly and work well for a variety of ages.
You could mix your golf-themed activities among your shelves according to curriculum area. Or you could have a special golf-themed area something like the one pictured. My shelves this month have a mixture of skill levels. Many of the activities can be adapted for a variety of levels. If you're a homeschooler, just choose the activities that work for your child's interests and ability levels. If you don't have room for all the activities you'd like to do, simply rotate them.
Golf Culture Card with P is for Putt Book

I love the alphabet series that includes P is for Putt: A Golf Alphabet by Brad Herzog. These books are written for a much wider age range than most alphabet books. There's a short verse related to the letter on each page that's perfect for even young preschoolers. Then there's much more information related to each letter's word for elementary-age kids.
I'm happy to share with you this golf culture card from The Montessori Company. I'm hosting the free printable as an instant download at Living Montessori Now. You can always access the free golf culture card here.
The description says: "Golf is a sport played by hitting a small hard ball down a grassy course into a small hole. There are usually nine or eighteen holes."
Scotland and Golf Materials
The origins of golf are unclear, but the modern day game is widely accepted to have originated in Scotland. The Kids Book of Golf has some information about Scotland's origins in Scotland.
Free Printable: 18th Century portrait of The MacDonald boys playing golf by Jeremiah Davison
Free Printable: Four Countries of the United Kingdom Template from Presentation Magazine.
You can read more about Scotland and my Four Countries of the United Kingdom Pin Map here.
Free Printable Flags: You can get free flags for England, Scotland, and Wales from Wikipedia. I've seen both the England flag and the United Kingdom flag used as the flag of England. You'll have to decide which one you want to use. The Northern Ireland flag is also available from Wikipedia. The official government flag of Northern Ireland is actually the Union Flag or Union Jack (the flag for the United Kingdom). But I used the unofficial flag, which is often used for sporting events, to represent Northern Ireland as a separate country. Size the flags in your printer as needed.
I included the Montessori continents globe for added geography work related to Scotland.
Book Basket
My 4½-year-old granddaughter, Zoey, loves the Maps book. We used it to discuss Scotland. Golf by Cari Meister is a Montessori-friendly beginning reader that uses photographs, introduces the rules of golf, and encourages kids to play golf. In another book basket, we have Curious George Plays Mini Golf. It isn't a Montessori-style book, but it's a cute beginning reader for Curious George fans.
Golf Cursive G Work
Free Printables: Golf Bag Letters for golf writing tray (part of my subscriber freebie pack, so just sign up for my email to get the link and password … or check the bottom of your latest newsletter if you're already a subscriber)
On a different shelf, I have the cursive g font card along with the Montessori book Around the World from a to z. Zoey loves this book, and I love that it uses tactile cursive letters and sports themes around the world. Here I have it open to the g for golfing in Scotland pages.
Golf Color Matching for Montessori Color Box 2 or Color Box 3
Free Printable: Tee-ing off with Colors 2-Part Cards by The Treasured Schoolhouse at Teachers Pay Teachers. I didn't use the tan cards from the set. I also used "gray" instead of "grey" and "purple" instead of "violet."
I used Color Box 3 for this work along with a Montessori Services basket. For homeschool use, I don't purchase Color Box 2 but use a DIY version of color tablets. (I use the free printable color matching cards from Montessori Services.) You could use a DIY version for Color Box 3 as well, which I've often done.
This can easily be used at more than one level. Younger children could simply match the card with the colored golf ball to the appropriate color tablet. For children working with color grading, you could have a setup like the one pictured. The child can choose the shade of color tablet that most closely matches each printed golf ball.
Children who can read can match the color tablet, colored golf ball card, and card with the appropriate color name.
G is for Golf Salt Tray and Movable Alphabet Work
Free Printables: Golf Cart Letters for golf writing tray (part of my subscriber freebie pack, so just sign up for my email to get the link and password … or check the bottom of your latest newsletter if you're already a subscriber)
For the salt tray, I used the wooden tray from the Melissa & Doug Lace and Trace Shapes. You can use whatever tray or container work best for you, though. I added the golf club from the Montessori Services language objects as an object of interest and as a unique writing tool. I also used letters from the small wooden movable alphabet to spell "golf."
For the movable alphabet work, I used a traditional small wooden movable alphabet and the golf movable alphabet. You could use Montessori Services language objects as words for spelling with the movable alphabet. For children working on their phonetic sounds, a variety of /g/ objects could be used in an object basket. You could also use the golf movable alphabet for matching with the regular movable alphabet or sandpaper letters or having your child find the matching letter when you read a book such as P is for Putt.
If you would like help with introducing phonetic sounds, introducing objects with sounds, or beginning phonics in general, check out my DIY Beginning Montessori Phonics with Preschoolers.
Matching Teen Numerals with Golf Tees, Marbles, and Bead Bars (with Variation for Younger Children)

Free Printable: Golf Numbers (part of my subscriber freebie pack, so just sign up for my email to get the link and password … or check the bottom of your latest newsletter if you're already a subscriber)
This activity uses a piece of felt for a table mat (I used the Montessori Services felt table mat) and bead bars from the decanomial box in a Multicraft tray and a Bambu condiment cup (what I used here) or Montessori Services basket. (My bead bars, which I love, are from Alison's Montessori. You can get bead bars on Amazon, although I haven't personally used materials from those companies.) I placed 20 golf tees in florist's foam. I also added 20 small clear marbles to represent golf balls.
For the activity, you could start with a column of 10 marbles on golf tees and then spin the spinner to find the units. (See my post on how to make a paperclip spinner that spins easily.)
This is a great activity for fine-motor coordination as well as working with teen numbers. The child then places the necessary number of marbles on the golf tees and finds the matching bead bars plus the matching number card. (Yes, at home, you can have stuffed animals join in the work!)
For younger children, you could use a variation of this with the number cards 1-10, 10 marbles, and the 1-10 spinner.
Miniature Golf Putting Game with Hundred Chart

Free Printable: Basic Counting Hundreds Chart from Math-Aids.com
I used a Multicraft tray golf pen/club set with putting green, and small glass gem as the game piece. This golf pen set could be a fun Father's Day gift, too! Zoey loved this set! Not only did she want to test out each of the golf clubs, but she had to draw with each of the pens.
My son-in-law, Tom, is a golf coach. He liked the set, too! He did say the putting green is slow, though.
This activity could be played with one person or as a cooperative game. I have the child hit the ball with the putter until it goes in the hole. Each time the ball goes in the hole, the game piece is moved along with hundred chart until 100 is reached. Two or more children (or a child and adult) could take turns hitting the golf ball and moving the game piece. The game could take place over a number of days, too.
Free Golf Printables for Preschoolers-First Graders
Montessori-Inspired Golf Pack for DIY Cards and Counters, Number or Letter Matching, Number or Letter Basket, Bead Bar Work, Hands-on Math Operations, Number or Letter Salt/Sand Writing Tray, Letter Tracing, DIY Movable Alphabet, and Creative Writing (subscriber freebie, so just sign up for my email to get the link and password – or check your inbox if you're already a subscriber)




More Golf Activities and Resources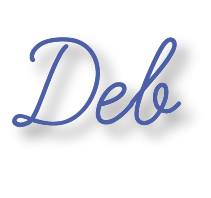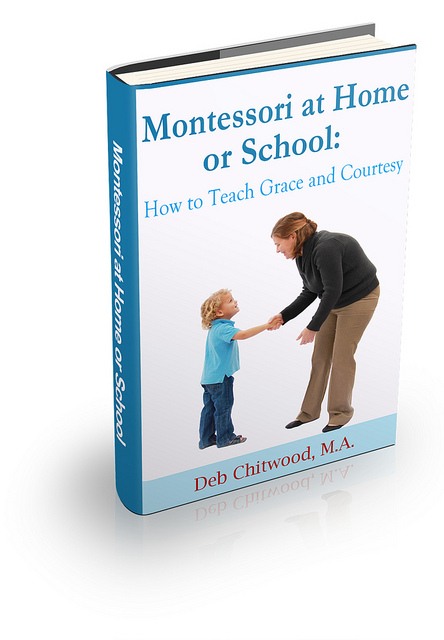 Learn more about my eBook Montessori at Home or School: How to. Teach Grace and Courtesy!
The Montessori at Home! eBook and Montessori at Home! eBook and Materials Bundle are AMAZING resources! You can learn more about them here. Buy them in the Living Montessori Now shop.
If this is your first time visiting Living Montessori Now, welcome! If you haven't already, please join us on our Living Montessori Now Facebook page where you'll find a Free Printable of the Day and lots of inspiration and ideas for parenting and teaching! And please follow me on Pinterest (lots of Montessori-, holiday-, and theme-related boards), Instagram, and YouTube. You can find me on bloglovin' and Twitter, too.
And don't forget one of the best ways to follow me by signing up for my weekly newsletter. You'll receive some awesome freebies in the process!