Black history is an important topic in my family, and I have Black history books available throughout the year. My two granddaughters are part Black. I want to help them understand and value their entire heritage. And I want to help my other grandchild grow up respecting and honoring every culture.
Disclosure: This post contains affiliate links (at no cost to you).
Although I'm showing LOTS of books here, I only have a few of my Black history books out at a time except while we're having a Black history unit. Don't feel that you need to have nearly as many books as I show here. I always recommend that you choose books based on your child's age and what you think will engage your child's interest. I love the "Look Inside the Book" feature on Amazon and reading reviews there. Another place to learn about a book is on YouTube. You can typically see the entire book there. If you live outside the U.S., be sure to check out Book Depository for great prices and free worldwide delivery.
Montessori-friendly books for babies, toddlers, and preschoolers use photos or realistic illustrations. They don't have talking animals or a lot of fantasy. But many books that have fantasy and talking animals are wonderful books, and I love sharing them with children who understand the difference between fantasy and reality. I typically have a majority of Montessori-friendly books for a theme, but I include a variety of books that might not be Montessori-style books but that are simply lots of fun or are classic books that I consider an important part of cultural literacy. Many Black history books are naturally Montessori friendly.
Favorite Black History Books for Kids
I have a wide variety of favorites, so just choose the Black history books that will give the best messages for your children or classroom. Right now, Zoey is 7 years old, Sophia is 3 years old, and Caleb is almost 3. I've especially focused on books that are good for young preschoolers through early elementary.
Again, this post shows a LOT of books. Of course, you don't need them all. It really depends on your child's age and what specific part of a Black history unit you're studying. Sometimes I have descriptions of the books here, and sometimes I don't. They're all books I recommend. It's just too hard to find the time to write a book review for every book when a list is needed. I'll gradually add more information about many of the books. You can find lots of information by going through my links, though.
Favorite Black History Books with Black History Themed Learning Activities
I have a post with free Black history printables and Montessori-inspired Black history activities. You can read about the books shown on the themed shelf by going to that post.
Beside my themed shelf for the month, I have a book basket with mainly Montessori-friendly books. Just click on each Amazon book image below to learn more about the book!
Whoever You Are is a simple introduction to the idea that people are different around the world, but we're the same in the most important ways. It's recommended for ages 4-7, although I think it's best for ages 2-5. Even though it covers a variety of cultures, I had it out at the very beginning of our unit to celebrate the differences and similarities of people around the world for my young preschool-age grandkids.
I love the book All Different Now: Juneteenth, the First Day of Freedom by Angela Johnson and illustrated by E. B. Lewis. It's a beautifully illustrated book that's recommended for ages 5-9 but can work well for even younger children. Because it focuses on the joy of Juneteenth, my 3-year-old grandson enjoyed it. With my 7-year-old granddaughter, the book is a great way to initiate a discussion of the background behind Juneteenth.⁠⁠ ⁠⁠
⁠⁠ ⁠⁠
The heart-shaped mindful breathing board is a mindfulness material I like to have out at various times during the year. I totally love the Montessori Mindful Breathing Boards from Montessori Restore on Etsy! These are so calming for both children and adults. You slowly trace the heart path on the board while breathing slowly and saying the affirmation "I am loving. I am loved." You could use whatever affirmation you think would be best for your child after reading and discussing the book together.⁠⁠ ⁠⁠
Note: Barack Obama and Kamala Harris are very important historical figures.
Regardless of your political beliefs, I think it's important to include them in a study of Black history. I'm waiting until more books are published about Kamala Harris as the first female, Black, Asian American vice president. You can see how I've used her book Superheroes Are Everywhere in my free Black history printables and Montessori-inspired Black history activities post.

Many of my main books for our Black History unit are in our forward-facing book display at the side of our living room work area. Quite a few of these are designed for older than preschool children, although you should always consider what is right for your unique child. I like to look at both the recommended ages as well as the "Look inside the Book" feature on Amazon to decide on a particular book for a child, homeschool, or classroom.
I like to choose a specific person to focus on each day during a Black history unit, and I often use biographies from more than one book for that.
Top Shelf:
2nd Shelf:
3rd Shelf:
4th Shelf:
Bottom Shelf
View this post on Instagram

If you're looking for books with a variety of women, including Black women, these are great books for Women's History Month. Any of the books here that feature Black women are perfect, too!
Read about the Good Night Stories for Rebel Girls series here.
Read about She Persisted: 13 American Women Who Changed the World here.
Yes, I have even more books for our Black history unit! As I said, choose the books that are best for your classroom or home. The books in this book basket are often fiction or inspirational books that feature Black characters or at least have a Black character as one of the main characters.
The Colors of Us is a book that truly celebrates diversity. It's recommended for ages 4-8. It's been one of Zoey's favorites since we first had it when Zoey was 4. I have a blog post with more information about this fabulous book.
My Multicultural Children's Book Day review posts are written by Black authors or feature Black history related themes. You can read about those books at my Bits of Positivity blog.
Favorite Books with a Multicultural and Peace Theme
Check out the section of favorite books with a multicultural and peace theme in my peace books post for more books that are perfect for a Black history unit.
You'll find more book recommendations that include a variety of diversity topics in my post with Montessori diversity and inclusion resources for preschool through elementary.
Free Montessori-Inspired Black History Pack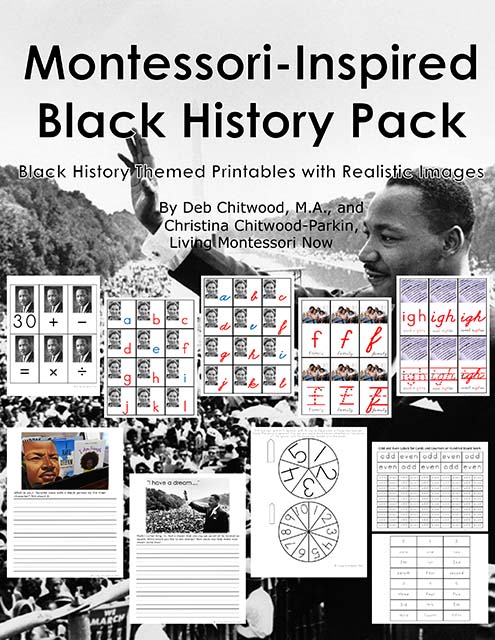 Montessori-Inspired Black History Pack for DIY Cards and Counters, Number or Letter Matching, Number or Letter Basket, Bead Bar Work, Hands-on Math Operations, Number or Letter Salt/Sand Writing Tray, Letter Tracing, DIY Movable Alphabet, and Creative Writing (subscriber freebie, so just sign up for my email to get the link and password – or check your inbox if you're already a subscriber).
Multicultural Resources and Activities That Include Topics Relevant to Black History
I hope you found some resources here that are perfect for your family and/or classroom.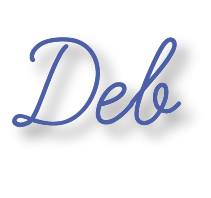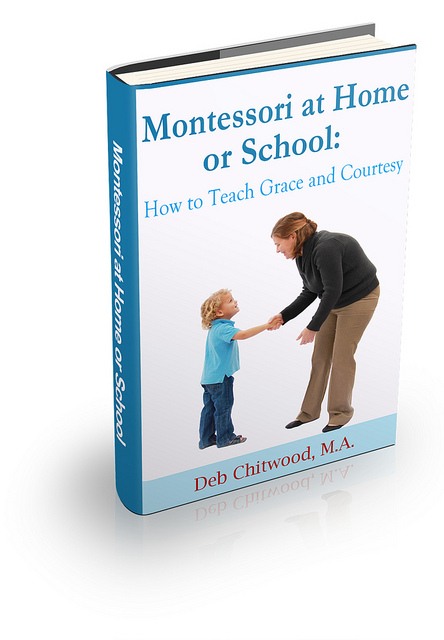 Learn more about my eBook Montessori at Home or School: How to. Teach Grace and Courtesy!
If this is your first time visiting Living Montessori Now, welcome! If you haven't already, please join us on our Living Montessori Now Facebook page where you'll find a Free Printable of the Day and lots of inspiration and ideas for parenting and teaching! And please follow me on Pinterest (lots of Montessori-, holiday-, and theme-related boards), Instagram, and YouTube. You can find me on bloglovin' and Twitter, too.
And don't forget one of the best ways to follow me by signing up for my weekly newsletter. You'll receive some awesome freebies in the process!