I love studying Black history. And I think it's important for children to focus on anti-racism and begin learning about Black history from a young age.
I like to have Black history books available throughout the year. But I still like to have an extra focus during February, often referred to as Black History Month. So I designed a Black history unit that can be used in February or at any time of year. I also have a new Montessori-inspired Black history pack for our newsletter subscribers' resource library. The printables can be used at any time as well. You'll find many resources here for Martin Luther King Day, too!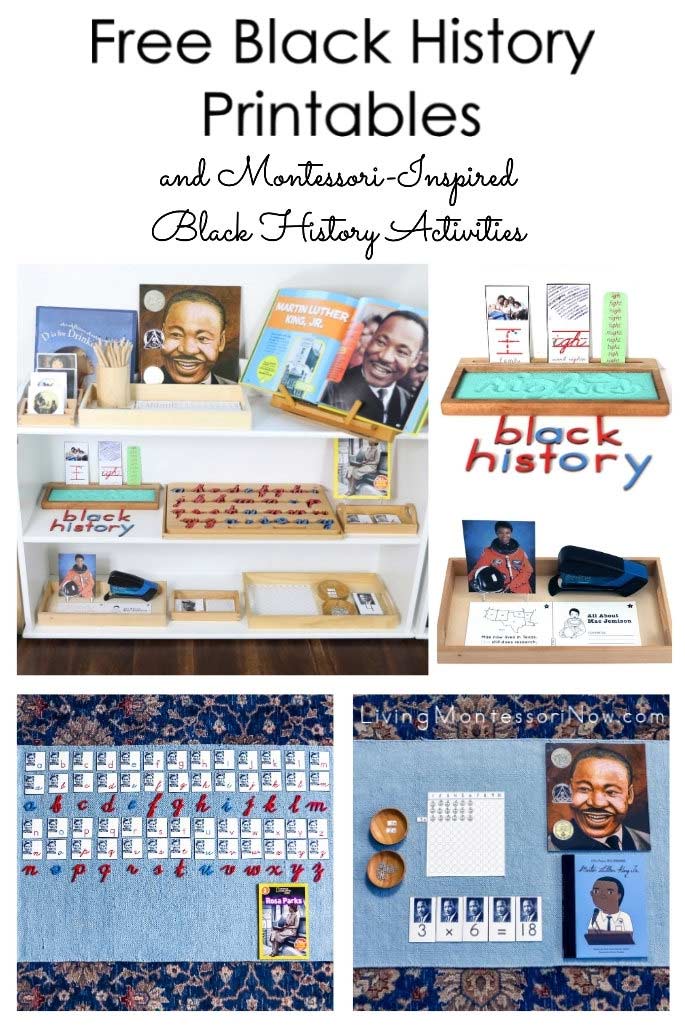 Disclosure: This post contains affiliate links (at no cost to you).
Montessori Shelves with Black History Themed Activities
Free Music from MegaMusicMonkey.com
You'll find Montessori-inspired Black history numbers, letters, and and more (part of my subscriber freebie pack, so just sign up for my email to get the link and password … or check the bottom of your latest newsletter if you're already a subscriber)
You could mix your Black history themed activities among your shelves according to curriculum area. Or you could have a special Black history themed area something like the one pictured. My shelves at the beginning of our unit have a mixture of skill levels. Many of the activities can be adapted for a variety of levels. Many of these are designed for early elementary as well as preschoolers. If you're a homeschooler, just choose the activities that work for your child's interests and ability levels. If you don't have room for all the activities you'd like to do, simply rotate them.
Even though I have books on shelves, I keep many books for our current theme in a book basket by the themed shelf. You'll find a few of the books I've used here. For toddlers and preschoolers, at least ¾ of the books I use are Montessori friendly (focusing on reality without smiling or talking animals or smiling or talking vehicles).
Notice the book D Is for Drinking Gourd: An African American Alphabet on the top shelf. That's from one of my very favorite alphabet book series. It has short descriptions for younger children and longer descriptions for older children.
Notice the framed art print of The Banjo Lesson (1823) by Henry Ossawa Tanner. It's a free download from Wikiart.
For our monthly featured art print, I purchased a Li'l DAVINCI art frame that opens in the front for easily changing a free art masterpiece printable or vintage illustration to fit with the month's theme. The frame can be switched from horizontal to vertical without changing the hanger, which is perfect!
If you're wondering about the rugs and rug box I use, both the rugs and wooden rug holder are from Montessori Services. I love the Montessori Services rugs and rug holder! I used to use an umbrella stand something like these. I loved that for 1-3 rugs, but I needed something different when I had more grandchildren and some projects that needed more than one rug.
Update: You'll find links to the rest of the books in our Black history unit in my favorite Black history books for kids post.
Favorite Shelves, Trays, Baskets, and More for Montessori Homeschoolers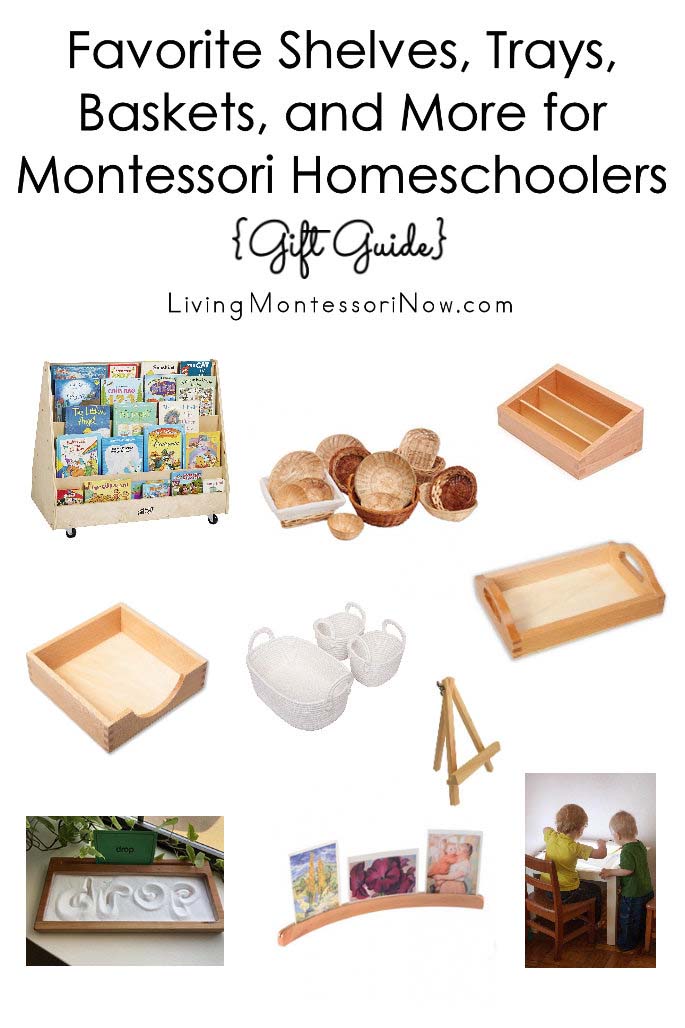 I often get asked about the trays, baskets, etc., that I use, so I published a post with many of the items. You can find lots of helpful resources here. They're not all essential, so don't feel you need to have everything. Just choose what's best for your budget and your unique family's needs.
Henry Ossawa Tanner 3-Part Cards and Art Print with Pages from How Artists See Families Book
Free Printable: Henry Ossawa Tanner 3-Part Cards by My 3 Suns at Teachers Pay Teachers
Henry Ossawa Tanner is the "first African-American painter to gain international acclaim." I love The Banjo Player and was excited to find free 3-part cards featuring the work of Henry Ossawa Tanner.
The book that's open on my shelf is How Artists See Families. That's especially perfect when the theme of the 2021 is the Black family. The man in my featured painting is described as a father (or perhaps a grandfather). I definitely see him as a grandfather, but I enjoy how the book helps bring the painting to life for children.
Tray for Black History Scavenger Hunt
Free Printable: Black History Month Scoot by Gay Miller at Teachers Pay Teachers
This is a very versatile printable. In a classroom, you could follow the directions to play Black History Month Scoot. My 7-year-old granddaughter, Zoey, loves scavenger hunts, so I've designed this activity to be used as a scavenger hunt. You could have a number of biography cards available in the scavenger hunt, or you could have one hidden each day.
Younger children could match the numbers while older children might be able to identify the individual on the card. Writing the names is optional, depending on your child or students.
Martin Luther King Family 3-Part Cards with Pages from the Little Kids First Big Book of Who
I've often used the National Geographic Little Kids First Big Book of Who (as well as all the books in the series, which is recommended for ages 4-8). My grandkids all love this series … even my 2½-year-old grandson. He's actually the one who looked at the back cover of one of the books to make sure I had all the books in the series!
Free Printable: Martin Luther King Jr. nomenclature cards from Every Star Is Different. (They're a subscriber freebie, so go to Every Star Is Different and sign up through the newsletter tab you find at the top of the site. It's in the resource library under the letter "m.")
Because family is the theme for the 2021 Black history month (and is always a good history focus for young children), I'm featuring the Martin Luther King Jr. nomenclature cards from Every Star Is Different. The Martin Luther King Jr. nomenclature cards feature Martin Luther King's parents, siblings, and children, who helped continue his work.
Behind the book on my shelf, you'll see Superheroes Are Everywhere by Kamala Harris along with a letter writing tray for children to write thank-you notes to their superheroes. (Note: I have Barack Obama's Of Thee I Sing: A Letter to My Daughters in my book basket. Barack Obama as the first Black president and Kamala Harris as the first Black female vice-president-elect are too important to ignore in a Black history unit, regardless of your political views.)
Salt Writing Tray for a Black History Unit
Free Printables: family letter f and civil rights phonogram igh cards for salt writing tray (part of my subscriber freebie pack, so just sign up for my email to get the link and password … or check the bottom of your latest newsletter if you're already a subscriber).
Free Printable: igh word list from MontessoriSoul. You'll find other igh materials there as well.
You could also use the free Hard and Soft C poster from Make, Take and Teach that I featured last month for ce in resilience. They would work well if you want to focus on the "ci" at the beginning of "civil."
You'll see a variety of simple letter writing trays in my previous unit study posts. I often used the wooden tray from the Melissa & Doug Lace and Trace Shapes. You can use whatever tray or container work best for you, though.
I typically now use this lovely spelling/alphabet tray from FamilyTreeWW on Etsy. I like it for writing more than one letter or spelling words.
If you would like help with introducing phonetic sounds, introducing objects with sounds, or beginning phonics in general, check out my DIY Beginning Montessori Phonics with Preschoolers.
I have a post and video on how to introduce words starting with phonograms, even with very young children.
Matching Manuscript and Cursive Rosa Parks Letters with Cursive Movable Alphabet
Free Printable: Rosa Parks alphabet cards in manuscript and cursive (part of my subscriber freebie pack, so just sign up for my email to get the link and password … or check the bottom of your latest newsletter if you're already a subscriber)
When we started working with cursive letters, I used a cursive tracing board with themed alphabet letters in manuscript and cursive. I got the 2-sided version (with capital letters on one side and lowercase on the other), since capital cursive letters aren't commonly seen on written materials.
After tracing the letters on the tracing board, Zoey would place the manuscript letters in alphabetical order. Then she matched each of the cursive letters to the manuscript letters. Later, I added the wooden cursive movable alphabet letters.
I typically start with a traditional small wooden manuscript movable alphabet and later work with the cursive wooden movable alphabet. There are a number of price ranges available. You can find more movable alphabet resources in my "Inexpensive and DIY Movable Alphabets" post.
There are a number of wonderful books about Rosa Parks. I'm using the National Geographic Readers: Rosa Parks.
All About Mae Jemison Bookmaking Tray
Free Printable: Mae Jemison Mini Book from Education.com
Free Printable: Dr. Mae Jemison photograph
My grandkids love making little booklets, and the All About Mae Jemison booklet can be adapted for a variety of ages.
Black History Biography Matching Cards
Free Printable: Black History Calendar Connections from 1+1+1=1
If you observe Black History Month in February, you might want to use these as calendar connection cards in a pocket chart calendar.
I'm using them as Black history biography matching cards. I would typically do this activity together with the child. The child matches the cards by number, and I read the description (or part of the description for a younger child). Toddlers and young preschoolers could match the smaller photo cards (not shown) with the photo cards shown on the tray.
Martin Luther King, Jr, Multiplication Activity with Martin Luther King, Jr, Books
Free Printable: DIY Multiplication "Bead" Board with Booklet by Kristina Prozesky at Teachers Pay Teachers. If your budget (or available space) makes a wooden multiplication board impractical, I think this printable is an awesome alternative. You could use it with a variety of small objects (such as the peace symbol charms) or simply use it with pony beads.
I used the pretty vintage antique silver alloy peace symbol charms (100 pieces) that I had used during our previous peace unit.
We've expanded our math cards to go from 0-30 (rather than 0-20) to make it easier for beginning multiplication and division activities. There are booklet materials in the free printable if you want to have a multiplication-equation-writing activity.
I love the books Martin's Big Words: The Life of Dr. Martin Luther King, Jr. (a Caldecott Honor Book and Coretta Scott King Honor Book) and Little People, Big Dreams: Martin Luther King Jr.
Update: The theme of the 2021 Black History Month is the Black Family, so I have a free family do-a-dot phonics printable (Montessori-inspired instant download) with the image of a Black family. It also works well for a Black history study for young children any year, any family unit, or /f/ for family activity.
I also have free Black family cutting strips (Montessori-inspired instant download).
Free Montessori-Inspired Black History Pack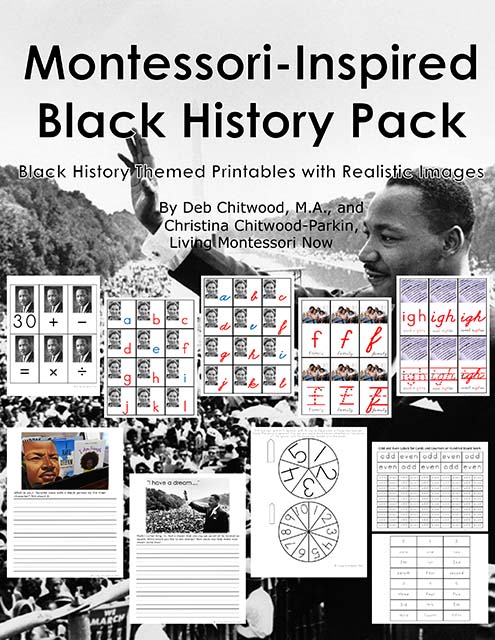 Montessori-Inspired Black History Pack for DIY Cards and Counters, Number or Letter Matching, Number or Letter Basket, Bead Bar Work, Hands-on Math Operations, Number or Letter Salt/Sand Writing Tray, Letter Tracing, DIY Movable Alphabet, and Creative Writing (subscriber freebie, so just sign up for my email to get the link and password – or check your inbox if you're already a subscriber).
Multicultural Resources and Activities That Include Topics Relevant to Black History
If you'd like ideas for calendar-based themes throughout January and February, see my January Themed Activities for Kids and February Themed Activities for Kids.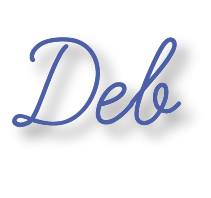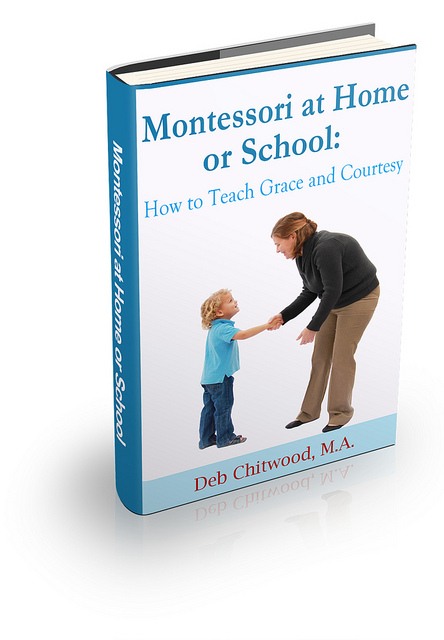 Learn more about my eBook Montessori at Home or School: How to. Teach Grace and Courtesy!
If this is your first time visiting Living Montessori Now, welcome! If you haven't already, please join us on our Living Montessori Now Facebook page where you'll find a Free Printable of the Day and lots of inspiration and ideas for parenting and teaching! And please follow me on Pinterest (lots of Montessori-, holiday-, and theme-related boards), Instagram, and YouTube. You can find me on bloglovin' and Twitter, too.
And don't forget one of the best ways to follow me by signing up for my weekly newsletter. You'll receive some awesome freebies in the process!