From my Google Analytics report for October 2013

Thank you to all my referrers!
Top 10 Referring Sites (Not counting sites like Pinterest, Facebook, Google, Twitter, Blogger, and Sulia)
Thank you to all my readers!
Top 10 Visited Posts
1. Montessori-Inspired Pumpkin Unit
2. Free Fire Safety Printables and Montessori-Inspired Fire Safety Activities
3. Free Spider Printables and Montessori-Inspired Spider Activities
4. Free Montessori Materials Online
5. A Montessori Approach to Discipline
6. Montessori-Inspired Halloween Activities
7. Montessori-Inspired Fall Activities
8. Montessori-Inspired Autumn Leaf Unit
9. Free Educational Songs for Circle Time
10. Free LEGO Printables and 70+ LEGO Learning Activities
Thank you to all my followers!
Thank you to everyone following me through
Bloglovin'
or my
RSS feed
(blog posts in a reader),
Twitter
(blog posts by me and others along with the Parent/Teacher Daily and other interesting information),
Living Montessori Now Facebook page
(links to my posts and lots of posts from around the blogosphere along with a featured Free Printable of the Day),
Pinterest
(lots of Montessori-, holiday-, and theme-related boards), and/or
Google+
(post updates). I'm also a Parenting Expert on
Sulia
. Thank you for following me there.
Don't forget to sign up for my newsletter in the right-hand sidebar to receive Karen Tyler's AMS Montessori geography album and the Mom Bloggers Talk Montessori: Favorite Ideas and Activities eBook FREE along with a weekly newsletter containing a note from me with any important reminders and links to my posts from the week! I truly appreciate all my followers!
Thank you for photo permissions!

Photo Request
Thank you to the wonderful bloggers who have given me permission to use your photos in my posts (with credit to you, a link to your post, and a comment letting you know I'm using your photo, of course)! If you haven't seen my request for permissions, here's a link to my post: Request for Montessori Photo Permissions.
If I may have permission to use photos from your blog, please let me know! Although I use Montessori photos most often, I also link to posts with crafts, art projects, and educational activities (especially unit studies posts with family activities). If you have posts with similar activities, I'd really appreciate photo permissions for them. Being able to use a photo from your post adds to the roundup post content and also brings attention to your link.
Sulia Request
Thank you also to the wonderful bloggers who give me permission to use your posts and photos on Sulia. As a Parenting Expert on Sulia, I enjoy sharing your posts there. If you give me permission to share your posts on Sulia, I'll write an introduction to your post (only good things, of course, since I only share posts I like), link to your post, and add one or two related links. All my Sulia posts are shared through the Living Montessori Now Facebook page, Twitter, and Pinterest. Sulia has become my no. 3 traffic source, so I typically can help your traffic when I share your post on Sulia. Since I would want to use a photo from your post on Sulia, I like to have permission first. Please use my contact form to let me know if I may have your permission to share your post and a photo on Sulia, too.
Thank you to link-up participants!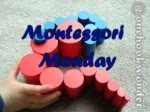 Thank you to everyone who links up and to everyone who reads and comments on the Montessori Monday posts! I always enjoy seeing the ideas that are linked up each week, and I appreciate the encouragement you give to each other in using Montessori education at home or school.

Thank you to everyone who links up and/or visits the participants in my Family-Friendly Giveaway Linky (which you can link up with at any time and has outdated links removed each Sunday)!
Please link up regularly. I love to see what Montessori-inspired activities you're doing (and Montessori Monday is typically one of my first sources for activities when I do a roundup post). I also love keeping up with family-friendly giveaways around the blogosphere and being able to help parents and teachers find great giveaways to enter.
Thank you to my sponsors!

Note: post contains affiliate links (at no cost to you).
My sponsors all have products I wish would have been around when I had a Montessori preschool and when I homeschooled my children! Please support my sponsors. They're all wonderful businesses with amazing products!

Thank you to Montessori Print Shop, who has free printables, beautiful inexpensive printables, a wonderful blog, and lots of great information and resources (see all the drop-down menus at the top of the Montessori Print Shop site)! For more information, read my Sponsor Spotlight – Montessori Print Shop. And be sure to check out the two Montessori at Home bundles! Also, check out my review of the Montessori Print Shop Teaching Manuals Bundle and my ideas for using Montessori Print Shop music materials (in another great giveaway sponsored by Montessori Print Shop).
Thank you to Montessori Compass, an incredibly user-friendly, web-based software application that provides online Montessori record keeping, school management, parent communication from any web-enabled device along with Free Online Access to Comprehensive Montessori Scope and Sequence. Read my Montessori Compass Sponsor Spotlight to learn more about Montessori Compass. Sign up for Montessori Compass using the promo code LivingMontessoriNow and get a 14-day free trial and 50% discount for the first 3 months!
Thank you to John Bowman and Montessori at Home, with the revised eBook Montessori at Home: The Complete Guide to Doing Montessori Early Learning Activities at Home, and the condensed version in paperback Help Your Preschooler Build a Better Brain: Early Learning Activities for 2-6 Year Old Children. For just $10.95 for the e-book's 3rd edition, you get 512 pages of Montessori early-learning activities and ideas for use at home with 3-7 yr. olds!
Thank you to KHT Montessori, who will start a new online Montessori certificate course on November 15! This course is affordable and perfect for parents and teachers who can't take a formal Montessori training course (or who want to refresh their own Montessori training). Read more in my post telling about KHT Montessori and with information on the free geography album. Thanks to KHT Montessori for sponsoring a fabulous giveaway in October!
Thank you to
Maestro Classics, who has award-winning CDs that introduce children to classical music through stories. Each CD is performed by the London Philharmonic Orchestra: Mike Mulligan and His Steam Shovel; Peter and the Wolf; Tortoise and the Hare; My Name is Handel; Juanita the Spanish Lobster; Swan Lake; Casey at the Bat; Sorcerer's Apprentice; The Soldier's Tale; Juanita la langosta and Carnival of the Animals! Maestro Classics offers Special Packages, Educational Materials, and Kids Club! To learn more about Maestro Classics, read my Maestro Classics Sponsor Spotlight. Thanks to Maestro Classics for sponsoring the giveaway of the 10-CD Collection worth $170!
Thank you to Spielgaben for sponsoring my Montessori-Inspired Color Activities Using Wooden Toys and Free Printables post!
Thank you to my affiliate companies!

Thanks to my affiliate companies for offering great products along with commissions for referring customers. Please check out my products page for my affiliate companies! I only become an affiliate for companies with products I believe in. I really appreciate if you go through my affiliate links when you're ordering because I'll receive a small commission. It won't affect your order or prices in any way (unless you go through a discount link of mine and receive a better price than normal!) Living Montessori Now got too large for a shared server, so I appreciate your help in paying the dedicated server fees to keep Living Montessori Now running.
Thank you to Family Time Fitness for sponsoring 72 hours of free Family Time Fitness downloads.
Thank you to Little Passports for inviting me to be a Little Passports Ambassador! You can find my introductory post here: Montessori-Inspired Little Passports Global Adventure. You'll find my second post here Montessori-Inspired Little Passports Activities – Brazil, my third post here Montessori-Inspired Little Passports Activities – Japan, and my fourth post here Montessori-Inspired Little Passports Activities – Egypt.
I'm also an affiliate for Montessori Services, For Small Hands, Montessori for the Earth, CurrClick, Educents, Montessori Helper, Hearth Song, Magic Beans, Melissa & Doug, ProBlogger, iTunes, App Store, Plow & Hearth, Problem Solvers, Christian Book, Inspire 4 Less, My Memories Digital Scrapbooking Software, Barnes and Noble, and I Can Teach My Child to Read: A 10-Step Guide for Parents.
Thank you to my affiliate company My Memories, who continues to offer a special My Memories coupon code for all my readers (and your friends and family). If you use the coupon code STMMMS48784 at My Memories upon checkout, you'll receive a $10 discount off the purchase of the My Memories Suite Scrapbook software and a $10 coupon for the MyMemories.com store – a $20 value
Thank you to Montessori Helper for giving an amazing 30% off offer specifically for my readers! Unlimited access to all 250+ lessons and PDF Materials is normally $99. By clicking on my ad, you'll get Premium Unlimited Membership for all materials for $69
Thanks again, everyone! Happy November!

Image at top of post by Oksana Merzlyakova.