Fossils are fascinating for a variety of ages. We're starting a fossil theme that's designed for preschool through early elementary. While it doesn't specifically include the Montessori Great Lessons, it has free fossil printables and activities that can work well along with the Great Lessons.
As usual, you'll find a new printable pack (a Montessori-inspired fossil pack) for our newsletter subscribers' resource library!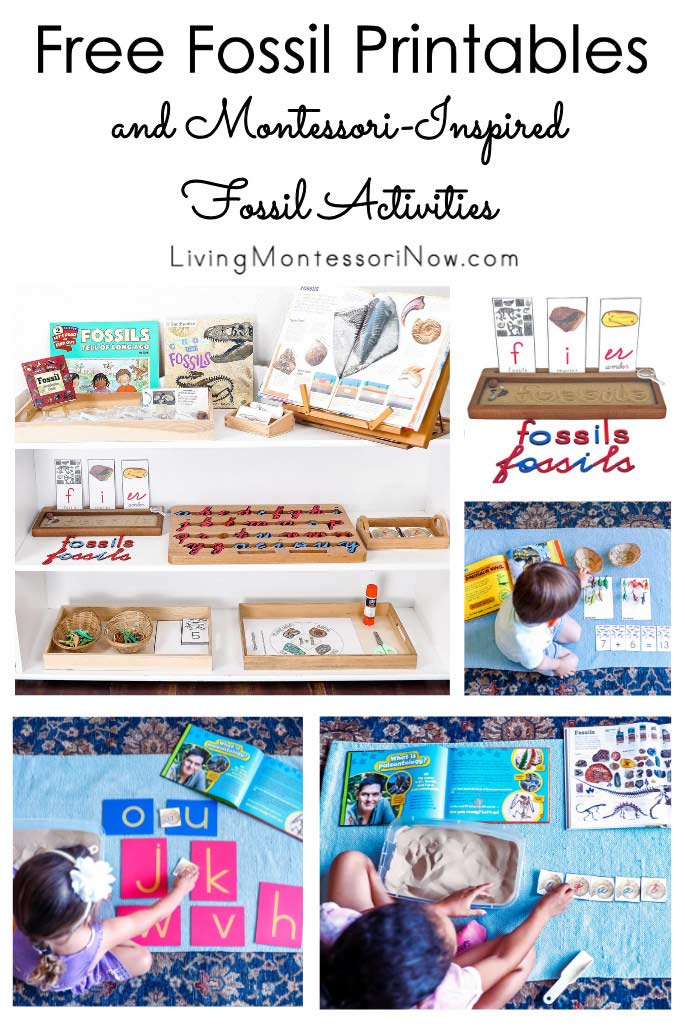 Disclosure: This post contains affiliate links (at no cost to you).
Montessori Shelves with Fossil-Themed Activities
You'll find Montessori-inspired fossil numbers, letters, and and more (part of my subscriber freebie pack, so just sign up for my email to get the link and password … or check the bottom of your latest newsletter if you're already a subscriber).
Note: The Montessori-inspired fossil pack isn't designed as a complete fossil unit but as supplemental materials. I design the packs using realistic images that I've often looked for when preparing a unit study (such as font cards and phonogram cards featuring the letter and phonogram related to the theme and math cards with realistic images that fit the theme and can be adapted for math activities at a variety of levels.)
You could mix your fossil-themed activities among your shelves according to curriculum area. Or you could have a special fossil-themed area something like the one pictured. My shelves at the beginning of our unit have a mixture of skill levels. Many of the activities can be adapted for a variety of levels. Many of these are designed for early elementary as well as preschoolers. If you're a homeschooler, just choose the activities that work for your child's interests and ability levels. If you don't have room for all the activities you'd like to do, simply rotate them.
Notice the framed copy of Restored skeleton of Ichthyornis victor from the Cretaceous beds of Kansas, North America, from specimens in the Yale College Museum. It was found in A guide to the fossil mammals and birds in the Department of Geology and Palæontology in the British Museum (Natural History), 1896. It's a free download from Flickr.
For our monthly featured art print, I purchased a Li'l DAVINCI art frame that opens in the front for easily changing a free art masterpiece printable or vintage illustration to fit with the month's theme. The frame can be switched from horizontal to vertical without changing the hanger, which is perfect!
If you're wondering about the rugs and rug box I use, both the rugs and wooden rug holder are from Montessori Services. I love the Montessori Services rugs and rug holder! I used to use an umbrella stand something like these. I loved that for 1-3 rugs, but I needed something different when I had more grandchildren and some projects that needed more than one rug.
Fossil Books for Kids
Even though I have books on shelves, I'm now keeping many of my themed books in a forward-facing display after placing a bromeliad plant where the themed book basket was before. My seasonal books are now in that book basket.
For toddlers and preschoolers, about ¾ of the books I use are typically Montessori friendly (focusing on reality without smiling or talking animals or smiling or talking vehicles).
Fossil-Themed Books We're Using:
Top Shelf of Main Themed Shelf:
Top Shelf of Forward -Facing Display:
2nd Shelf:
3rd Shelf:
4th Shelf:
Bottom Shelf
Cinderella Rex (a fun, strong-girl twist on Cinderella, where Cinderella Rex is a great dancer, annd the prince wants her to teach him how to dance)
You can also see lots of fossil books as they're published here.
Favorite Shelves, Trays, Baskets, and More for Montessori Homeschoolers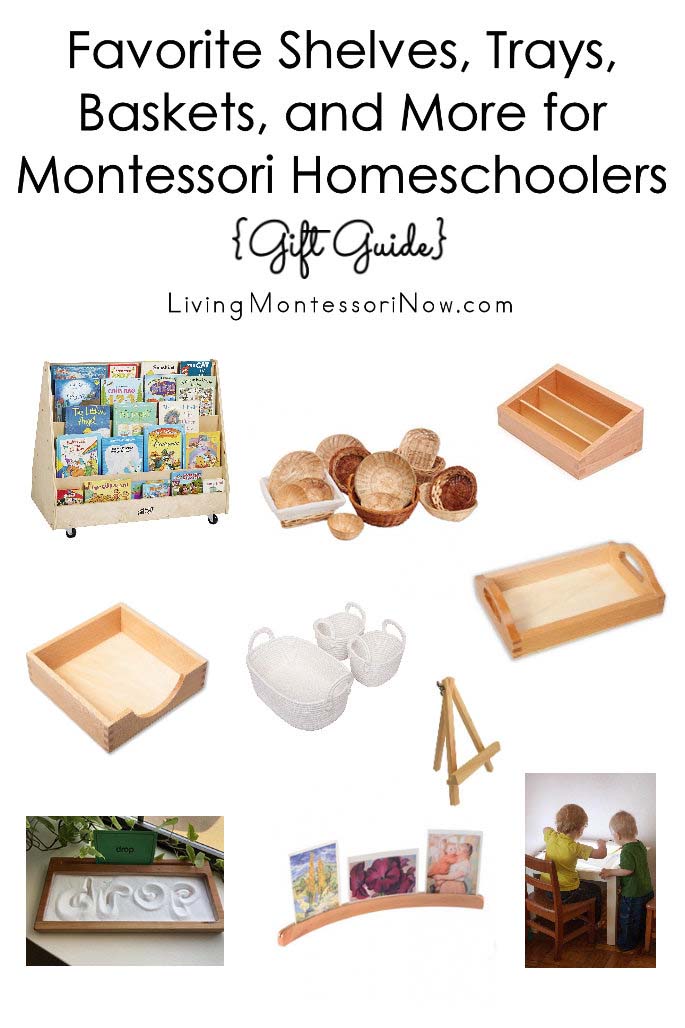 I often get asked about the trays, baskets, etc., that I use, so I published a post with many of the items. You can find lots of helpful resources here. They're not all essential, so don't feel you need to have everything. Just choose what's best for your budget and your unique family's needs. You'll find more ideas in the Living Montessori Now Amazon shop.
Fossil Books and Fossils
Free Printable: 4 Types of Fossils Notes by Cindy Veneziano at Teachers Pay Teachers
I have the books Fossils Tell of Long Ago and Curious About Fossils with a tray holding the Dancing Bear Fossil Collection and the free printable reduced in size and made into a booklet. (Note: There's also a smaller fossil collection available from Dancing Bear. I wanted the bigger one for an elementary-age child, but it's nice that there are two options available.
Younger children can explore the fossils according to their interest. Elementary-age kids can do a variety of activities with the fossil collection, including sorting the fossils by type.
Fossil Concentration or Matching Cards, Fossil Pages from My Book of Rocks and Minerals, and Fossil Activity in the Background
On the cookbook easel, I show two fossil pages from My Book of Rocks and Minerals: Things to Find, Collect, and Treasure.
Free Printable: Dinosaur Skeleton Fossil Match and Memory Cards by Reading Bug Press (in front of the book) – perfect for a matching activity for younger kids and concentration game for older kids
Finding Fossil Letters in the Sand Activity
Behind the books is a fun language activity that's adaptable for a variety of ages.
Free Printable: Ammonite alphabet in print and cursive (included in my subscriber freebie pack, so just sign up for my email to get the link and password … or check the bottom of your latest newsletter if you're already a subscriber) – shown on the right side of the middle shelf
Free Printable: Word Bubble from Fossil Letters by Little Owls Resources
This is simply a plastic shoebox from the Dollar Tree filled with sand and including a scoop. I cut out the word bubble that says "Can you find the fossil letters buried in the sand?" In the photos with my grandkids, you won't see the printable. We had already completed the initial activities when I found the printable. There are also free fossil letter cards in the printable from Little Owls Resources. Ours uses Montessori blue letters for vowels and red for consonants as well as a real photo of ammonite, so I used ours.
Finding Fossil (Ammonite) Letters in the Sand and Matching Them to Sandpaper Letters
I set up this activity for my 4-year-old granddaughter, Sophia, who's working on learning all her letters and letter sounds. I used one of the Montessori groupings of letters and buried the ammonite letters in the sand. She had a lot of fun matching the letters and completed the activity more than once!
My 4-year-old grandson, Caleb, wanted to do the activity, too! He's working on the Montessori green series in reading, so I got out the "er" amber phonogram card and buried the letters for the word in the sand. Caleb had fun building the word. Here, he's returning the scoop to the sand bin.
Note: The two books are You Can Be a Paleontologist: Discovering Dinosaurs with Dr. Scott and two helpful fossil pages from the DK Smithsonian Picturepedia (a book I use as a reference for many themes).
Even my 8-year-old granddaughter, Zoey, wanted a turn! So I buried the cursive letters for one of her spelling words. She had fun with this, too!
Fossil-Themed Sand Writing Tray
Free Printable: Fossil letter f, imprint letter i, and amber "er" phonogram for fossil-themed sand writing tray (part of my subscriber freebie pack, so just sign up for my email to get the link and password … or check the bottom of your latest newsletter if you're already a subscriber)
You'll see a variety of simple letter writing trays in my previous unit study posts. I often used the wooden tray from the Melissa & Doug Lace and Trace Shapes. You can use whatever tray or container works best for you, though.
I typically now use this lovely spelling/alphabet tray from FamilyTreeWW on Etsy. I love that it has a slot that fits sandpaper letters as well as any type of cardstock! The sandpaper letters I use are available in print or cursive. I added a Schleich rabbit to the tray for interest.
If you would like help with introducing phonetic sounds, introducing objects with sounds, or beginning phonics in general, check out my DIY Beginning Montessori Phonics with Preschoolers.
Dinosaur Addition and Subtraction
Free Printable: Dinosaur skeleton number cards 1-19 and symbols for addition and subtraction equations (part of my subscriber freebie pack, so just sign up for my email to get the link and password … or check the bottom of your latest newsletter if you're already a subscriber)
Free Printable: Herbivore and Carnivore Mats from Royal Baloo
I used dinosaurs from our Safari Ltd. Dinos TOOB and Carnivorous Dinos TOOB. Check out my free Safari Ltd. TOOB Keys to see which dinosurs are included in each TOOB.
Caleb is fascinated with herbivores, carnivores, and omnivores. He often asks what a particular animal eats. So this was a perfect activity for him. I had the dinosaurs divided into two separate baskets. As he learns the diet of each dinoaur, I will be putting the dinosaurs in one basket to be sorted. First Caleb stood the animals of each group on their herbivore or carnivore card. Then he counted each set of dinosaurs and made an addition equation.
Because stegosaurus was one of the earlier dinosaurs in history, I had stegosaurus return to his basket. Then Caleb made a subtraction equation!
There are so many different ways you can use this printable. Just use your creativity!
Types of Fossils Foldable Activity and Other Printables for Elementary-Age Kids
Free Printable: Types of Fossils (mold, cast, trace, and true form) Foldable for ISN – Geology by Inspiring Teaching Design at Teachers Pay Teachers
Free Printable: Clock of Eras Fossil Comparison Chart by Montessori Kiwi at Teachers Pay Teachers
Free Printable: Fossils and Rock Layers by StudentSketch at Teachers Pay Teachers
Free Printable: Fossil Type Sort by Kelsey Cousley at Teachers Pay Teachers
On the tray on the right-hand side of the bottom shelf are the above helpful printables, which can be used for a nunber of elementary-level activities. On the top, I have the Types of Fossils Foldable. These are great to use as kids are ready and interested.
Dinosaur Discovery Activities from Montessori By Mom
I had the pleasure of reviewing the Montessori By Mom Dinosaur Discovery Toolbox in March. All three grandkids had lots of fun with it! We kept many of the activities out for our fossil unit. You can read my review here.
I hope you find these printables and activities helpful!
More Free Fossil Printables
Montessori-Inspired Fossil Pack for DIY Cards and Counters, Number or Letter Matching, Number or Letter Basket, Bead Bar Work, Hands-on Math Operations, Number or Letter Salt/Sand Writing Tray, Letter Tracing, DIY Movable Alphabet, and Creative Writing (subscriber freebie, so just sign up for my newsletter to get the link and password – or check your inbox if you're already a subscriber).
Dinosaur Resources
Rock and Mineral Resources
Rock and Mineral Books for Kids
If you'd like ideas for calendar-based themes throughout April and May, see my April Themed Activities for Kids and May Themed Activities for Kids.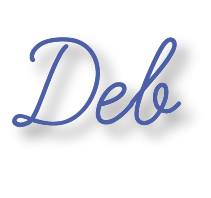 Learn more about my eBook Montessori at Home or School: How to. Teach Grace and Courtesy!
If this is your first time visiting Living Montessori Now, welcome! If you haven't already, please join us on our Living Montessori Now Facebook page where you'll find a Free Printable of the Day and lots of inspiration and ideas for parenting and teaching! And please follow me on Instagram, Pinterest (lots of Montessori-, holiday-, and theme-related boards), and YouTube. While you're here, please check out the Living Montessori Now shop.
And don't forget one of the best ways to follow me by signing up for my weekly newsletter. You'll receive some awesome freebies in the process!