Toddler programs in Montessori schools generally start at 15-18 months and run to age 2½ or 3. You can use many of the same Montessori principles and ideas to create a Montessori-friendly toddler environment at home.
The Montessori phrase "Help me to do it by myself" is probably the most important concept to keep in mind for your toddler. Create an environment that will help your toddler gain as much independence as possible.
There are many things you can do to make your home a Montessori-friendly toddler environment. You'll want to have low shelves with activities in baskets and on trays, toddler-size table and chair, and real child-size tools and utensils. Practical life activities for care of self, care of the environment, control of movement, and grace and courtesy will be essential.
Ideas for Creating a Montessori-Friendly Toddler Environment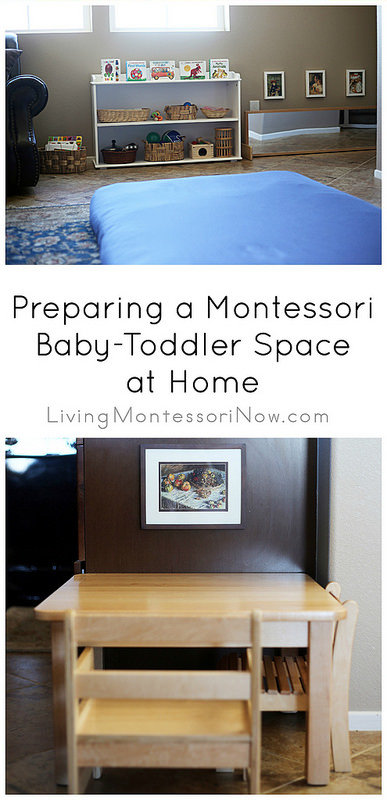 I have a number of posts about toddlers, such as Preparing a Montessori Baby-Toddler Space at Home.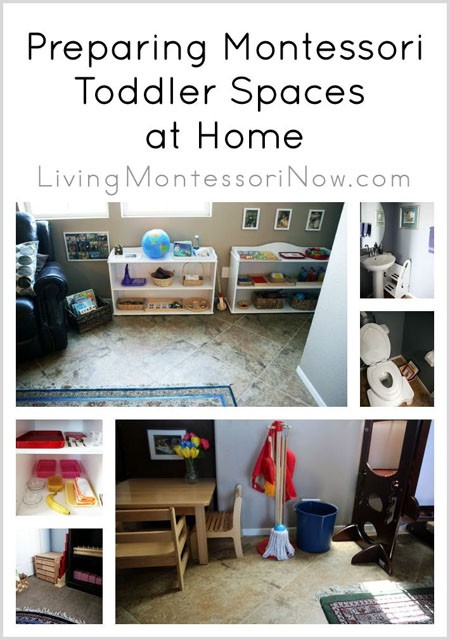 You can see my updated toddler environment in Preparing Montessori Toddler Spaces at Home.
Montessori for Everyone has Essentials of a Toddler Classroom and other infant and toddler posts.
The International Montessori Index has resources for Montessori Birth to Three.
Daily Montessori has information for Montessori 12-24 Months and Montessori 24-36 Months.
Lovely Examples of Montessori-Friendly Toddler Home Environments
Vibrant Wanderings (photo: The Montessori Toddler's Closet) UPDATE on April 10, 2012: Personal Care in a Montessori Home
To the Lesson! (Montessori bed post) and toddler posts
The Montessori Child at Home (ideas for both toddlers and older preschoolers)
Some Helpful Resources
My toddler category has lots of activities for toddlers ages 1 to 3.
I have a post on Top 10 Montessori Principles for Natural Learning.
Montessori for Infants and Toddlers has blog posts with lots of Montessori ideas.
Montessori Mom has Toddler Scope and Sequence & Lesson Ideas – Practical Life Skills.
"What's unique about a Montessori program for toddlers?" is a 1-minute video from Cottage Montessori.
It's best to provide lots of manipulatives for learning, but don't worry about doing many formal Montessori lessons with your child. Follow your child's interests and let him or her choose activities.
Here's a reassuring post from Confessions of a Montessori Mom Blog: Can You Give a Toddler a Lesson? Also, check out A Montessori Infant and Toddler Home Environment at Confessions of a Montessori Mom Bog.
Montessori MOMents has a post on ages 0-6 with some information and links appropriate for toddlers.
Montessori Learning Materials and Activities for Toddlers
For older toddlers, see the links in my posts How to Set Up a Montessori Space at Home and How to Set Up a Montessori Homeschool Classroom.
Montessori Mom has a post on Toddler Scope and Sequence & Lesson Ideas-Practical Life Skills.
Montessori Print Shop has inexpensive toddler materials (materials for language development).
Montessori for Everyone has inexpensive toddler materials (materials for language development along with a comprehensive checklist).
Our Montessori Home has many posts on infant and toddler activities.
1+1+1=1 has Tot School ideas and links to other parents who often use Montessori-inspired activity trays and manipulatives.
(Photo: Tot School – 15 Months from the former Growing a Godly Girl blog)
Little Red Farm has lots of Montessori-inspired toddler activities.
Cherry Blossom Adventures has many Montessori-inspired activities during "tot school."
Barefoot in Suburbia has lots of toddler posts (photo from Toddler Tuesday).
Montessori Mama has many posts with toddler activities.
The Adventures of Bear has a Montessori-friendly toddler environment and lots of activities for toddlers.
Kingdom of the Pink Princesses tells how they've adapted their home and homeschool to include a toddler.
Jada Roo Can Do has many toddler activity trays (photo: Thrift Store Finds).
My Child-Centered Life has many Montessori-inspired toddler activities.
2015 UPDATES:
Living Montessori Now has a YouTube channel with lots of Montessori-inspired activities for toddlers! In our YouTube videos, my daughter, Christina (who was a Montessori child) shows activities to my toddler granddaughter, Zoey. I write the scripts, and I'm the person behind the camera. 🙂
Here's an example of one of the videos: "Introducing Montessori Rules and Routines to a Toddler"
More great blogs with Montessori-inspired toddler activities:
Preparing Montessori Spaces in Your Home
See "How to Create a Montessori-Friendly Home" for ideas for a number of levels. Here are some of my main home environment posts here:
Jo Ebisujima and I have a free Montessori at home webinar and introduction to our Montessori Crash Course.
There are so many activities you can do with a toddler. But you don't need to feel overwhelmed. Just follow your toddler' needs and interests and encourage your toddler's independence. And have fun! 🙂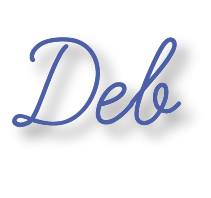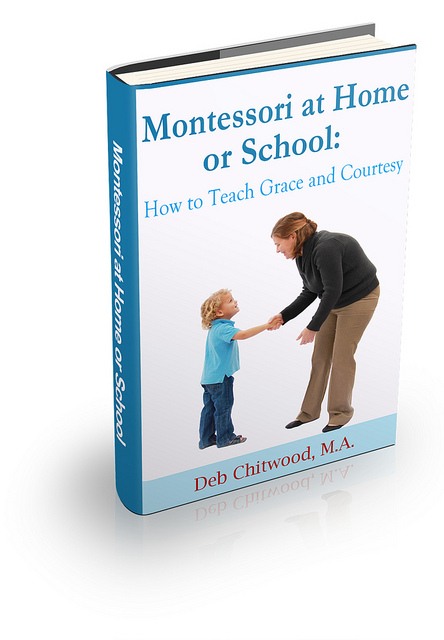 Learn more about Montessori at Home or School: How to Teach Grace and Courtesy!
If this is your first time visiting Living Montessori Now, welcome! If you haven't already, please join us on our Living Montessori Now Facebook page where you'll find a Free Printable of the Day and lots of inspiration and ideas for parenting and teaching! And please follow me on Pinterest (lots of Montessori-, holiday-, and theme-related boards), Twitter (blog posts by me and others along with the Parent/Teacher Daily and other interesting information), and Google+ (post updates and Montessori Community). You can find me on bloglovin' now, too. I'm also a Parenting Expert on Sulia. Thank you for following me there. And don't forget one of the best ways to follow me by signing up for my weekly newsletter in the right sidebar. You'll get two awesome freebies in the process!
May be linked to Afterschool Express, Thoughtful Spot, The Mommy Club Resources and Solutions, Mom's Library, A Little Bird Told Me Linky Party, The Weekly Kid's Co-op, Homeschool Link-up, TGIF Linky Party, Preschool Corner, Ultimate Homeschool Pinterest Party, Sharing Saturday, Share It Saturday, Link & Learn.