I had fun preparing Montessori spaces for my children at home. Now I'm having fun preparing Montessori spaces for my granddaughter.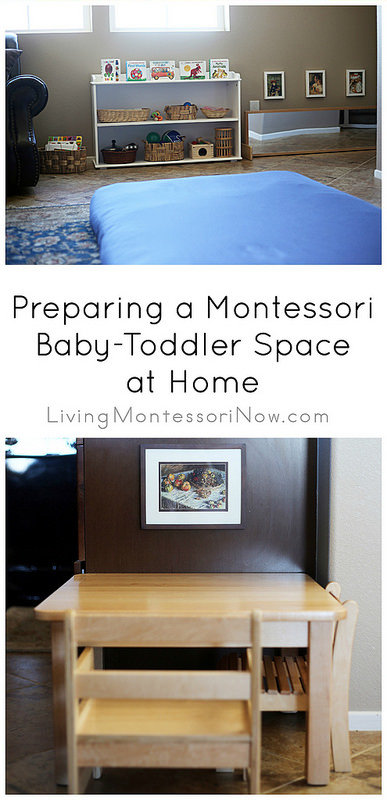 I take care of my 10- month-old granddaughter, Zoey, a number of afternoons each week. I wouldn't be comfortable having a home that wasn't Montessori-friendly, so I've created a progression of Montessori baby spaces in our main living area.
My husband and I have a home with the living room, dining room, and kitchen connected as part of a great room. It's perfect for creating a Montessori-friendly baby-toddler space where Zoey can have freedom of movement throughout the entire main floor with the exception of the bathroom. When Zoey is ready, she can have access to the bathroom as well.
Disclosure: This post contains affiliate links (at no cost to you).
Montessori Baby Space in the Main Living Area
We started with a Montessori baby space in our living room. The baby space has evolved as Zoey has grown. At first, the baby space simply consisted of a futon and horizontal mirror with a mobile. Later, I added toys in baskets. I kept the baskets on Zoey's futon so she could easily reach them.
When Zoey started to eat solid foods, I added a weaning table to our dining-room area. That table serves as both an eating area and an activity area.
Our Current Montessori Baby-Toddler Space in the Main Living Area
When Zoey started to crawl and pull herself to a standing position, we added gates to close off our lower and upper levels. The futon remains in its place on the floor, and it's where Zoey continues to take her naps. I moved the horizontal mirror against the wall and added a baby-toddler shelf to the room.
Initially, I planned to use an Ikea Expedit shelf placed on its side. The shelves were discontinued, however, so I looked for alternatives. I decided to get a 2-tier 30″ white bookcase that's actually intended for bedrooms. We assembled it without the legs. Even though it has two shelves rather than one, it isn't too tall for a baby who can pull him- or herself to a standing position by the shelf. It's stable enough that it can't be pulled over.
I placed Zoey's heaviest toys and baskets on the bottom shelf. On the top shelf, I placed board books that Zoey could easily get from the top shelf without hurting herself. (There's also a basket of board books next to the shelf.) This has worked very well, and I'm happy that Zoey won't outgrow the shelf.
I've added prints of art masterpieces above Zoey's horizontal mirror and above her weaning table. I used Command Picture Hanging Strips so I can move the frames as needed without damaging my wall or kitchen cabinet. I love French Impressionist paintings, so I used free Wikimedia Commons downloads for Pierre-Auguste Renoir prints above the horizontal mirror: Girl with Flowers, Gabrielle Renard and infant son, Jean, and Two Girls Reading.
Above Zoey's weaning table is Still Life with Apples and Grapes by Claude Monet.
Zoey has multi-purpose bibs and art smocks for her weaning table, like the eat and play smock in the photo and a cute owl waterproof sleeved bib.
Changing Our Current Montessori Baby-Toddler Space to a Toddler Space
Now that Zoey is walking, I may soon replace the mirror with a second shelving unit identical to the first with a rug holder between them. At that time, I'll just move the art prints up above the new shelving unit.
When Zoey is a bit older, I'll add a vase with flowers to her weaning table. When she's ready, I'll have a flower-arranging activity on her shelf where she can create her own dining-area flower arrangement. The weaning table will work well as her eating area and activity table throughout her toddler years. I have a slatted chair for her to use as a toddler. (A small stool is typically used for the adult seated on the baby's dominant side, but I've used the slatted chair as my chair when feeding Zoey as a baby.) If there's a new grandbaby in the future, that baby will use the heavy first chair.
When we baby-proofed our kitchen cabinets with baby-safe latches, we left one low cupboard unlatched for Zoey's snack items when she's a bit older. I'll also add a Learning Tower for a step stool and food-preparation area.
Preparing Montessori Spaces in Your Home
See "How to Create a Montessori-Friendly Home" for ideas for a number of levels. Here are some of my main home environment posts:
Jo Ebisujima and I have a free Montessori at home webinar and introduction to our Montessori Crash Course.
Whatever sort of Montessori environment works for your home and family, have fun preparing it! 🙂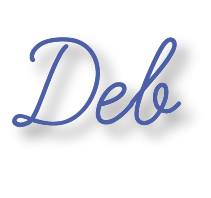 This post was written for the Carnival of Natural Parenting hosted by Hobo Mama and Code Name: Mama. This month our participants have opened up their doors and given us a photo-rich glimpse into how they arrange their living spaces.
***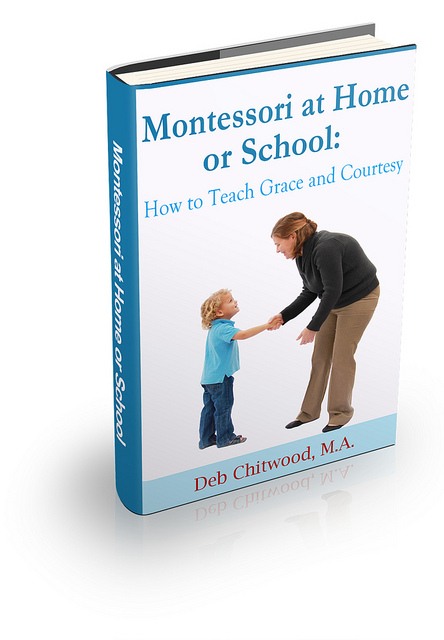 Learn more about Montessori at Home or School: How to Teach Grace and Courtesy!
If this is your first time visiting Living Montessori Now, welcome! If you haven't already, please join us on our Living Montessori Now Facebook page where you'll find a Free Printable of the Day and lots of inspiration and ideas for parenting and teaching! And please follow me on Pinterest (lots of Montessori-, holiday-, and theme-related boards), Twitter (blog posts by me and others along with the Parent/Teacher Daily and other interesting information), and Google+ (post updates and Montessori Community). You can find me on bloglovin' now, too. I'm also a Parenting Expert on Sulia. Thank you for following me there. And don't forget one of the best ways to follow me by signing up for my weekly newsletter in the right sidebar. You'll get two awesome freebies in the process!
May be linked to Afterschool Express, Thoughtful Spot, Tuesday Tots, The Mommy Club Resources and Solutions, Mom's Library, A Little Bird Told Me Linky Party, The Weekly Kid's Co-op, Homeschool Link-up, Learn & Link, TGIF Linky Party, Preschool Corner, Ultimate Homeschool Pinterest Party, Sharing Saturday, Share It Saturday, Show-and-Share Saturday, The Sunday Showcase, Link & Learn.