Parents often feel confused about practical life in a Montessori home. Does there need to be a place for all those cute trays for pouring and transferring? And how long are those trays needed? What does practical life look like for older preschoolers through elementary kids?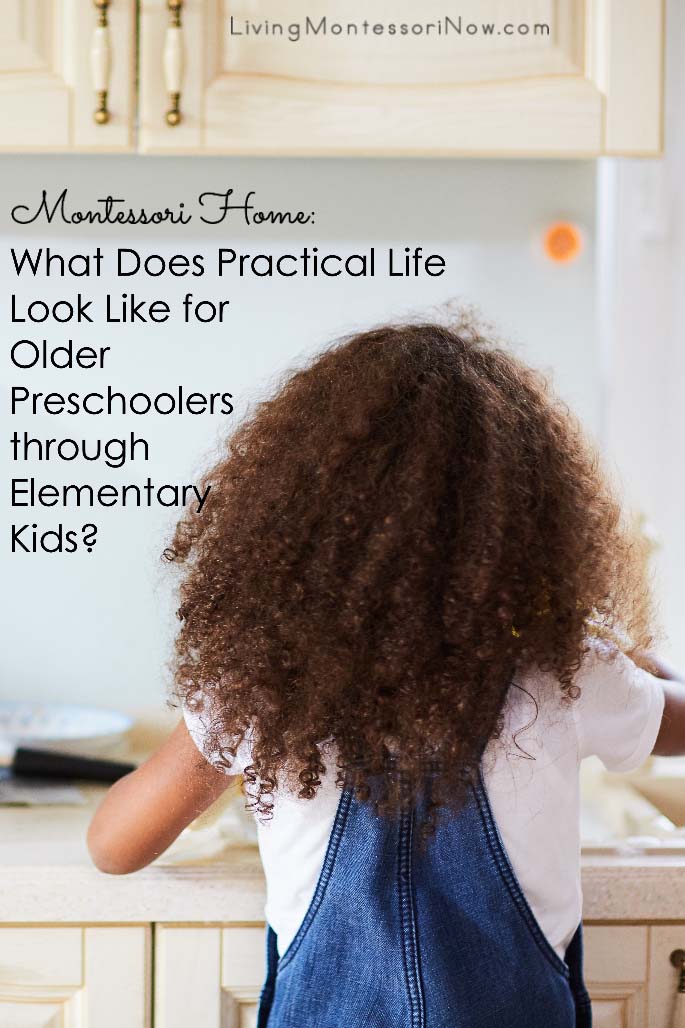 Practical Life for Toddlers and Younger Preschoolers in a Montessori Home
Some Montessori families never use practical life trays or have a special practical life area, preferring to integrate practical life activities into the rhythms of their home life. Others will have a few practical life trays to focus on specific skills, such as pouring or using a specific utensil.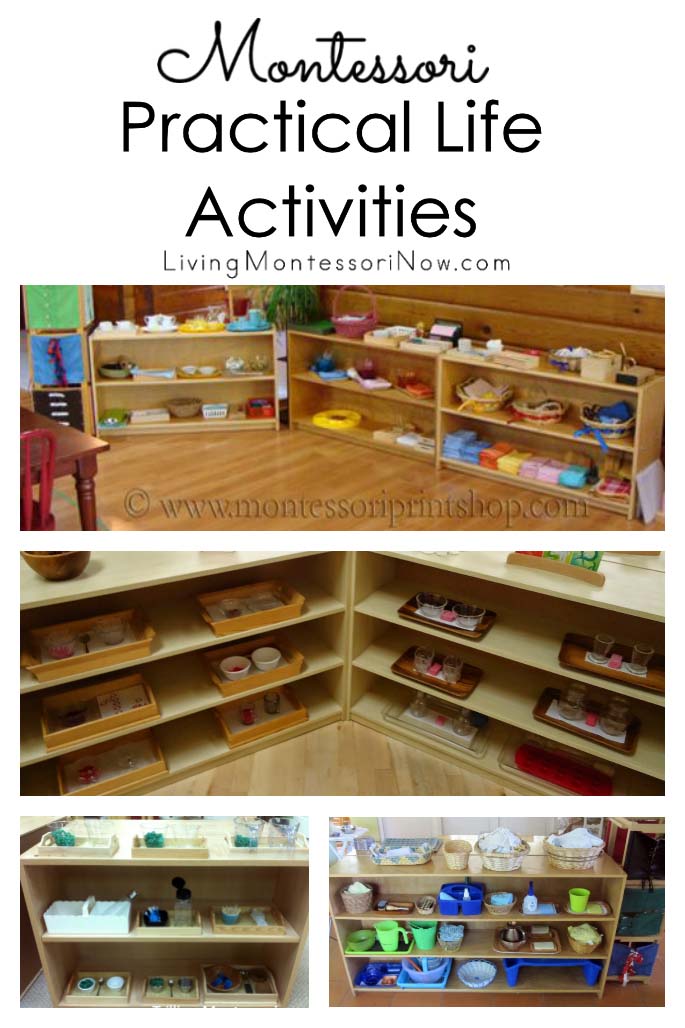 If you're looking for specific practical life activities, be sure to read my post on Montessori practical life activities. You'll find lots of activities that are great for classroom or home.
You don't need to have a large practical life area like the ones shown in Montessori classrooms. I typically had just a few practical life activities on shelves along with cleaning tools that were always available to work on skills my kids (and now my 4-year-old granddaughter, Zoey) needed. Soon that will be the case again when my new grandbabies are toddlers. The shelf activities were changed as needed. And many of the activities were integrated as a natural part of life in a Montessori home.
You can see many of our practical life activities (including favorite Montessori practical life activities for toddlers and preschoolers) that are easy to duplicate in almost any home.
Practical Life for Older Preschoolers through Elementary Kids in a Montessori Home
If your child has had many opportunities for practical life work as a toddler and young preschooler, you might find his or her needs change a lot as an older preschooler (4-5 years) on up. Of course, if practical life activities are new to your older preschooler, it's perfect to introduce activities that might have been introduced to a younger child. What's important is meeting your child's needs. If the activities are new, they can be lots of fun for an older child, too.
But, if your child has had lot of practical life work, don't feel the need to have a specific practical life shelf at home. Practical life for older kids can easily be integrated into the rhythms of family life.
If there's a specific skill you want to focus on, you might do it by including a practical life skill in another type of activity (such as do-a-dot work that might focus on phonics, reading, and handwriting but can also include transfer work with a variety of tools).
Food Preparation Activities
An especially popular practical life area for older kids is food preparation. While Zoey did a lot of food preparation activities as a toddler and young preschooler, she's gradually increased her skill level and the level of independence she has for food preparation. You'll see our food preparation activities in my kids in the kitchen category.
For example, while Zoey did a lot of the work in making blueberry muffins at almost 2½, she is capable of doing much more at almost 4½.
Our food preparation work for making blueberry muffins might look more like this now. I'll get out the ingredients for Zoey (particularly the ones she can't reach) and let her do as much of the work as possible. I keep our recipes in our family recipe book that's simply a binder with recipes in sheet protectors. Many of those recipes I've made available for you on my blog in the recipes category. Older preschoolers and elementary-age kids can be amazing in the amount of independence they show in preparing foods and even complete meals.
Cleaning Activities
Zoey's work/food preparation/snack table and cleaning area has remained fairly constant since she was a toddler. I've always had cleaning materials available for her to use. Some are as simple as a spray bottle filled with distilled water along with a microfiber cloth. She still loves that and recently went around my whole kitchen, living room, and dining room cleaning every surface she thought needed it. She often uses that to clean windows as well. As she got older, I added a squeegee to the tray. (It's the purple tray in this post.)
Much of cleaning work for older preschoolers on up consists of the child seeing what needs to be done and using the skills and love of work developed earlier to pitch in to do what needs to be done for the family. For example, when I wanted to wash my balcony floor a bit before Zoey turned four, she happily joined me in scrubbing the floor clean.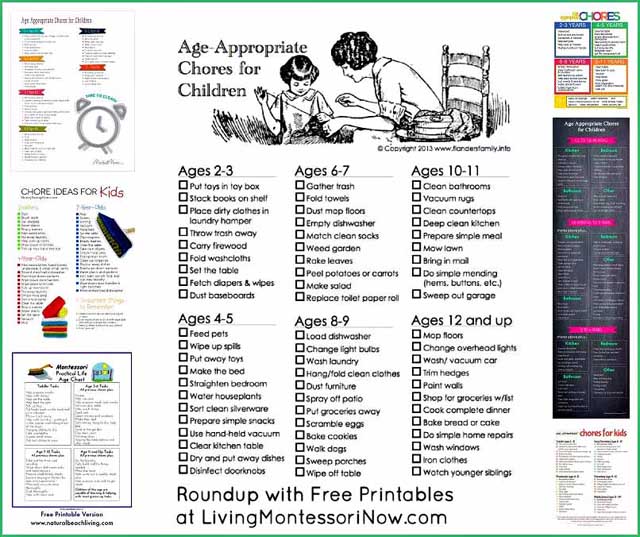 I have a roundup post with links to many helpful free printables with ideas for age-appropriate chores for children. When children have done practical life activities from an early age, helping out around the house is a natural part of childhood.
Care of Pets
Care of pets can start early and become a greater responsibility for older children.
Gardening and Care of Plants
Again, gardening and care of plants both indoors and outdoors can be a natural part of the Montessori home for many ages.
Here's our 2018 small-space gardening project.
Handwork
Once the child can accomplish many care of self activities, such as dressing using a variety of fasteners, it's great for him or her to work with handwork activities. These are popular activities in Montessori elementary programs and are natural in a Montessori home. You might have a simple sewing basket for your child or even a portable sewing machine for a variety of creative projects.
You'll find lots of ideas for activities in my Montessori-inspired sewing activities roundup.
Knitting is often popular with many older preschoolers on up. You'll find ideas for knitting activities in my Montessori-inspired knitting activities roundup.
Whether it's sewing, knitting, embroidery, quilting, crocheting, or weaving, just choose the appropriate handwork activity by observing your child's needs and interests.
Woodworking
Children can develop basic woodworking skills as toddlers and young preschoolers and do more difficult and creative projects as they get older. Woodworking is great for both boys and girls. I loved to have a workbench outdoors as a Montessori teacher and when I homeschooled my now-adult kids. Even if you can't have a woodworking bench, there are many woodworking activities you can do at home.
You'll find lots of ideas for a variety of ages in my Montessori-inspired woodworking activities roundup.
Grace and Courtesy
An area of practical life that I'm especially obsessed with is grace and courtesy. Lessons in social graces should start when your child is a toddler (after seeing proper social graces modeled as a baby). I have a category of posts about grace and courtesy for toddlers on up.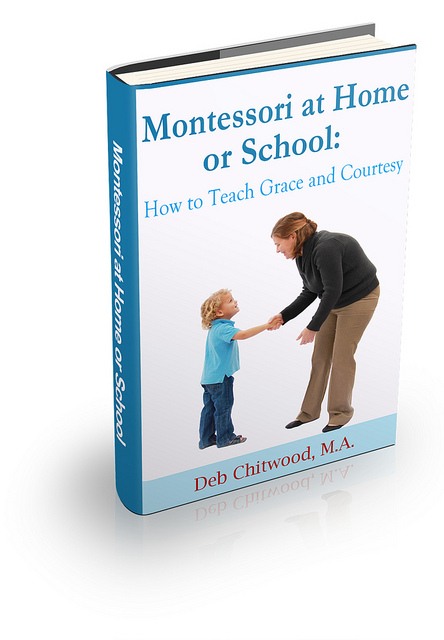 If you have my eBook on Montessori at Home or School: How to Teach Grace and Courtesy, you know that it has ideas for teaching grace and courtesy for children from ages 2-12. Younger children need social graces demonstrations and lots of practice. Elementary-age kids on up also like to know the reasons for various social graces. Grace and courtesy is an area that you can include in your home often with minimal or no preparation … and with amazing results.
Community Service
Much of the practical life work children do as preschoolers can evolve into community service projects as elementary-age kids. Whether they're making quilts for charity, helping prepare meals for the homeless, organizing a recycling drive (or toy, food, or clothing drive), or helping at an animal shelter, older kids to continue to develop life skills as well as qualities of compassion and empathy through community service. My Bits of Positivity blog has an emphasis on character education, and making a difference is a big part of that.
So, what does practical life in a Montessori home look like for older preschoolers and elementary kids? While the above ideas are generally true, what's best for your unique child and family is what practical life should look like in your home.
2018 Montessori Series
This post is part of the 2018 Montessori series with the theme of practical life. Check out the posts below for lots of great practical life activities.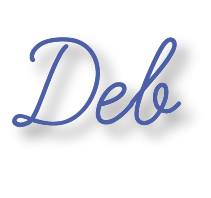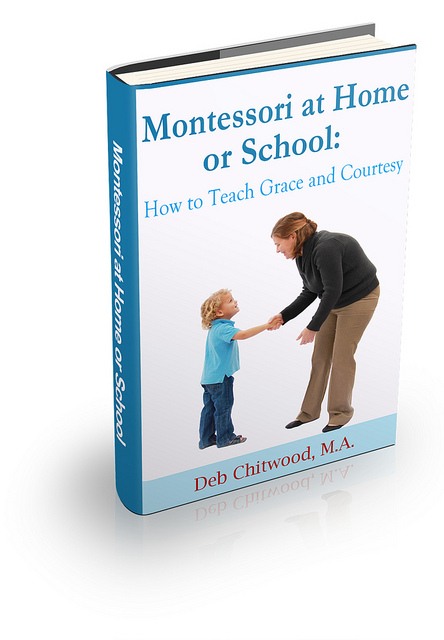 Learn more about my eBook Montessori at Home or School: How to. Teach Grace and Courtesy!
The Montessori at Home! eBook and Montessori at Home! eBook and Materials Bundle are AMAZING resources! You can learn more about them here. Buy them in the Living Montessori Now shop.
If this is your first time visiting Living Montessori Now, welcome! If you haven't already, please join us on our Living Montessori Now Facebook page where you'll find a Free Printable of the Day and lots of inspiration and ideas for parenting and teaching! And please follow me on Pinterest (lots of Montessori-, holiday-, and theme-related boards), Instagram, and YouTube. You can find me on bloglovin' and Twitter, too.
And don't forget one of the best ways to follow me by signing up for my weekly newsletter. You'll receive some awesome freebies in the process!