It can be very challenging to introduce gardening activities to your child if you only have a small outdoor gardening space available. We found a solution that we're excited about … small-space gardening in a vertical planter. Even my infant grandbabies love it!
Disclosure: This post contains some affiliate links (at no cost to you).
Materials Used for Small-Space Gardening in a Vertical Planter
Introducing the Names of Plants with the 3-Period Lesson

We use the Montessori 3-period lesson to introduce vocabulary in general, and it's perfect for introducing types of plants. You can decide how in-depth you want to go with the 3-period lesson, depending on your child's age and skill level. You could also use Montessori 3-part cards to extend the vocabulary part of your gardening work.
Activities in our Montessori Small-Space Gardening
This was a fun family project! I was taking care of my granddaughters Zoey (4½ years) and Sophia (4½ months) the day we did our vertical planter gardening project. My daughter, Christina, son-in-law, Tom, and grandson, Caleb (8 weeks) came over so Tom could help with the project.
Tom and Zoey did the planting work while Chrissy and Caleb enjoyed the outdoors and watched. I was in charge of Sophia and the camera!
First Tom and Zoey added the soil. They put organic cactus soil near the top where we planned to put cacti and other low-water plants.
You can grow a variety of plants in a vertical planter. I mainly wanted cactus plants at the top, flowers in the middle, and herbs at the bottom. For the herbs, we used some organic plants and some organic seeds.
Our balcony was always a relaxing place, but it's especially nice with the flowers in the vertical planter. Both my grandbabies, Caleb and Sophia, love being out on the balcony. They both are naturally happy and relaxed babies, but they become extra relaxed in the fresh air, enjoying the pretty flowers.
Zoey does a great job of watering plants, which is a wonderful practical life activity for preschoolers on up. The one thing we found we needed to change was our watering can. Ours from before works well for watering most plants, but it's difficult to use with a vertical planter.
I've ordered a watering can with a narrow, long spout that should work perfectly. I purchased one that's attractive, leak-proof, and long-lasting, but it hasn't arrived yet. Watering cans with narrow spouts are available in a variety of styles and price ranges, but I do recommend that type of watering can unless you use the built-in irrigation system that comes with a vertical planter like the one I have. I don't have the right type of water hookup to use the irrigation system, so I'm just going for a workable watering can. That's best for Zoey's practical life work anyway!
Zoey starts from the top and works down with her watering so the bottom plants can get some water from the upper soil, too.
We're all in love with our vertical planter! The balcony has become a popular place whenever someone visits!


Our Other Family Gardening Activities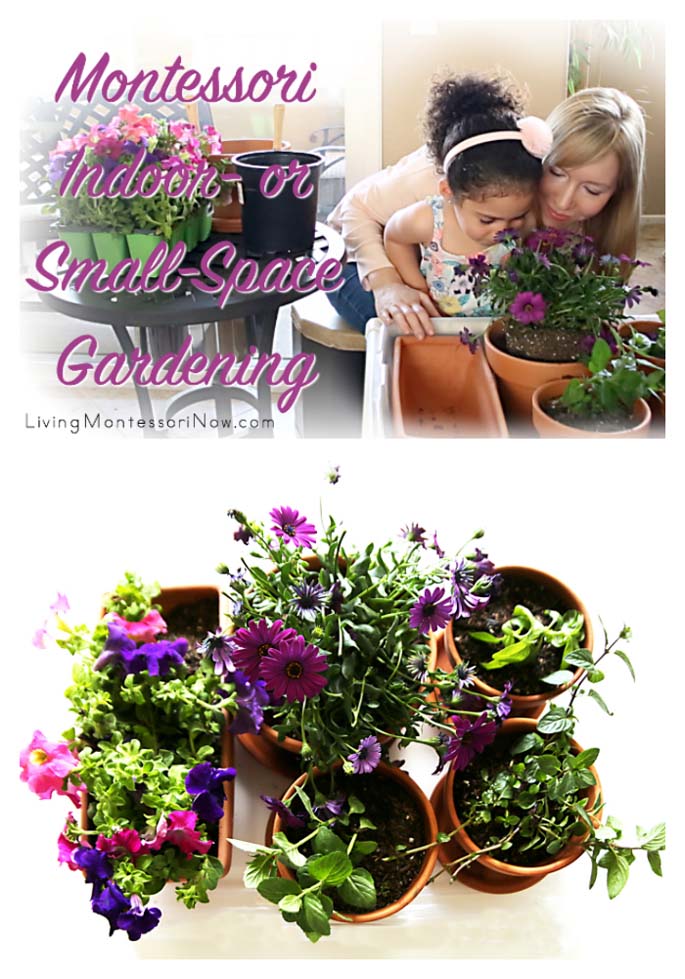 See "How To: Montessori Indoor- or Small-Space Gardening in a DIY Sensory Table" to read about our main gardening project last year. We had lots of fun with it!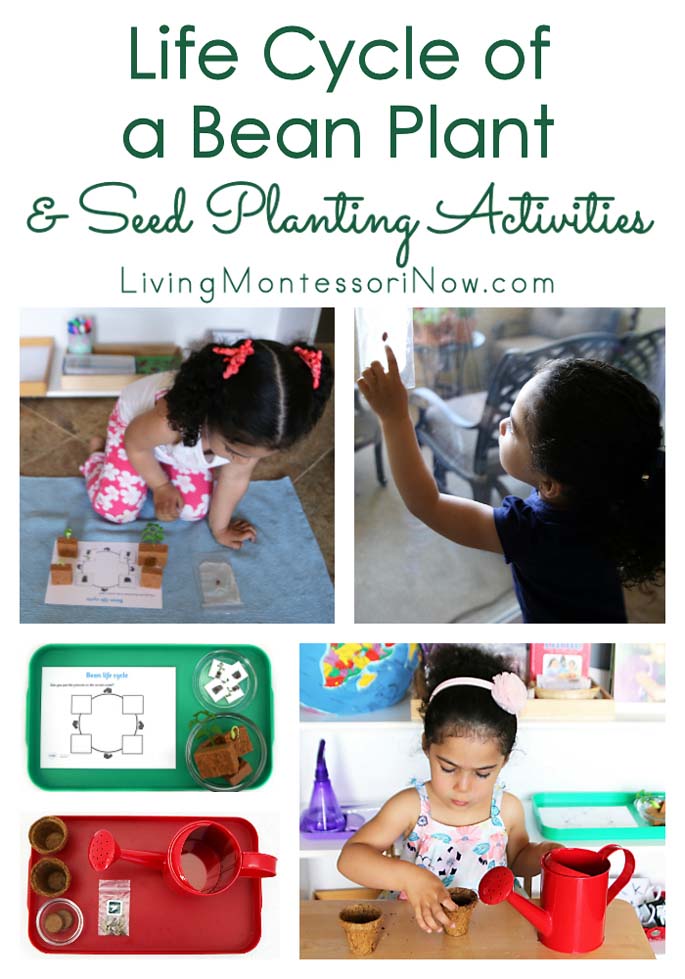 See "Life Cycle of a Bean Plant and Seed Planting Activities" to see our work with seeds last year.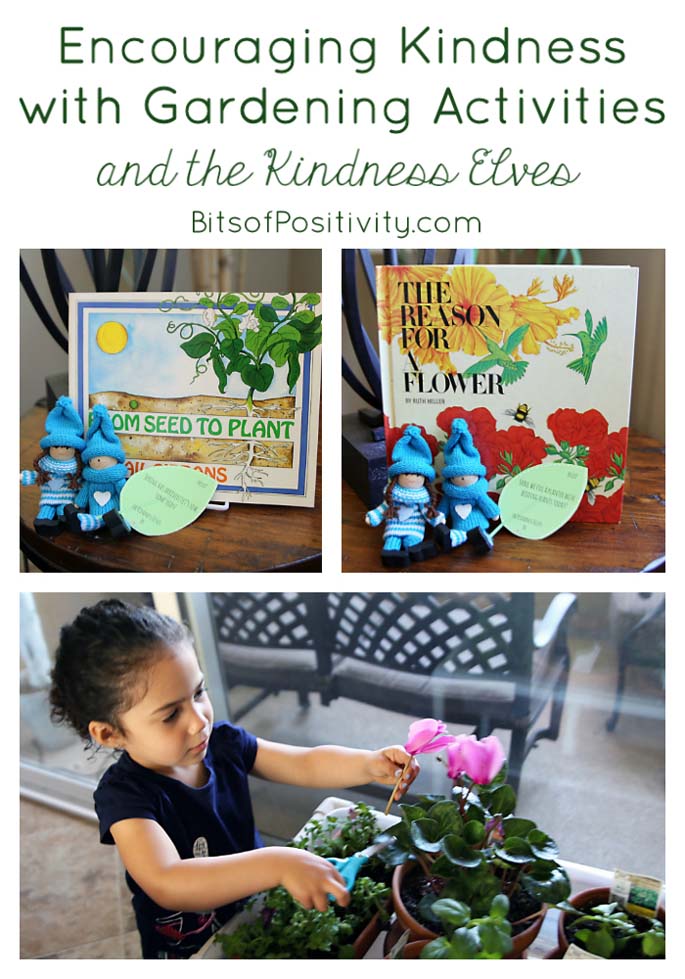 At BitsofPositivity.com, I tell how we used the Kindness Elves to focus on kindness with our gardening activities.
More Gardening/Botany Activities and Resources
I have lots of botany and gardening activities you can introduce to your child or students.
Do you have a favorite family or classroom gardening project?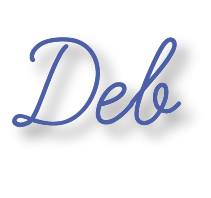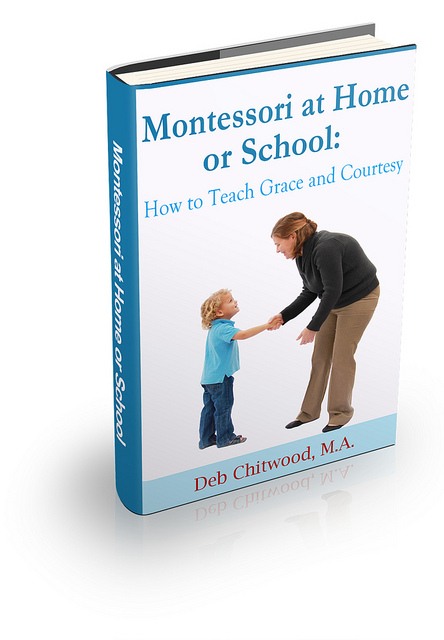 Learn more about my eBook Montessori at Home or School: How to. Teach Grace and Courtesy!
The Montessori at Home! eBook and Montessori at Home! eBook and Materials Bundle are AMAZING resources! You can learn more about them here. Buy them in the Living Montessori Now shop.
If this is your first time visiting Living Montessori Now, welcome! If you haven't already, please join us on our Living Montessori Now Facebook page where you'll find a Free Printable of the Day and lots of inspiration and ideas for parenting and teaching! And please follow me on Pinterest (lots of Montessori-, holiday-, and theme-related boards), Instagram, and YouTube. You can find me on bloglovin' and Twitter, too.
And don't forget one of the best ways to follow me by signing up for my weekly newsletter. You'll receive some awesome freebies in the process!