I'm excited today to share a math excerpt from John Bowman's 3rd edition of Montessori at Home: A Complete Guide to Doing Montessori Early Learning Activities at Home with 3-6 Year Old Children!
Can't afford a complete set of Montessori golden bead material? Montessori at Home eBook even has printables to help you out! You'll find a total of 72 pages of printables (some from each curriculum area) in the eBook!
Following is one of the more advanced math excerpts from the book. Don't worry if your child isn't nearly ready for this activity. This activity is from only one of 512 pages in the book!
Going from 1000 – 10,000!

Whew, you're getting up there! Very few parents go this far at home, but just in case you guys are overachievers or your child is showing a remarkable interest in math, or both, we'll go over it. All you need are more Hundred Squares from the printout on page 481.

Ten hundred squares are stapled together to make 1000. Do this with your child and count each hundred as you stack them up ("100,200,300″….). Staple ten together and write 1000 on top with a black marker. Make a few of these.

Lay out the squares, bead bars, and numerals as shown. Review with your child how many are in each row and what each numeral says.

Add the amounts together, saying: "1000 + 200 + 80 + 4 makes One thousand, two hundred, eighty four." Bring the numerals together, saying: "1000 + 200 + 80 + 4 says 1,284″. Your layout should look like the photo.

When your child has done many different numbers like this, you can point out that the first place on the right is the Units place, the next is the Tens place, the next is the Hundreds place, and the fourth is the Thousands place.

The Montessori Stamp Game is the next step from here. Stamp Game (iPad) is a great app for this. You can also download the free Printable Stamp Game & Instructions from Montessori Print Shop.

(Excerpt and photos used with permission from John Bowman. Printable Stamp Game Image used with permission from Montessori Print Shop.)
More Excerpts from Montessori at Home!
Activities with Marbles and Golf Tees from Montessori at Home!
Building a Flashlight and Pipe Building from Montessori at Home!
Montessori at Home! eBook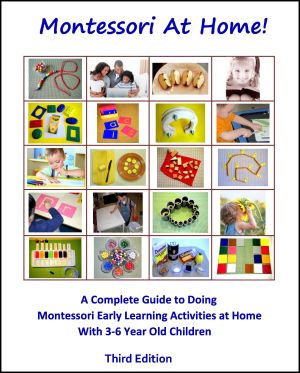 The 3rd edition of Montessori at Home eBook is available exclusively at Living Montessori Now for only $6.95 (originally $10.95) for 512 pages with over 300 early-learning activities!
In the eBook, you'll also find a quick start guide, 225 educational digital tablet app recommendations, hundreds of links to sites, blogs, and videos, and 76 pages of printable materials!
You can get a free download of 51 sample pages from Montessori at Home eBook by clicking here! (This includes information on John's simplified Montessori reading sequence.)
Here's the direct link to the purchase page for Montessori at Home!eBook. Here's the direct link to the purchase page for the Montessori at Home! Materials Bundle (includes the Montessori at Home eBook AND over $60 worth of Montessori Print Shop materials to go with the book for only $15.95). 
Montessori Monday Link-Up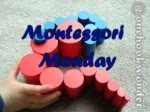 If you have some Montessori activity trays/lessons to share, please link up below. It's fine to link up a post from your archives – and you may link up anytime during the week! Your post may be any Montessori-inspired activity or idea. It doesn't need to be related to my Montessori Monday post.
Link up your exact post URL so that we can find your activity if we return to the linky at a later date (which I often do when I'm looking for activities for a roundup post). I publish the Montessori Monday post and linky at 6:00 a.m. EST each Monday and keep the linky open throughout the week.
Please place the Montessori Monday button (using the code from the right sidebar) in your post or put a link back to this post. Let's use Montessori Monday to gain inspiration/ideas and to encourage each other! If you would leave an encouraging comment on the post linked up ahead of you (along with any other posts you're drawn to), that would be awesome! Thanks for participating!
Notes:
Sadly, BlogFrog is closing the communities, including the Living Montessori Now Community, on May 31. For community discussions, please join us at the Living Montessori Now Facebook page, We Teach Montessori Group, and/or Google+ Montessori Community.
If you have a giveaway on your blog, please add it to my Family-Friendly Giveaway Linky Page! If you enjoy entering giveaways, you'll always find some great giveaways there.
Also, if you've ever been linked to in one of my roundup posts, please feel free to grab the "Featured on" badge.

Have you added the Montessori Monday button or a text link? Please be sure you've done one or the other so that others can find the link-up, too! Thank you!
If this is your first time visiting Living Montessori Now, welcome! If you haven't already, please join us on our Living Montessori Now Facebook page where you'll find a Free Printable of the Day and lots of inspiration and ideas for parenting and teaching!
Linked to Tuesday Tots, Tactile Tuesday, The Mommy Club Resources and Solutions at Milk and Cuddles and Crystal & Co., The Weekly Kid's Co-op, Hearts for Home Blog Hop, Learn & Link, TGIF Linky Party, Preschool Corner, Sharing Saturday, Saturday Show & Tell, Share It Saturday, Show-and-Share Saturday, The Sunday Showcase, Link & Learn, and Afterschool Express