I'm a real fan of Montessori food preparation activities. Having young children use real knives is something many parents worry about, though. John Bowman's Montessori at Home eBook has a section on cutting with knives – right after his "Cutting with Scissors" section. Here's a helpful and reassuring excerpt from Montessori at Home on cutting with a knife. (Note: Because my blog dimensions are different, the layout won't be the same as in the Montessori at Home eBook.)
Disclosure: This post contains For Small Hands and Montessori at Home affiliate links at no cost to you.
Cutting with a Knife
Excerpt from Montessori at Home!
As a Montessori teacher, I often saw fear in parent's eyes when we showed them the celery cutting material, which included a sharp paring knife. More than one parent reconsidered sending their child to Montessori school! Not to worry, cutting is like other skills. A child's skill level builds slowly, with plenty of practice, until the child is ready for each new step.

Like scissors, cutting with a knife is a complex skill. The fingers of one hand stabilize the object and have to move out of the way as the other hand cuts. The knife has to be held perpendicular or it may slide off and cut you. The right amount of pressure and sawing motion must be exerted on the blade to make it cut properly. There is a lot going on and it takes practice. All of the activities we have covered so far build the necessary fine motor control for complex skills like cutting.

With a banana and a dull dinner knife, a toddler can practice. For a 2-3 year old, try using a self-contained activity, as at right.
L Photo: Chasing Cheerios
R photo: Montessori Album
Videos: Cutting & serving a banana   Peeling carrots

Try banana cutting with a plastic knife first, as at left. Next, your child can cut cheese, which is a bit firmer, with a dull dinner knife. A pickle, at right, is wet and has at least one curved surface, increasing the challenge. You will have to decide when your child is ready to use a sharper knife to cut vegetables like celery. Provide plenty of practice at each step.

[First photo], a carrot peeling material from Counting Coconuts. It has a small peeling tool and a hand wave slicer, adding new tools. [Second photo], another great Counting Coconuts activity – egg slicing. This uses a hinge type egg slicer. [Third photo]: learning to cut with a knife and fork at MontessoriMOMents. Mastering these skills builds a positive self-image and an "I can do it!" attitude that stays with children as they get older.

Video: Egg slicing

Even buttering bread can be made into a Montessori activity. This material organizes and isolates the essential elements and the task in an aesthetic way that helps a child focus attention and internalize a sense of beauty and order.
Photo: Counting Coconuts
Excerpt used with permission of John Bowman.
Montessori at Home! eBook Available Exclusively at Living Montessori Now!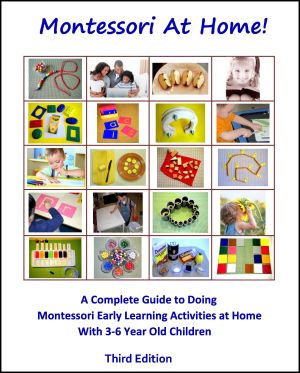 The 3rd edition of Montessori at Home! eBook is only $6.95 (formerly $10.95) for 512 pages with over 300 early-learning activities!

In the eBook, you'll also find a quick start guide, 225 educational digital tablet app recommendations, hundreds of links to sites, blogs, and videos, and 76 pages of printable materials!
You can get a free download of 51 sample pages from Montessori at Home eBook by clicking here! (This includes information on John's simplified Montessori reading sequence.) 
Here's the direct link to the purchase page for Montessori at Home! eBook. Here's the direct link to the purchase page for the Montessori at Home! Materials Bundle,which includes the Montessori at Home eBook AND over $60 worth of Montessori Print Shop materials to go with the book (now only $15.95)!
The Montessori at Home! eBook and Materials Bundle Available Exclusively at Living Montessori Now!
Here's the list of 21 printable Montessori materials included in the bundle:
Phases of the Moon (3-part cards & chart)
Animals of the Continents
Continents 3-Part Cards
Land & Water Form Photo Book
World – Control Maps, Masters and Labels
Moveable Alphabet – Print – (includes full instructions)
Sentence Cards – Step 1 – Set 1
Word and Picture Cards – Step 1 – Read Pictures
1-100 Math Series
Geometric Matching Cards
Geometric Solids 3-Part Cards – Blue
Skeleton Nomenclature Cards
Tree Nomenclature Cards
Phonics Sound and Picture Sorting
Association of Objects
What Does Not Belong
The Five Senses
Plant or Animal?
Animals and Their Names
Color Grading Cards
Metal Insets – Shape Outlines
Excerpts and Activities from the Montessori at Home eBook
Montessori at Home! eBook is one of the books I recommend first for parents interested in Montessori education. You can read all the excerpts from the book that I've shared here at Living Montessori Now:
Activities with Marbles and Golf Tees from Montessori at Home!
Building a Flashlight and Pipe Building from Montessori at Home!
1000-10,000 Activity from Montessori at Home!
Make Fossils from Montessori at Home!
Cutting with a Knife from Montessori at Home!
Free Play Tubs (Sensory Bins) from Montessori at Home!
Create an Attractive Home Environment from Montessori at Home!
 Concentration and Normalization from Montessori at Home
How to Prepare a Montessori Jar for Meaningful Preschool Activities at Home (an activity prepared using one of the book's printables)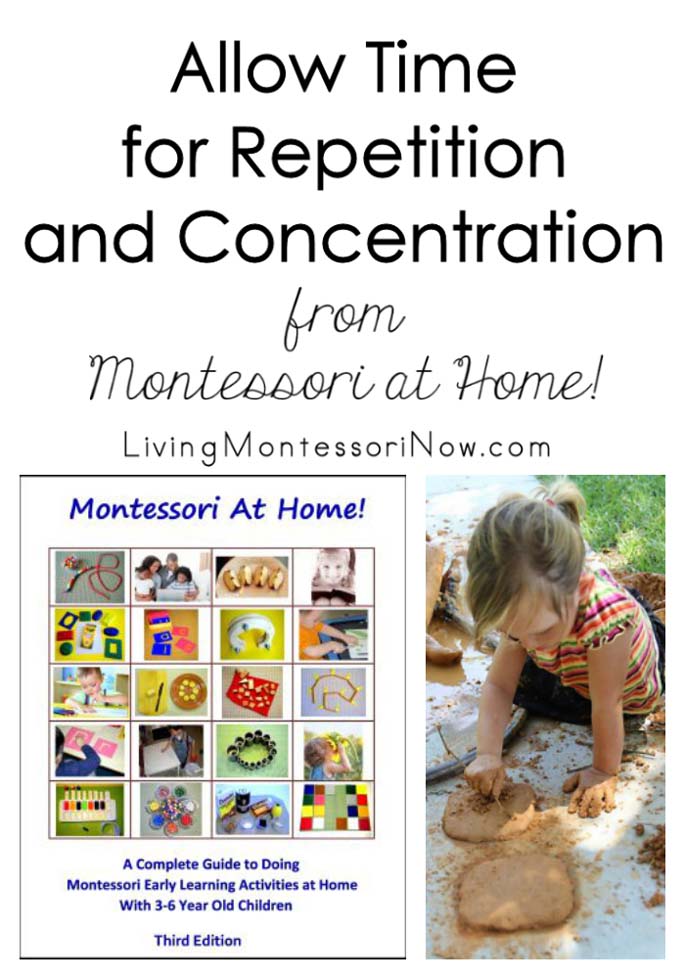 Allow Time for Repetition and Concentration from Montessori at Home!
Montessori Monday Link-Up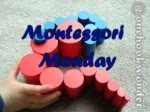 If you have some Montessori activity trays/lessons to share, please link up below. It's fine to link up a post from your archives – and you may link up anytime during the week! Your post may be any Montessori-inspired activity or idea. It doesn't need to be related to my Montessori Monday post.
Link up your exact post URL so that we can find your activity if we return to the linky at a later date (which I often do when I'm looking for activities for a roundup post). I publish the Montessori Monday post and linky at 6:00 a.m. EST each Monday and keep the linky open throughout the week.
Please place the Montessori Monday button (using the code from the right sidebar) in your post or put a link back to this post. Let's use Montessori Monday to gain inspiration/ideas and to encourage each other! If you would leave an encouraging comment on the post linked up ahead of you (along with any other posts you're drawn to), that would be awesome! Thanks for participating!
Notes:
For community discussions, please join us at the Living Montessori Now Facebook page, We Teach Montessori Group, and/or Google+ Montessori Community. The We Teach Montessori group has a Member Resources Sharing (for resources such as freebies and series) as well as a Linky Party for We Teach Montessori. We Teach Montessori has a linky just like the one here except that it's continuous where you may add your Montessori-inspired activities and ideas to the same linky. New links will go to the top of the linky. I'd love to see us build up a great collection of Montessori-inspired ideas there, too. After you link up here, why not hop over to the We Teach Montessori Group and link up there?! And don't forget the Saturday/Sunday Parent/Teacher Preparation Days share where you may share a kid-related activity of any kind at the Living Montessori Now Facebook page!
It's also Motivational Monday on Mondays now! I invite you to share something positive on the Bits of Positivity Facebook page (Bits of Positivity is my other blog) to help us all get a good start on the work/school week. You might share an inspirational or motivational quote, positive graphic, or post about finding balance or simplifying your life. Or you might share a post on organizing, an encouraging post, a post about making a difference in the world, or a positive parenting post. Just go ahead and share on the Bits of Positivity wall any time today! (Please "like" the Bits of Positivity Facebook page if you haven't already.) I'll be pinning a number of ideas to my regular Pinterest boards.
If you have a giveaway on your blog, please add it to my Family-Friendly Giveaway Linky Page! If you enjoy entering giveaways, you'll always find some great giveaways there.
Also, if you've ever been linked to in one of my roundup posts, please feel free to grab the "Featured on" badge.
Have you added the Montessori Monday button or a text link? Please be sure you've done one or the other so that others can find the link-up, too! Thank you!If this is your first time visiting Living Montessori Now, welcome! If you haven't already, please join us on our Living Montessori Now Facebook page where you'll find a Free Printable of the Day and lots of inspiration and ideas for parenting and teaching! And please follow me on Pinterest (lots of Montessori-, holiday-, and theme-related boards),  Twitter (blog posts by me and others along with the Parent/Teacher Daily and other interesting information), and  Google+ (post updates and Montessori Community). You can find me on bloglovin' now, too. I'm also a Parenting Expert on Sulia. Thank you for following me there. And don't forget one of the best ways to follow me by signing up for my weekly newsletter in the right sidebar. You'll get two awesome freebies in the process!
May be linked to Afterschool Express, Thoughtful Spot, Tuesday Tots, The Mommy Club Resources and Solutions at Milk and Cuddles and Crystal & Co., Mom's Library, The Weekly Kid's Co-op, Hearts for Home Blog Hop, Ultimate Mom Resources, Learn & Link, TGIF Linky Party, Preschool Corner, Ultimate Homeschool Pinterest Party, Sharing Saturday, Saturday Show & Tell, Share It Saturday, Show-and-Share Saturday, The Sunday Showcase, Link & Learn