I love it when kids prepare a Mother's Day or Father's Day breakfast! (A birthday breakfast is wonderful, too!) Whether it's in bed or at the table, simple or elaborate … it's awesome!
Montessori Food Preparation Activities
Food preparation is an important part of Montessori practical life activities. If your child has been working on food-preparation skills, there are many breakfast items they can prepare, even as preschoolers. And toddlers can also help prepare a special breakfast. The level of difficulty will simply depend on your child's age and experience with food preparation.
You'll find lots of food-preparation activities in my "Montessori-Inspired Food Preparation for Preschoolers" post. You'll find a number of breakfast ideas in that post, too.
Breakfasts Kids Can Make for Mother's Day, Father's Day, or a Parent's Birthday
I looked for easy, healthy, and fun breakfasts kids can prepare at a variety of ages.
Smile-Face Breakfast from Edventures with Kids (Young preschoolers can prepare this fun breakfast!)
25 Toast Toppings from Super Healthy Kids
Toast and Fruit from Family Education
Toastimals Made with Bananas, Berries, Bread, and Spread from Mama. Papa. Bubba (fun for parents as well as kids!)
Bagel and Berry Flower from B-Inspired Mama
Breakfast Crostini from Parenting
Make Your Own Microwave Oatmeal from Mom's Kitchen Handbook
Egg Breakfast Recipes from Peace…but not Quiet
English Muffin Egg Pizzas from Real Simple
Egg in a Hole with Berries and Yogurt from Real Simple
Bake-Ahead Eggs from Frugality Gal
Heart-Shaped Egg and Toast Breakfast from Motherhood on a Dime
Healthy Breakfast Recipes from Fit Body Full Life
Banana Blueberry Yogurt Smoothie from Kids Activities Blog
Fruit Smoothie from Dairy Council of California
Banana-Kiwi Breakfast Shake from Dairy Council of California
Homemade Granola from Real: The Kitchen and Beyond
Breakfast Sundae with Yogurt and Toppings from JDaniel 4's Mom
Rainbow Parfait with Protein Granola from Lemon Lime Adventures
Healthy Granola Protein Parfait with Chia Seeds and Fruit from Moni Meals
Blueberry Parfaits from Peace But Not Quiet
Blueberry and Banana Breakfast Parfaits from Happiness is Homemade
Frozen Fruity Yoghurt Bites from Mum in the Mad House
15 Healthy Breakfast Ideas for Kids, including Frozen Fruity Yoghurt Bites with Cereal from Eats Amazing
Slow-Cooker Oatmeal from Dairy Council of California
Allergy Friendly Applesauce Baked Oatmeal from The: The Kitchen and Beyond
Fluffy Whole Wheat Buttermilk Pancakes from Wordplayhouse
Whole Wheat Chocolate Chip Pancakes from Real: The Kitchen and Beyond
Banana Split Pancakes from Chocolate Covered Katie
Sneaky Healthy Chocolate Pancakes from The Seasoned Mom
"How to Make Breakfast in Bed for Mommy" (Crepes)

"French Toast with Peanut Butter – Quick and Easy Recipe for Father's Day"

"Quick and Easy Breakfast Recipe for Kids and Teens" (Peek-a-Boo Egg)
Montessori-Inspired Place Settings
Have your child work with "Montessori-inspired table setting" activities to prepare a special tray or table for the breakfast.
Montessori-Inspired Mother's Day and Father's Day Ideas
You'll find more ideas for Mother's Day and Father's Day here:
Mother's Day: Montessori-Inspired Mother's Day, Montessori-Inspired Mother's Day (2012), Mother's Day- and Teacher's Appreciation Gifts for Kids to Give, Handprint Keepsake for Mother's Day, Father's Day, or Grandparents Day, Rose Petal Treasure Basket, Sensory Bin, and Sensory Bottle, Thumbprint Keepsake Keychain Gift for Mothers, Grandmothers, and Teachers, Montessori-Inspired After Mother's Day Flower Petal Transfer for Toddlers and Preschoolers, Kids' Mother's Day Activities Pinterest Board
Father's Day: Montessori-Inspired Father's Day, Talking with Children about Death: Creating an "I Remember" Book (with free printables for children who've had a special male relative die and for children from military families and other families separated by distance), Montessori-Inspired Father's Day (2012), Handprint Keepsake for Mother's Day, Father's Day, or Grandparents Day, Father's Day Ideas Pinterest Board
Montessori Monday Link-Up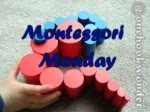 If you have some Montessori activity trays/lessons to share, please link up below. It's fine to link up a post from your archives – and you may link up anytime during the week! Your post may be any Montessori-inspired activity or idea. It doesn't need to be related to my Montessori Monday post.
If you're wondering what's considered "Montessori inspired" and what to link up (or not link up), check out my "What Is Montessori Inspired?" post. Link up your exact post URL so that we can find your activity if we return to the linky at a later date (which I often do when I'm looking for activities for a roundup post).
I publish the Montessori Monday post and linky each Monday morning and keep the linky open throughout the week.Please place the Montessori Monday button (using the code from the right sidebar) in your post or put a link back to this post. I do a lot of pinning on Pinterest and sharing on the Living Montessori Now Facebook page from the Montessori Monday link-up.Thanks for participating!
Notes For community discussions, please join us at the Living Montessori Now Facebook page and/or Google+ Montessori Community. And don't forget the Saturday/Sunday weekend sharing days where you may share a kid-related activity of any kind at the Living Montessori Now Facebook page!
It's also Motivational Monday on Mondays! I invite you to share something positive on the Bits of Positivity Facebook page (Bits of Positivity is my other blog) to help us all get a good start on the work/school week. You might share an inspirational or motivational quote, positive graphic, or post about finding balance or simplifying your life. Or you might share a post on organizing, an encouraging post, a post about making a difference in the world, or a positive parenting post. Just go ahead and share on the Bits of Positivity wall any time today! (Please "like" the Bits of Positivity Facebook page if you haven't already.) I'll be pinning a number of ideas to my regular Pinterest boards.
If you have a giveaway on your blog, please add it to my Family-Friendly Giveaway Linky Page! If you enjoy entering giveaways, you'll always find some great giveaways there.
Don't miss my latest giveaway of a 3-month Little Passports subscription! Open in U.S., Canada, UK, and Australia. Ends 6/11 at 9pm PST.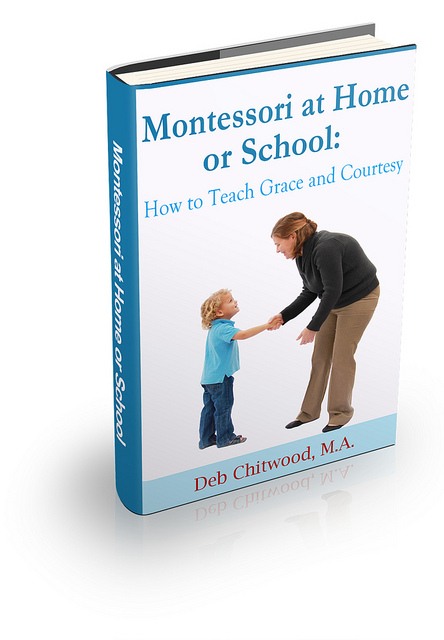 Learn more about my eBook Montessori at Home or School: How to Teach Grace and Courtesy! It's designed to help parents and teachers feel comfortable teaching manners to children ages 2-12. (And courtesy is a great addition to any curriculum.)

Also, if you've ever been linked to in one of my roundup posts, please feel free to grab the "Featured on" badge.