As an adult, I've never had an outdoor garden. But I've had fun watching my (now-adult) children and my 3-year-old granddaughter experience gardening in a variety of ways. Taking care of plants is an important part of caring for the environment. Gardening offers so many ways to care for the environment, whether it's planting seeds, transplanting plants, watering plants, weeding a garden, or harvesting food from the garden. We decided to use our DIY sensory table to create a way that my granddaughter, Zoey, can care for plants and have the fun of watching them grow without an outdoor garden.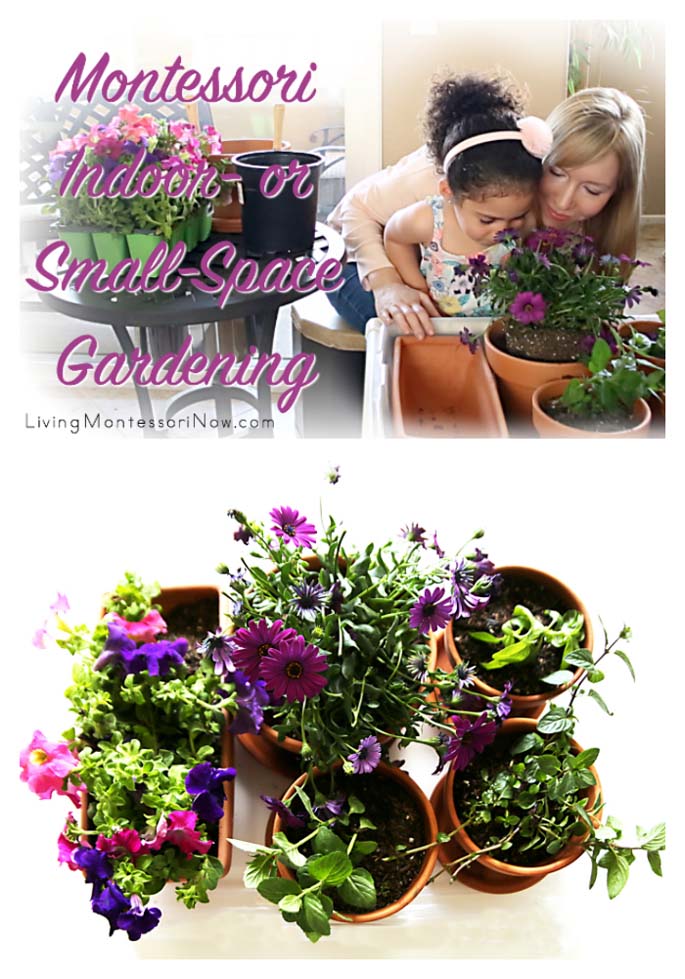 Disclosure: This post contains affiliate links (at no cost to you).
Montessori Indoor- or Small-Space Gardening in a DIY Sensory Table –

YouTube Video
Zoey always has fun with her sensory table/sensory bins. While a sensory bin isn't a traditional Montessori activity, it can have many practical life and sensorial elements. And it can be very calming and a way to promote concentration, much like a Montessori peace tray. Because I wanted to do do actual indoor gardening, we decided to use our DIY sensory bin/sensory table for transplanting herbs and flowers. My daughter, Christina, and Zoey (Christina's niece) had a wonderful time with the gardening activity. And Zoey loves having the plants available in her sensory table to explore and care for.
You can see how much fun Zoey had with gardening in this short video!
Montessori Indoor- or Small-Space Gardening in a DIY Sensory Table
I already had my DIY sensory table, a natural space to use for a portable planter.
We placed our sensory table in front of the patio doors at the end. If needed, I can move it outdoors. I appreciate that it's so portable. It's perfect for a sunny area indoors or outdoors on a deck or balcony.
Materials Used for Montessori Indoor- or Small-Space Gardening in a Sensory Table
Introducing the Names of Plants with the 3-Period Lesson

We use the Montessori 3-period lesson to introduce vocabulary in general, and it's perfect for introducing types of plants. You can decide how in-depth you want to go with the 3-period lesson, depending on your child's age and skill level. You could also use Montessori 3-part cards to extend the vocabulary part of your gardening work.
Activities in our Montessori Indoor Gardening
We used organic potting soil for our transplanting activities. With Christina's help, Zoey put each of the plants in its new, larger container.
Zoey enjoyed using child-size garden tools to add soil around each plant.
There was a sensorial aspect, of course! Zoey loved feeling the plant leaves and smelling the flowers.
At the end, Zoey was proud to water her plants.
And she's super excited about drinking peppermint tea made with leaves from our new peppermint plant! (Be sure to watch our 59-second video if you haven't already.)
Extensions to Our Indoor Gardening Activities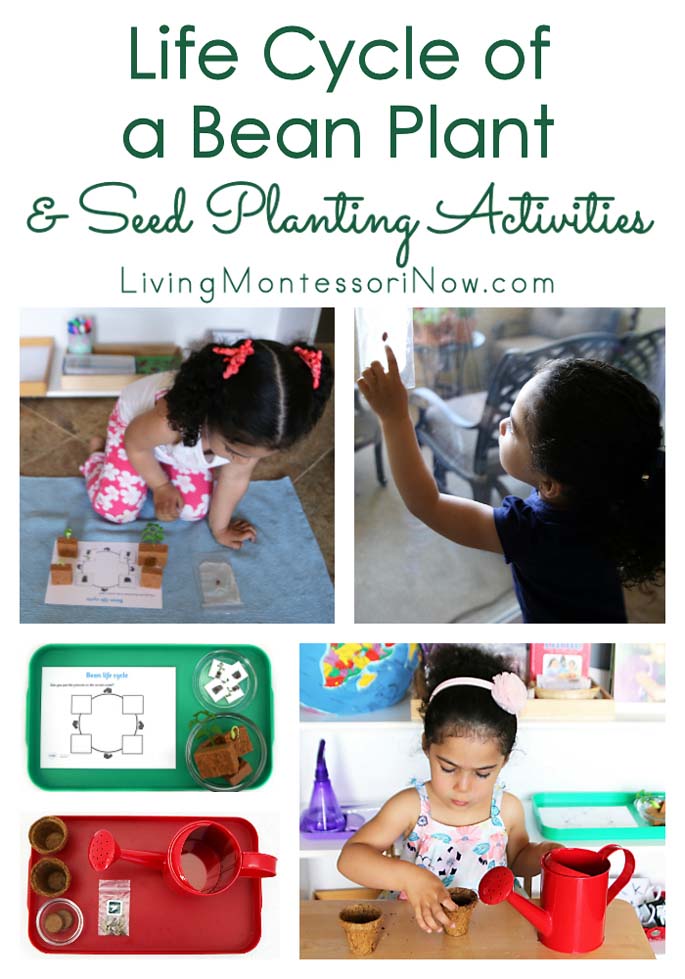 See "Life Cycle of a Bean Plant and Seed Planting Activities" to see our work with seeds.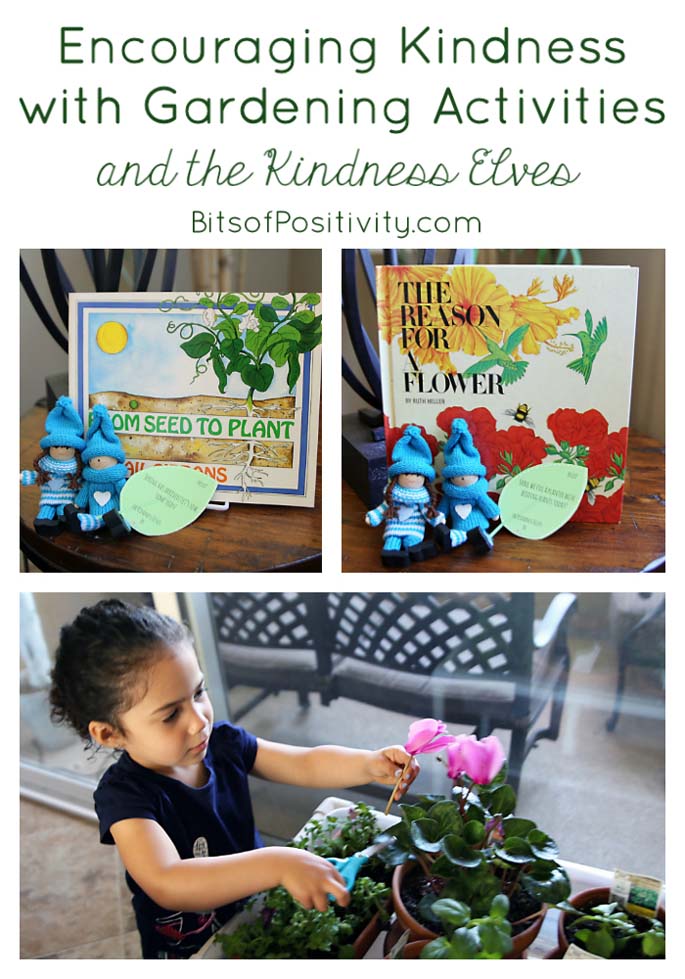 At BitsofPositivity.com, I tell how we used the Kindness Elves to focus on kindness with our gardening activities.
Update: Our favorite gardening project has been using a vertical planter for gardening in a small space outdoors year round.
More Gardening Activities and Resources for Toddlers and Preschoolers
I have lots of gardening activities you can introduce to your toddler or preschooler.
This post is part of the 12 More Months of Montessori Series!
12 Months of Montessori Series – Practical Life Themes
Check the posts below for a variety of practical life themes.
I also have lots of posts with practical life activities in general.
Does your child have a favorite practical life activity right now?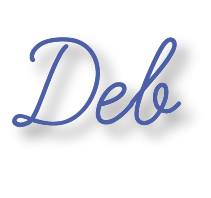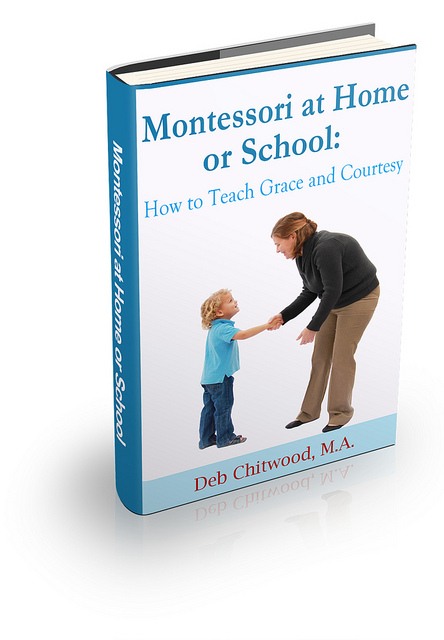 Learn more about my eBook Montessori at Home or School: How to. Teach Grace and Courtesy!
The Montessori at Home! eBook and Montessori at Home! eBook and Materials Bundle are AMAZING resources! You can learn more about them here. Buy them in the Living Montessori Now shop.
If this is your first time visiting Living Montessori Now, welcome! If you haven't already, please join us on our Living Montessori Now Facebook page where you'll find a Free Printable of the Day and lots of inspiration and ideas for parenting and teaching! And please follow me on Pinterest (lots of Montessori-, holiday-, and theme-related boards), Instagram, and YouTube. You can find me on bloglovin' and Twitter, too.
And don't forget one of the best ways to follow me by signing up for my weekly newsletter. You'll receive some awesome freebies in the process!