Shark Week has become a fun yearly tradition for many families. Here are lots of free shark printables and Montessori-inspired shark activities activities for Shark Week (and beyond)!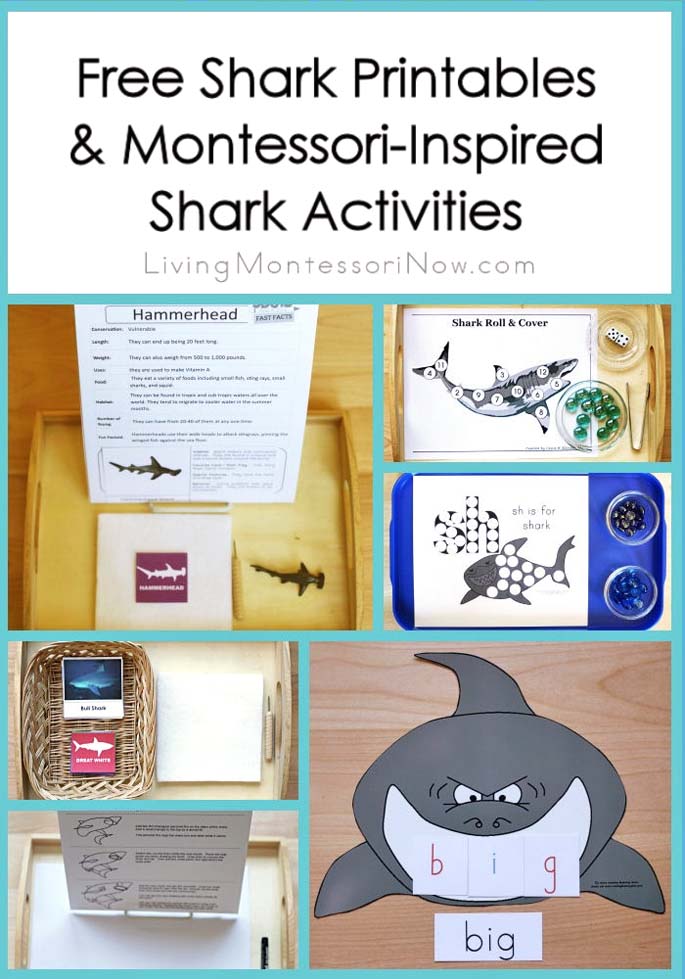 Disclosure: This post contains some affiliate links (at no cost to you).
Roll and Cover Shark Counting/Addition Activity
For this activity, I used the free Roll and Cover printable from 3 Dinosaurs Shark Pack update. I used an inexpensive wooden tray from a craft store and a pair of dice. I added a sugar tong and glass gems for work on fine-motor skills.Amazon has a variety of glass gems, which I used for this and often use for Montessori-inspired activities.
Roll and cover games are nice for younger children who are learning to count and work with dice games. They can count the number of dots on the dice to find the total. Older children can add the numbers to find the answer.
Shark Pin-Punching Activity
For this activity, I used the free Shark Bingo Game printable from Relentlessly Fun, Dangerously Educational. It would be a fun Bingo game, but here I used it to create a Montessori shark pin-punching activity. I also used Shark Cards from Shark Unit with Free Printables from Every Star Is Different to go with the great white, bull, thresher, nurse, hammerhead, and shortfin mako shark outlines. Renae from Every Star is Different has a wide selection of shark cards and lots of fun shark activities and printables, so be sure to check them out! You'll find Montessori-Inspired Shark Activities and Free Printables (a number of shark posts) from Every Star Is Different (Go to Free Printables Tab, then to Thematic Activities, and then to Animal Activities to find the shark posts.)
I really like Montessori Services' wood-handled puncher, which I used for the pin punching activity. I added a a Montessori Services basket (small willow basket, which is a great size for many card materials).
Hammerhead Shark Tray

This tray uses the Shark Bingo Game from Relentlessly Fun, Dangerously Educational for the hammerhead shark outline to use for pin punching (as in the activity above). I added the hammerhead shark from the Shark Matching and Fact Cards from The Pinay Homeschooler and Shark Week Fast Facts Hammerhead Shark page from 3 Boys and a Dog. I added a hammerhead shark from the Safari Ltd. Ocean TOOB. If you have the Safari Ltd. Sharks TOOB, you could match all the Pinay Homeschooler cards to the sharks from the TOOB.
Sh is for Shark Activity

This activity uses the Sh is for Shark Magnet Page from Making Learning Fun. I used a large plastic tray from Montessori Services. I used glass gems, but you could use Power Magnets and a baking tray.
I emphasize the letter sound rather than the letter name. Even though I always start with one-letter phonetic sounds, this is a helpful activity for children who would be confused that shark starts with the letter "s" but not the /s/ sound. I would demonstrate the activity by placing the printable on a rug and saying, "/s/ and /h/ together make the sound /sh/. Shark starts with /sh/." Then I would show how to use the sugar tong to place a few of the glass gems before returning the tray to the shelf for the child(ren) to use.
Shark Phonics Reading and Word-Building Activity
This uses the Sight Word Tile Activity with a Shark from Making Learning Fun. You could purchase letter tiles to use with this and other activities. Or you could print out small movable alphabet letters like the free movable alphabet here.
This is an activity for beginning readers who are able to read the word and then build it in the shark's mouth using the movable alphabet letters. The printable is for sight words, but I made it a phonetic activity by using words that could be sounded out. I used big, yes, can, and up. I only added the movable alphabet letters that were needed to create those words.
Learn to Draw Sharks Activity

For this tray, I used the free Learn to Draw Sharks printable from Kidzone. This is a more advanced activity and could also be fun for children older than first grade.
Free Shark Printables (of all kinds) for Preschoolers-First Graders (some printables for up to grade 3)
More Shark Resources
Shark Nonfiction Books for Kids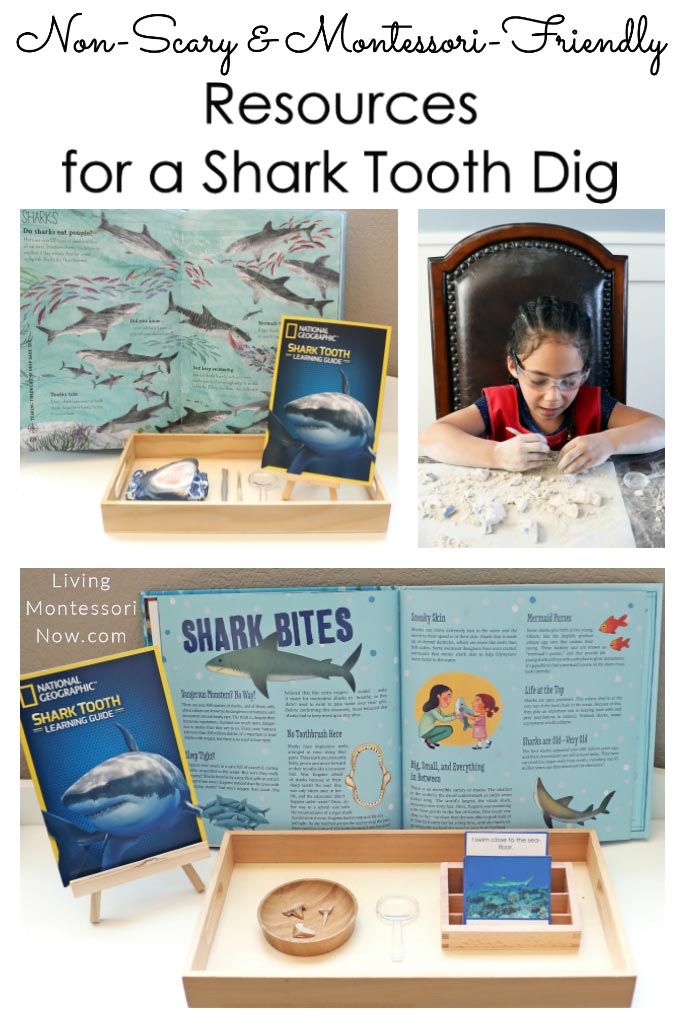 Non-Scary and Montessori-Friendly Resources for a Shark Tooth Dig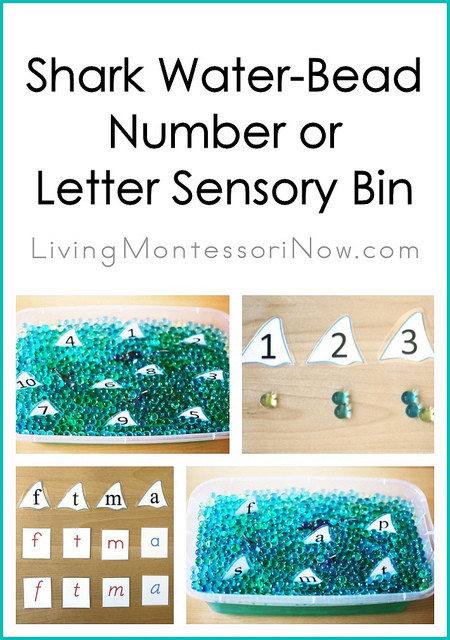 Also, see my shark water-bead number or letter sensory bin using free printables from the above "Shark in the Park Alphabet Game."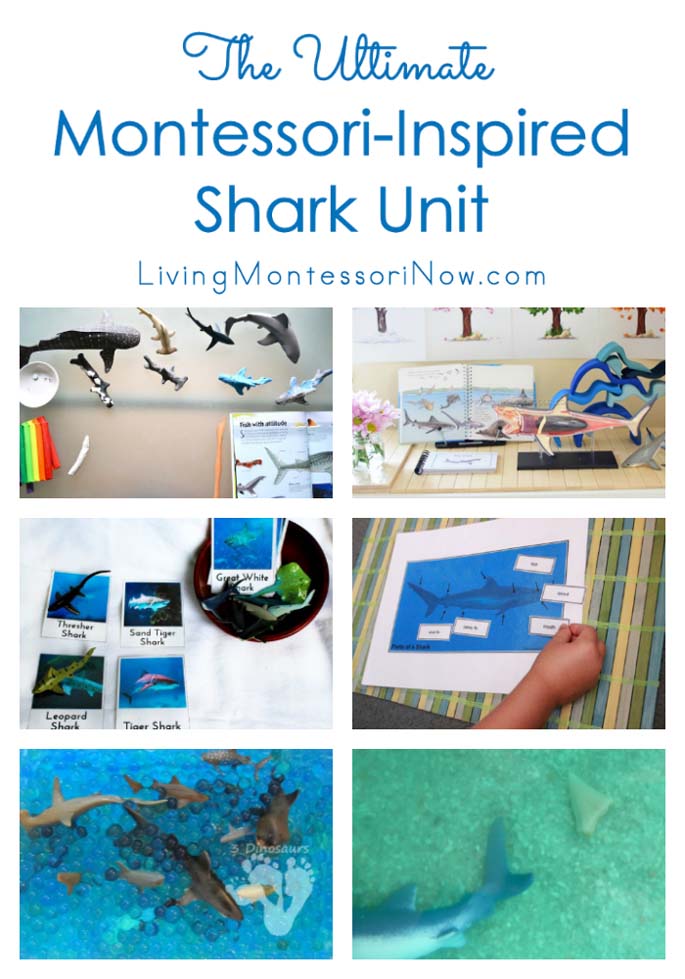 And find lots of Montessori-inspired shark activities in my shark unit study.
Timeline of Life Fossil Collection (including a shark tooth) available for purchase from Montessori Services
Ocean Resources and Activities
Free Ocean Printables and Montessori-Inspired Ocean Activities
MONTESSORI-INSPIRED PACKS – SUBSCRIBER FREEBIES
Don't miss our themed monthly packs! You'll get the link and password for the Living Montessori Now subscriber library with the current pack and all the past monthly packs if you subscribe to the Living Montessori Now weekly newsletter!
Ocean Unit Study Pinterest Board
Ocean Unit Study Pinterest Board
I have an Ocean Unit Study Pinterest Board with ocean activities of all types, including many activities about sharks.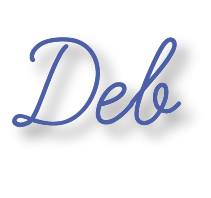 Learn more about my eBook Montessori at Home or School: How to. Teach Grace and Courtesy!
If this is your first time visiting Living Montessori Now, welcome! If you haven't already, please join us on our Living Montessori Now Facebook page where you'll find a Free Printable of the Day and lots of inspiration and ideas for parenting and teaching! And please follow me on Instagram, Pinterest (lots of Montessori-, holiday-, and theme-related boards), and YouTube. While you're here, please check out the Living Montessori Now shop.
And don't forget one of the best ways to follow me by signing up for my weekly newsletter. You'll receive some awesome freebies in the process!