Summer is a great time both for relaxed beach/ocean unit studies and for learning outdoors. Today, I want to share Montessori-inspired math ideas using some great free printables I found online with an ocean theme.
I took all the photos here either on tables or on a beach towel outdoors in the shade. I love outdoor learning in almost any weather, but it's especially helpful to bring learning activities outdoors in the summer.
Note: In the photo above, the printable used is the subtract the fish mat from the free
ocean pack, part 2
at 3 Dinosaurs.
Fish Pattern Math Activity
Carolyn from Wise Owl Factory shares a great free Pattern Fish, Pattern Math 47 Page PDF (now in the Free eMembers Section). Thanks so much, Carolyn! You'll find some great ideas for using the printable book in her post. If you don't want to print out the entire book for home use, you could share the patterning ideas with your child on your computer and then create some hands-on activities. You can also find a free printable for making fish patterns at Teachers Pay Teachers.
Here's an idea for using pattern fish pocket chart cards to create a pattern outdoors on a beach towel. I just printed out six copies of one page for this activity. Of course, you could use fewer cards to create a shorter pattern. You'll find other variations for using the pattern pocket chart cards in Carolyn's post as well.
Ocean Math Pattern Hunt
3 Dinosaurs has a HUGE ocean pack for ages 2-7. Thank you to Cassie from 3 Dinosaurs for sharing these wonderful literature-based free printables!
I like to find ways to create extra interest for children who aren't drawn to traditional learning activities. Even children who are will generally find extra interest in a new variation of an activity.
I used the ocean patterning printables from the pack to create an ocean math pattern hunt using colored sand from a hobby store (Michaels). I like to rotate and repurpose materials, so this is the same sand I used in last month's
O is for Octopus sand tray
. There are three pages of patterning printables. You could choose to use one page or all three, depending on the level best for your child or class.
I used a deep tray I found at the dollar section of Target last summer along with a small shovel. (You could add other types of scoops as well.) The brush is for brushing the sand off the cards after discovery. Any type of brush would work. I just used one I had at home.
For this activity, the child simply searches for the cards you've laminated and hidden in the sand, brushes them off, and places the cards in the correct place on the "What Comes Next?" page.
Ocean Number Order Puzzles
I love that the ocean pack from 3 dinosaurs has three sets of number order puzzles – 1-10, 11-20, and 21-30. Again, adjust the activity to include 1-, 2-, or all 3 puzzles for your child or class.
I used three pencil boxes from Really Useful Box that I found at an office-supply store. I like to have small containers to keep activities organized on the tray, and I like using the Really Useful Box containers both as organizers and as an included open-and-close activity for preschoolers. (Note: Here's a post with lots of ideas for
open and close
.)
Subtract the Fish Activity
Obviously, goldfish aren't typical ocean fish. But I think Goldfish crackers still work well – and add interest – to an ocean math activity. This activity works for any child who has a good understanding of quantity and numerals. There are number cards included in the activity for 1-20. I used 1-15 here, although you could just use 1-10.
The photo at the top of the post shows how I prepared the tray with an inexpensive wooden tray from the hobby store, a glass candle coaster for the number of Goldfish crackers you want to use (and allow the child to eat), and another small container for the number cards.
For the activity, I would have the child choose two number cards, placing the larger number in the space to the left. Then he or she could count out the correct number of Goldfish to place above the minuend as in the photo.
As the child counts out the correct number for the subtrahend, he or she could count out and move that number of Goldfish to the "water" above the subtrahend. After eating those Goldfish, the child could then count out the goldfish left and place the number card with the difference in the last space. Continue creating and solving subtraction equations until the Goldfish are gone.
More Ocean Resources and Activities
Free Ocean Printables and Montessori-Inspired Ocean Activities
MONTESSORI-INSPIRED PACKS – SUBSCRIBER FREEBIES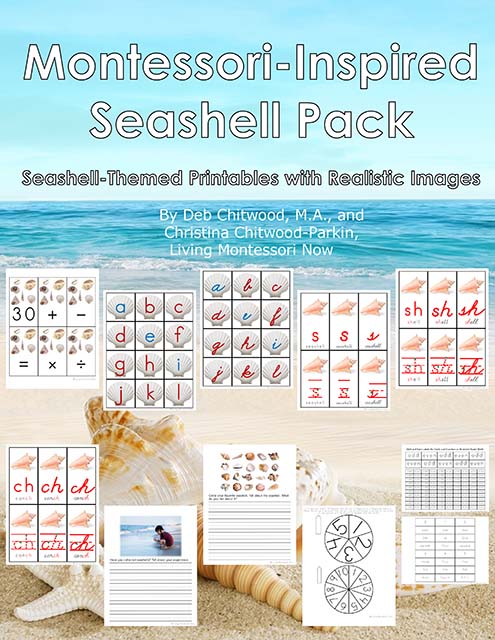 Don't miss our themed monthly packs! You'll get the link and password for the Living Montessori Now subscriber library with the current pack and all the past monthly packs if you subscribe to the free Living Montessori Now weekly newsletter!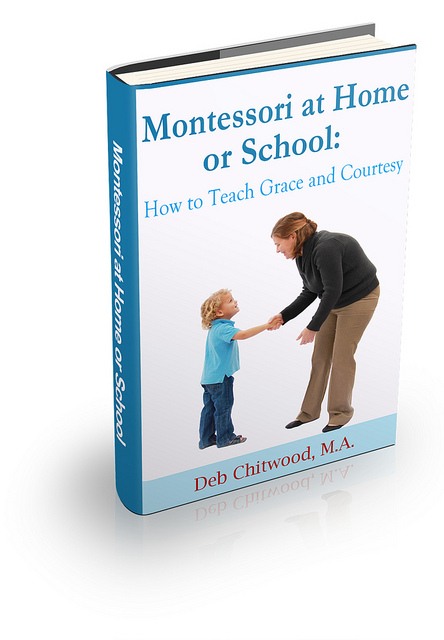 Learn more about my eBook Montessori at Home or School: How to. Teach Grace and Courtesy!
The Montessori at Home! eBook and Montessori at Home! eBook and Materials Bundle are AMAZING resources! You can learn more about them here. Buy them in the Living Montessori Now shop.
If this is your first time visiting Living Montessori Now, welcome! If you haven't already, please join us on our Living Montessori Now Facebook page where you'll find a Free Printable of the Day and lots of inspiration and ideas for parenting and teaching! And please follow me on Pinterest (lots of Montessori-, holiday-, and theme-related boards), Instagram, and YouTube. You can find me on bloglovin' and Twitter, too.
And don't forget one of the best ways to follow me by signing up for my weekly newsletter. You'll receive some awesome freebies in the process!