I had so much fun with Shark Week activities that I had to prepare one more. This activity – a shark water-bead number and letter sensory bin – needed its own post.
Disclosure: This post contains affiliate links (at no cost to you).
Shark Water-Bead Number and Letter Sensory Bin
This is an activity that would work well for an ocean unit study or for a more specific shark unit study. I decided to use the free shark-fin printables from "Shark in the Park Alphabet Game" by Juggling with Kids for a sensory bin. I used a shoebox-size storage container from the Dollar Tree for the sensory bin. I like that size because it fits well in a small space and is easy to carry to and from the shelf.
Cassie from 3 Dinosaurs used blue and turquoise water beads for her shark sensory bin. I love using water beads and wanted to use a more ocean-like color than the solid blue or green water beads that I had. So I combined my water beads by using 2 parts blue water beads and one part green water beads. I added the two hammerhead sharks and the tiger shark that came in my Safari Ltd. Ocean TOOB. (I think it normally has one hammerhead shark and one tiger shark.) If you have the Safari Ltd. Sharks TOOB or Safari Ltd. Pelagic Fish TOOB, you could add all those sharks to your sensory bin. If you use enough water beads, the sharks will float near the top.
I printed out and laminated the lower-case letters and numbers 1-10 from Juggling with Kids. I set my printer at 50% to allow for the small-size sensory bin. I also printed out and laminated two different fonts of free movable alphabet letters. (Note: Here's the link to my favorite laminator … it's inexpensive, easy to use, and works great.)
Often, I print out and laminate pages before cutting them out. When I'll be using cardstock in or near water, like it is for this activity, I cut out each piece before laminating. Then I leave a laminate edge of 1/8″ or so to be sure each piece is sealed.
Shark Water-Bead Number Sensory Bin
This just uses the number shark fins 1-10, which stand up in the water beads. If you use two colors of water beads like I did, you can have both a counting activity and an addition activity.
The child can simply choose a shark fin and count out that many water beads from the sensory bin. For children who are ready to work on addition, the child can count the number of blue beads and the number of green beads chosen to make up a specific number.
Shark Water-Bead Letter Sensory Bin
For this sensory bin, I used the letters s, m, t, a, p, f, c to go with the first set of letter sounds commonly introduced. (See "In What Order Should You Introduce Letters to Your Preschooler?" for examples of an order you can use to introduce letter sounds.) You could use whichever letters are best for your child or students.
I added a basket with two different letter fonts and a sponge to wipe off the letters after use.
It was all amazingly easy – and fun!
Many More Shark Activities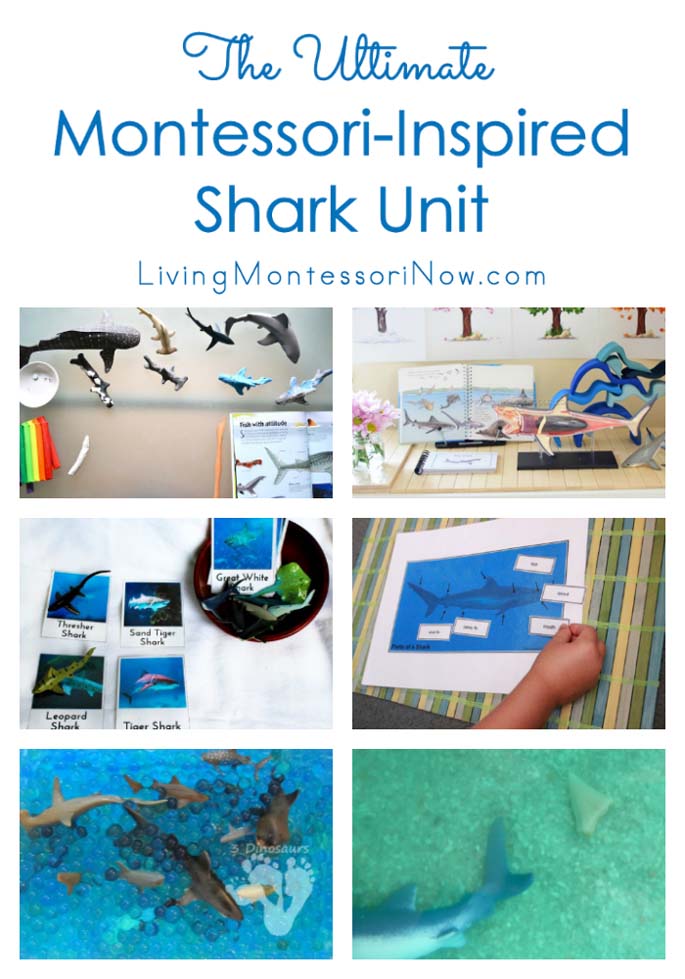 Montessori-Inspired Shark Unit Study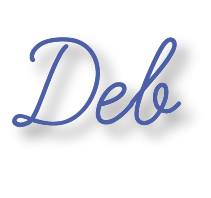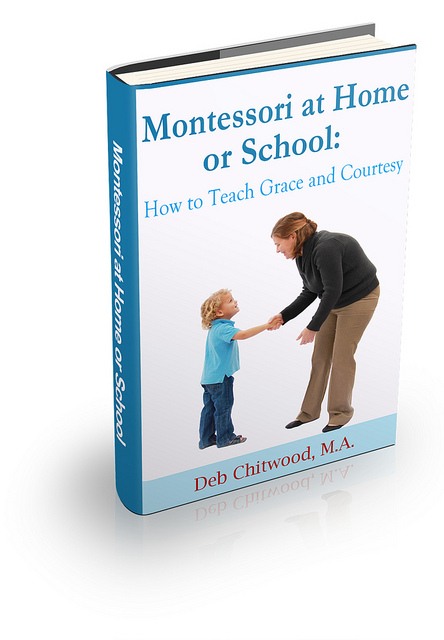 Learn more about my eBook Montessori at Home or School: How to. Teach Grace and Courtesy!
The Montessori at Home! eBook and Montessori at Home! eBook and Materials Bundle are AMAZING resources! You can learn more about them here. Buy them in the Living Montessori Now shop.
If this is your first time visiting Living Montessori Now, welcome! If you haven't already, please join us on our Living Montessori Now Facebook page where you'll find a Free Printable of the Day and lots of inspiration and ideas for parenting and teaching! And please follow me on Pinterest (lots of Montessori-, holiday-, and theme-related boards), Instagram, and YouTube. You can find me on bloglovin' and Twitter, too.
And don't forget one of the best ways to follow me by signing up for my weekly newsletter. You'll receive some awesome freebies in the process!
Montessori Monday Link-Up