A favorite summer learning theme is, naturally, the beach. Today, I'm sharing links to lots of free printables with a beach theme that I've used to create Montessori-inspired language activities for young preschoolers to readers and children ready for creative writing.
You can even take your beach unit outdoors. Your child(ren) could carry some trays outdoors. I put these trays outdoors on tables, something easy to do. Trays could be placed on shelves or even lined up on a sidewalk or on the grass. I like to spread out beach towels on the deck or sidewalk along with having some tables and chairs outdoors, although you could use beach towels for all the activities.
Ocean Language Matching Activity
The
Ocean Flash Cards
free printable is from iChild. The objects are from the Safari Ltd. Coral Reef TOOB. I like to use the 40% off coupons available most weeks at Michaels (craft store) when looking for Safari Ltd. TOOBS. There are more coral reef objects and ocean flash cards than I've pictured. The tray is a
medium-size tray from Montessori Services.
This activity is for a young preschooler, although it could be easily individualized by using the cards as a concentration- or matching game. These are the only objects from the Coral Reef Safari TOOB that match this set of cards. The Helpful Garden has a free printable
Montessori ocean animals matching game
with cards to match animals from the Safari Coral Reef TOOB. The objects have lots of other potential uses as well (for example, as objects for
alphabet boxes
).
J is for Jellyfish Beginning Sounds Activity
Instead of glass gems, you could use playdough balls, Power Magnets, pom poms with a strawberry huller, magnetized pom poms on a magnetic tray, or dot markers (if you don't laminate the activity).
In Montessori education, we emphasize phonetic sounds rather than letter names. I would demonstrate the activity by placing the printable on a rug and saying, "/j/ is for jellyfish." Then I would show how to use the sugar tong to place a few of the glass gems before returning the tray to the shelf for the child(ren) to use.
Beach Beginning Sounds Activity
This activity is just one of many from the Beach Pack from 3 Dinosaurs. This is a HUGE pack with lots of fun ideas. The Beach Preschool Pack is literature-based, making it even more fun. I use a ¼" round color coding label in the color of the tray on the back of each card to correlate with the correct position of the clothespin. This serves as a control of error (instant self-correction devise). For presentation tips, see my last month's post, Montessori-Inspired April Showers Activities.
O is for Octopus Sand Tray
The O is for Octopus card is from Alphabet Flash Cards – D'Nealian Pictures from Have Fun Teaching. I used colored sand from a craft store. I just used the O is for Octopus card, since it was the only ocean-themed card in the printable. I like to have sandpaper letters nearby so that children can trace other letters as well if they wish.
Real & Nonsense Sunny Reading Activity
This activity uses Sunny Reading ~ CVC Word Game by Kristine Weyher at Teachers Pay Teachers. I thought this activity would be fun on a beach towel. It has 24 cards, although you can use as many or as few as you wish.
This is a great activity for beginning readers. Children could complete it individually or play it as a game. I would typically just show the child(ren) where the activity is and allow them to discover the words for themselves.
I added one color of color coding label to the back of each real word and another color of color coding label to the back of each nonsense word as a control of error.
Summer Sentences Sort
This activity uses Summer Sentence Scramble (free sample from a pack available for purchase which includes 6 sentence scrambles rather than three) from The Teachers Cauldron. There are longer versions of the sentences, although I would typically start with simpler versions as shown. I wouldn't generally present the activity in a group, as I'd like the children to be able to discover the sentences for themselves. Children who are ready could then add the capitalization and punctuation as they write out the completed sentences.
Ocean Creative Writing Activity
Update: This creative writing free printable is no longer available, but you can get free dictation/creative writing printables in my
ocean unit
or
seashell unit
. It's hard to find a much easier activity to prepare. If you have pencils available, you just need to print out copies of the page and place them on a tray (or on a clipboard if the children will be working outdoors without a table).
Younger children could dictate a short story to you. That's an activity I always enjoyed doing with children as a Montessori teacher.
More Ocean Resources and Activities
Free Ocean Printables and Montessori-Inspired Ocean Activities
MONTESSORI-INSPIRED PACKS – SUBSCRIBER FREEBIES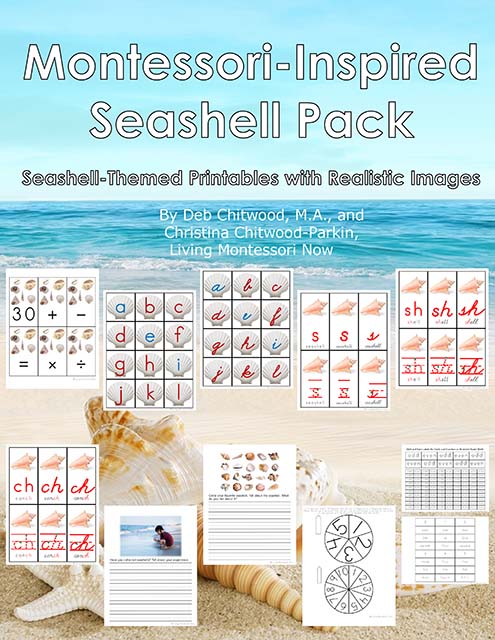 Don't miss our themed monthly packs! You'll get the link and password for the Living Montessori Now subscriber library with the current pack and all the past monthly packs if you subscribe to the free Living Montessori Now weekly newsletter!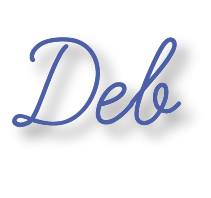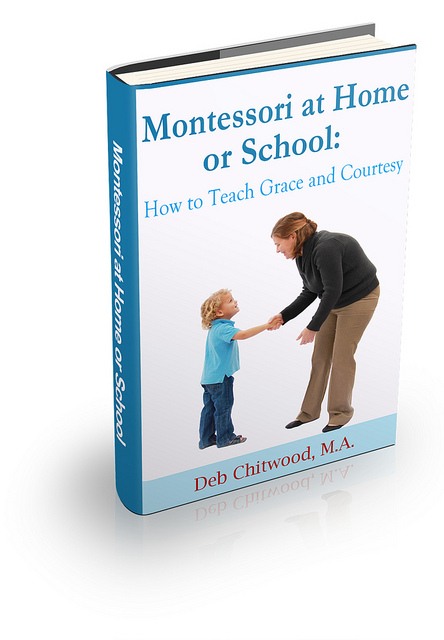 Learn more about my eBook Montessori at Home or School: How to. Teach Grace and Courtesy!
The Montessori at Home! eBook and Montessori at Home! eBook and Materials Bundle are AMAZING resources! You can learn more about them here. Buy them in the Living Montessori Now shop.
If this is your first time visiting Living Montessori Now, welcome! If you haven't already, please join us on our Living Montessori Now Facebook page where you'll find a Free Printable of the Day and lots of inspiration and ideas for parenting and teaching! And please follow me on Pinterest (lots of Montessori-, holiday-, and theme-related boards), Instagram, and YouTube. You can find me on bloglovin' and Twitter, too.
And don't forget one of the best ways to follow me by signing up for my weekly newsletter. You'll receive some awesome freebies in the process!