If you're looking for a fun way to add learning activities to summer vacation, don't forget sharks! A shark unit study would be a great way to observe World Oceans Day on June 8. Shark Week in July or August (depending on the year) on the Discovery Channel is a perfect time for a shark unit study. Reminder: It's Shark Week this week! 🙂
Do you need a fun way to get children interested in learning at the end of the summer or beginning of the school year? August 30 is International Whale Shark Day – a day to celebrate whale sharks, promote whale shark conservation, and teach the public about whale sharks. This would be another ideal time for a Montessori-inspired unit (or mini-unit) on sharks, a topic most children find fascinating.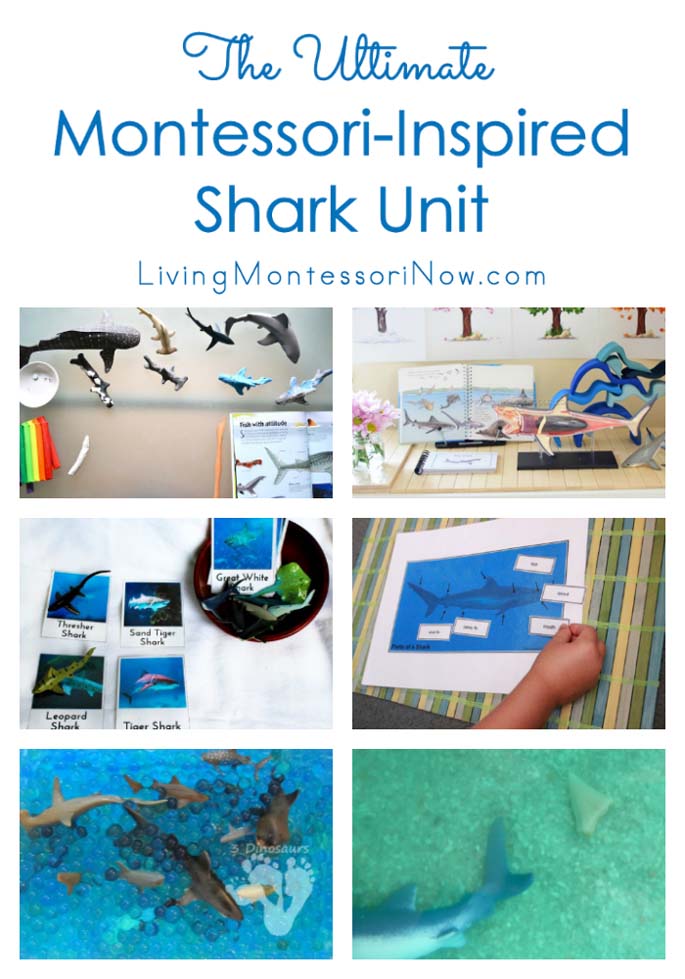 Disclosure: This post contains affiliate links (at no cost to you).
You'll find lots of free shark printables and activities in this roundup post. Many of the posts have a variety of Montessori-inspired shark activities within them.
Montessori-Inspired Free Shark Printables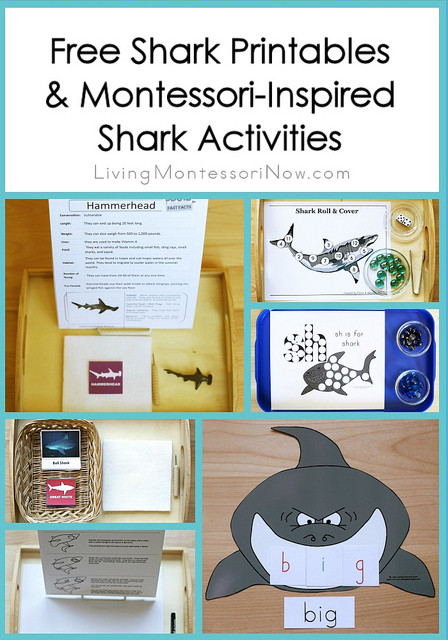 Free Shark Printables and Montessori-Inspired Shark Activities (my post)
Shark Water-Bead Number or Letter Sensory Bin (my post)
Free Animal Classification – Fish Cards – 9 types of fish (including shark) from Montessori Materials
Shark Activities for Kids (Free Printable) + More Shark Resources from Natural Beach Living
Montessori-Inspired Shark Cards from A Moment in Our World
Parts of a Shark (Subscriber Freebie) from The Natural Homeschool
Free Parts of a Shark Cards from Welcome to Mommyhood
Montessori-Inspired Shark Activities and Free Printables (a number of shark posts) from Every Star Is Different (Go to Free Printables Tab, then to Thematic Activities, and then to Animal Activities to find the shark posts.)
Free Mini Shark Pack from 3 Dinosaurs (ages 2-7)
Free Shark Pack Update from 3 Dinosaurs (ages 2-9)
Free Parts of a Whale Shark Cards for ages 3 to 9 from Montessori Helper
Free Shark Unit from Royal Baloo (grades 1-3)
Montessori-Inspired Shark Activities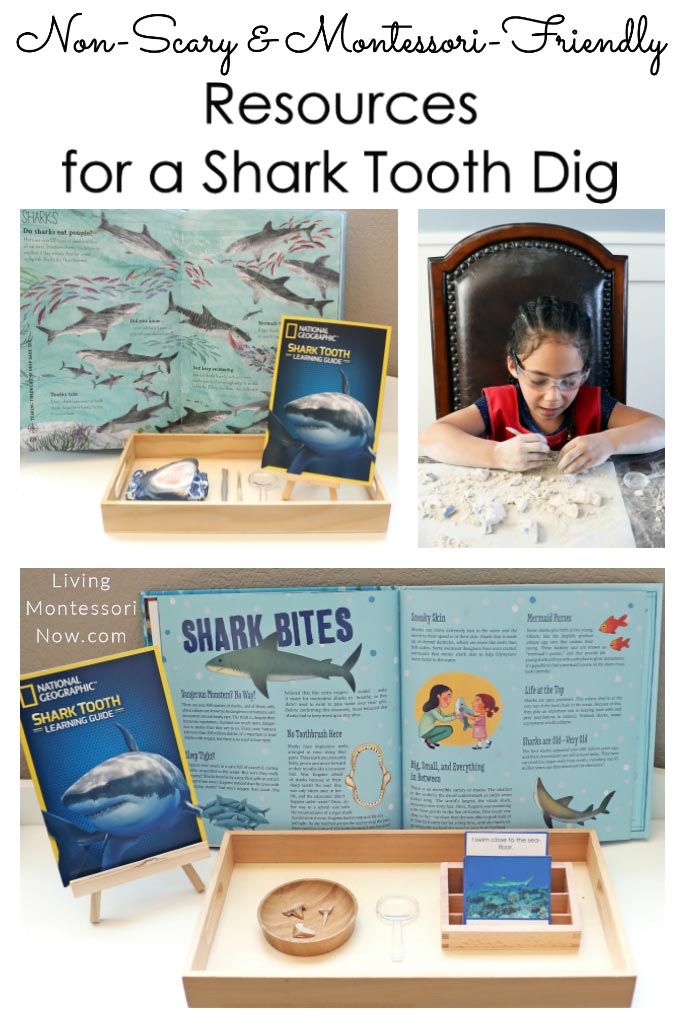 Non-Scary and Montessori-Friendly Resources for a Shark Tooth Dig (my post)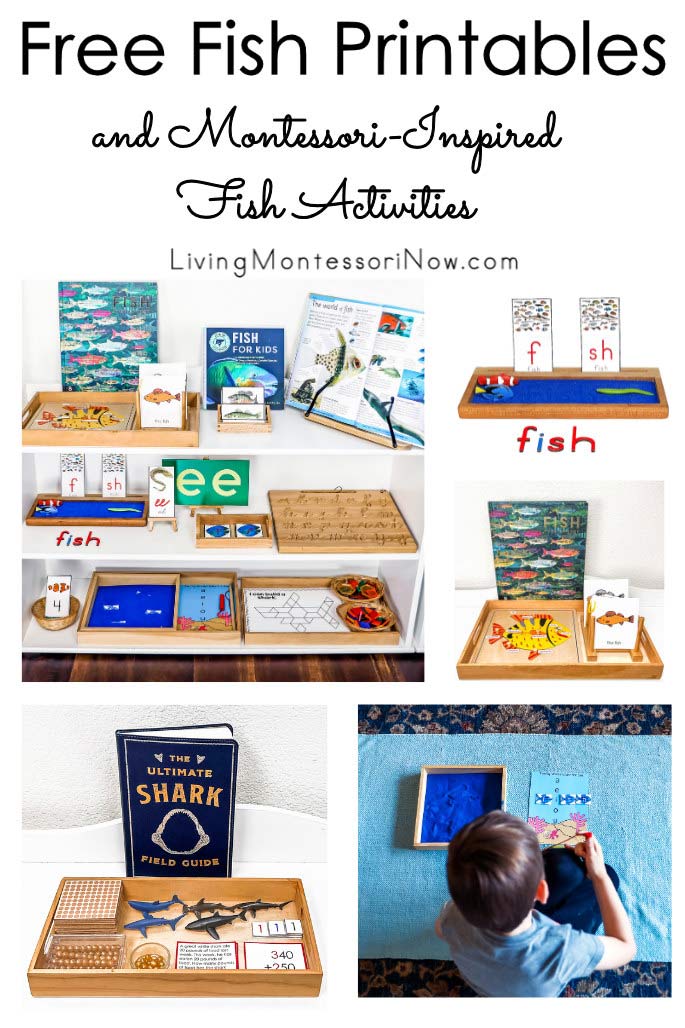 Free Fish Printables and Montessori-Inspired Fish Activities (my post with shark books and a couple of shark activities)
Montessori-Inspired Ocean Unit (my roundup post)
Summer Nature Table from Little Wonders' Days (blog is no longer available)
Montessori-Inspired Shark Study for Kids with Free Shark Skip Counting and Free Shark Matching and Fact Cards (plus Shark Printable available for purchase) from The Pinay Homeschooler
Follow Your Child's Interests – Animals from How We Montessori
Shark Lesson from Just Montessori
Feed the Shark Playdough Geometry from Left Brain Craft Brain
Fish Mini Unit (with Five Little Fishes activity) from Training Happy Hearts
Kindergarten is FIN-tastic shark activities and shark party from Mommy and Me Book Club (Many of the activities could easily be used with activity trays.) Great for a party at the beginning of the school year or end of the unit.
Digging for Shark Tooth Fossils Sensory Bin from Stir the Wonder
Shark Water Bead Sensory Bin from 3 Dinosaurs
Shark Sensory Bottle from Stir the Wonder
STEM Shark Activities for Kids – How Do Sharks Float? from JDaniel4's Mom
Shark Lapbook from School Time Snippets
Timeline of Life Fossil Collection (including a shark tooth) available for purchase from Montessori Services
Shark Nonfiction Books for Kids
More Ocean Resources and Activities
Free Ocean Printables and Montessori-Inspired Ocean Activities
MONTESSORI-INSPIRED PACKS – SUBSCRIBER FREEBIES
Don't miss our themed monthly packs! You'll get the link and password for the Living Montessori Now subscriber library with the current pack and all the past monthly packs if you subscribe to the Living Montessori Now weekly newsletter!
Ocean Unit Study Pinterest Board
Ocean Unit Study Pinterest Board
I have an Ocean Unit Study Pinterest Board with ocean activities of all types, including many activities about sharks.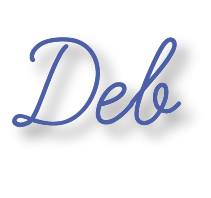 Learn more about my eBook Montessori at Home or School: How to. Teach Grace and Courtesy!
If this is your first time visiting Living Montessori Now, welcome! If you haven't already, please join us on our Living Montessori Now Facebook page where you'll find a Free Printable of the Day and lots of inspiration and ideas for parenting and teaching! And please follow me on Instagram, Pinterest (lots of Montessori-, holiday-, and theme-related boards), and YouTube. While you're here, please check out the Living Montessori Now shop.
And don't forget one of the best ways to follow me by signing up for my weekly newsletter. You'll receive some awesome freebies in the process!