Are you looking for some fun beach-themed activities to reinforce beginning phonics and reading skills? I'm excited today to share a letter sound and sand-writing activity using seashells as well as an activity writing words in the sand! Both of these are from a fabulous new kids' activities book by Amanda Boyarshinov & Kim Vij.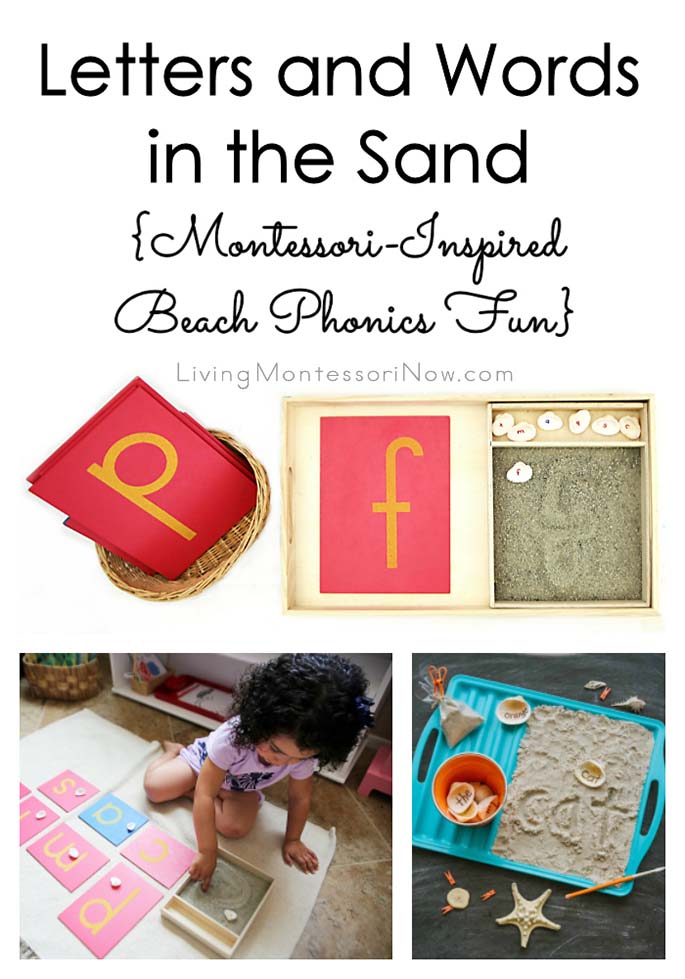 Disclosure: I received a copy of 100 FUN & EASY LEARNING GAMES FOR KIDS from the publisher. This post contains affiliate links (at no cost to you).
100 FUN & EASY LEARNING GAMES FOR KIDS
100 Fun & Easy Learning Games for Kids: Teach Reading, Writing, Math and More With Fun Activities by Amanda Boyarshinov & Kim Vij just became available this week! Amanda and Kim are both certified teachers and amazing bloggers from the site The Educators' Spin On It. Just like the title says, the book has 100 fun and easy learning games (for kids ages 3-7). But each game also lists 3 variations, tripling the learning fun.
As a Montessorian, I appreciate that most of the activities are very Montessori friendly. There are lots of creative hands-on activities that can easily be used for activity trays. And most of the activities use everyday household items … perfect for incorporating learning activities into your home. The activities are also eco-friendly and typically very easy to prepare.
Montessori-Inspired Letters in the Sand
This activity was a variation for younger kids listed in the "Words in the Sand" activity. I just added a bit of Montessori inspiration.
Materials Used for Letters in the Sand
How to Prepare and Use Letters in the Sand
There are a number of ways to make and use this activity. I simply wrote a letter on each seashell and placed the letters I wanted to introduce in a basket. I used the Melissa & Doug tray for the seashells and sand writing. This activity could be on a shelf or at a table as an invitation to letter sounds.
Introduce the number of letter sounds your child is ready for. Generally, you'll want to use 3 letter sounds or one group of letter sounds. I recommend using the order (or similar one) and pronunciations recommended in my post with YouTube video "Teach Letter Sounds to Your Child Using Montessori Principles."
For my 2½-year-old granddaughter, Zoey, I wanted to reinforce the first group of letter sounds introduced in many Montessori schools: s, m, t, a, p, f, c. Zoey's comfortable with most of the letter sounds already, and this was a fun way to reinforce the concept. I laid out the sandpaper letters, and Zoey matched each of the shells to the matching sandpaper letter. She said each of the letter sounds as she matched it. You could use this with the 1st, 2nd, or 3rd period of the 3-period lesson, depending on which is best for your child.
Then I wrote one of the letters ("c") in the sand, traced the letter while saying the letter sound /c/, and let Zoey trace the letter after me. For an older child, you could have your child write the letter in the sand independently.
Then I let Zoey work with the activity on her own. She loved this activity. The small shells and sand were especially appealing to her, and she had fun placing each one in the sand tray, putting them back on the sandpaper letters, putting them back in the sand, putting them back on the sandpaper letters…. She spent a lot of time with the activity, so it was definitely a success!
Words in the Sand
If you have children ready for reading and spelling, try the "words in the sand" activity. You could use phonetic words or sight words (puzzle words), depending on what your child needs to work on.
The following activity has been reprinted with permission from the publisher from the book 100 FUN & EASY LEARNING GAMES FOR KIDS.

Words in the Sand
Find hidden words on seashells in the sand to encourage your child to learn to read. Players quickly memorize each word by writing it into the sand in a texture-rich experience. This multi-sensory game helps to engage children's senses as they learn their sight words.
Focus Skill: identifying and writing sight words
Materials
Permanent black marker
Seashells
Sand
2 plastic containers or trays
Directions to Make
Write sight words onto seashells.
Place the seashells in one container.
Place sand in the second container or tray.
Directions to Play
Players take turns pulling seashells from the container.
Once they've selected them, players identify the word and write it in the sand container.
Continue to play until all the word seashells are discovered and written in the sand.
Game Variations
Create letters in the sand for younger players to discover and write.
Form words from letter shells in the sand and write them in the sand container.
Write numbers on the shells for players to discover and write.
You can look inside the book and purchase it on Amazon. You can also buy the book through Book Depository, with free worldwide shipping.
This is an awesome book for parents and educators of children ages 3-7 (with many of the activities great for 2 year olds as well). Be sure to check it out!
More Ocean Resources and Activities
Free Ocean Printables and Montessori-Inspired Ocean Activities
MONTESSORI-INSPIRED PACKS – SUBSCRIBER FREEBIES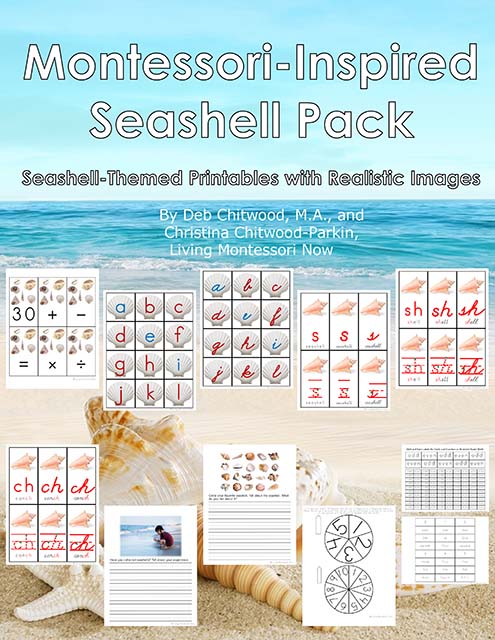 Don't miss our themed monthly packs! You'll get the link and password for the Living Montessori Now subscriber library with the current pack and all the past monthly packs if you subscribe to the free Living Montessori Now weekly newsletter!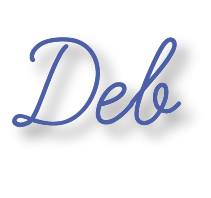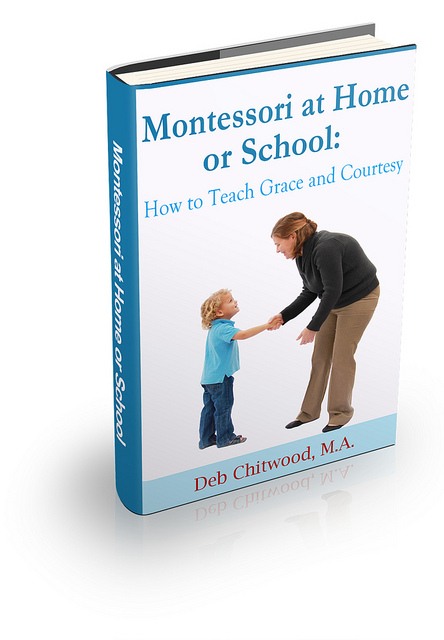 Learn more about my eBook Montessori at Home or School: How to. Teach Grace and Courtesy!
The Montessori at Home! eBook and Montessori at Home! eBook and Materials Bundle are AMAZING resources! You can learn more about them here. Buy them in the Living Montessori Now shop.
If this is your first time visiting Living Montessori Now, welcome! If you haven't already, please join us on our Living Montessori Now Facebook page where you'll find a Free Printable of the Day and lots of inspiration and ideas for parenting and teaching! And please follow me on Pinterest (lots of Montessori-, holiday-, and theme-related boards), Instagram, and YouTube. You can find me on bloglovin' and Twitter, too.
And don't forget one of the best ways to follow me by signing up for my weekly newsletter. You'll receive some awesome freebies in the process!