It seems a bit funny to write about Montessori-inspired screen-free activities when Montessori education by nature emphasizes hands-on, screen-free activities. Still, it's nice to have some specific Montessori-inspired ideas that are fun alternatives to screen time during Screen-Free Week (or anytime you want to reduce screen time).
Although a total Screen-Free Week doesn't work for every family, you might want to go screen free for a few extra hours or even a few days. Following are some ideas for Montessori activities that are great as a replacement for screen time.
Montessori-Inspired Screen-Free Activities

Activity Bags (Busy Bags)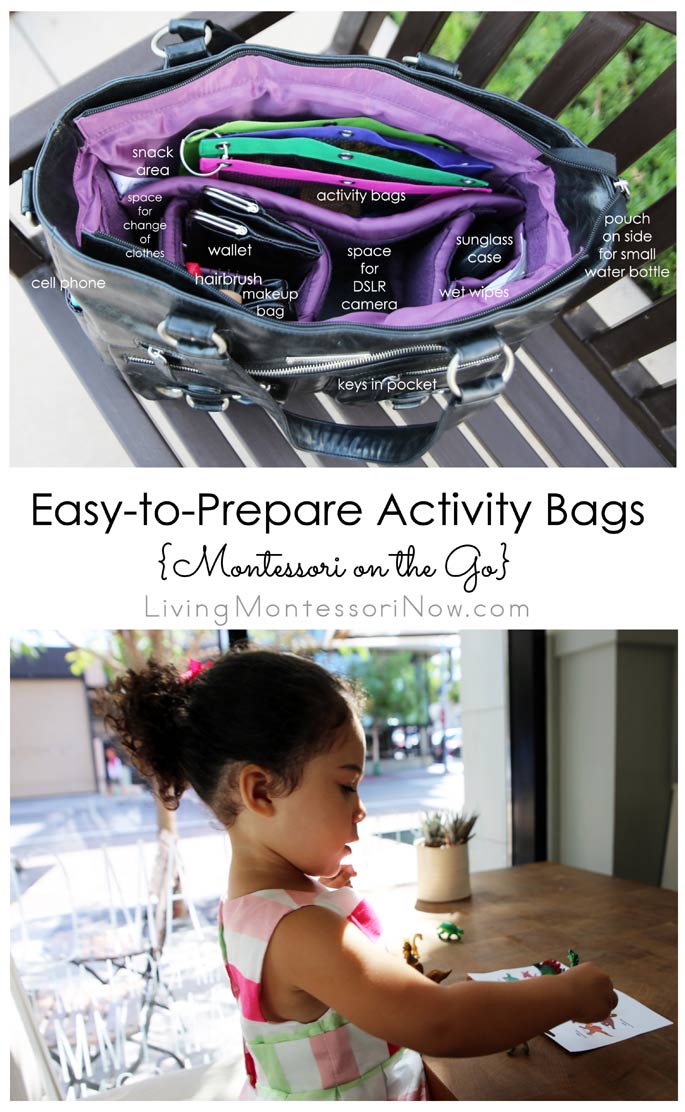 Activity bags (busy bags) are wonderful for non-screen time on the road or in waiting rooms. You'll find lots of ideas, such as the ones at Training Happy Hearts (Montessori in a Bag), H is for Homeschooling (Popsicle Stick Animal Friends), Our Country Road (Busy Bags and Travel Games), or 123 Hommeschool 4 Me (Velcro Craft Sticks), in my roundup post Traveling with Kids – Montessori-Inspired Activities, and on my Traveling with Kids Pinterest Board. I also have a post with easy-to-prepare activity bags for Montessori on the go.
Montessori-Inspired Playdough Activities
Playdough activities are great for young children, and you'll find many Montessori-inspired activities in my Montessori-Inspired Playdough Activities 101 and Montessori-Inspired Spring Playdough Activities.
Sensory Tubs and Other Sensory Activities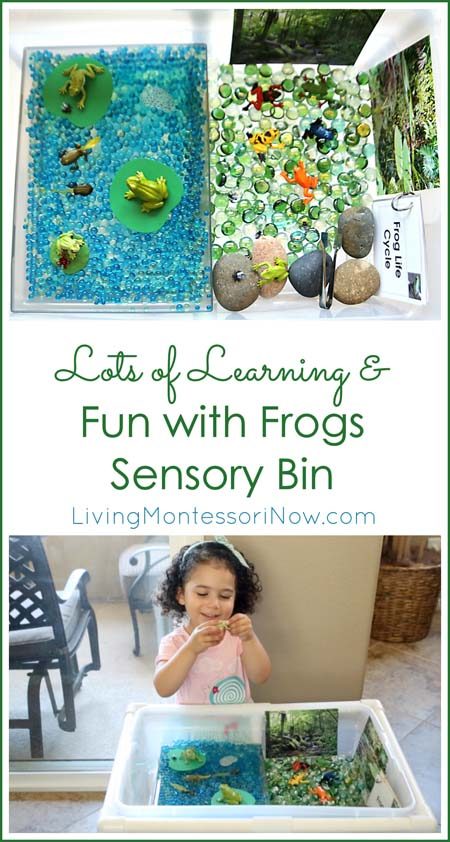 There are limitless options for sensory activities for young children. Sensory bin aren't a traditional Montessori activity, but they can be fabulous for Montessori families. I often have sensory bins in my unit studies and holiday-themed activities, and you can find sensory bins and sensory experiences for any season on my Any-Season Sensory Tubs/Sensory Experiences Pinterest Board. I have many themed sensory bins we've used in a DIY sensory table (although they can be used on the floor instead of in a table).
Food Preparation Activities
Food preparation activities are especially fun for parents and children to do together. You'll find lots of ideas in Montessori-Inspired Food Preparation for Preschoolers and Montessori-Inspired Food Art. I even have lots of healthy recipes for kids in the kitchen.
Fine-Motor Activities
Practical life activities are an essential part of Montessori education, and they often focus on fine-motor activities. In my April Themed Activities for Kids and May Themed Activities for Kids, you can find links to many seasonal activities for fine-motor coordination. For older kids, you can emphasize fine-motor activities through activities such as sewing, crafts, or even creative activities such as the water maze activity from Busy Kids = Happy Mom.
Large-Motor Activities
Montessori-Inspired Movement Activities can be especially fun during Screen-Free Week.
Literature-, Music-, Drama-, and Art-Based Activities
Montessori-Inspired Ideas for Enjoying Books with Your Child or Students has ideas for a number of literature-based activities. You'll find activities that include both music and drama in my Montessori-Inspired Music Appreciation: Peter and the Wolf (May 2, 1936 was actually the debut of Peter and the Wolf), Montessori-Inspired Music Appreciation: Carnival of the Animals, and Montessori-Inspired Activities for the Tortoise and the Hare. You'll find lots of ideas for applying the works of famous artists in Montessori-Inspired Art Appreciation and Art Appreciation and Creation for Kids. Just go with your child's interests in deciding which type of screen-free activities to emphasize.
Non-Competitive Games
Play some non-competitive games: How to Use Non-Competitive Games to Teach Sportsmanship.
Outdoor Activities
Spending time outdoors is always one of the best screen-free activities and something Maria Montessori encouraged. You'll find Montessori-inspired outdoor activities in my post Montessori-Inspired Outdoor Environment.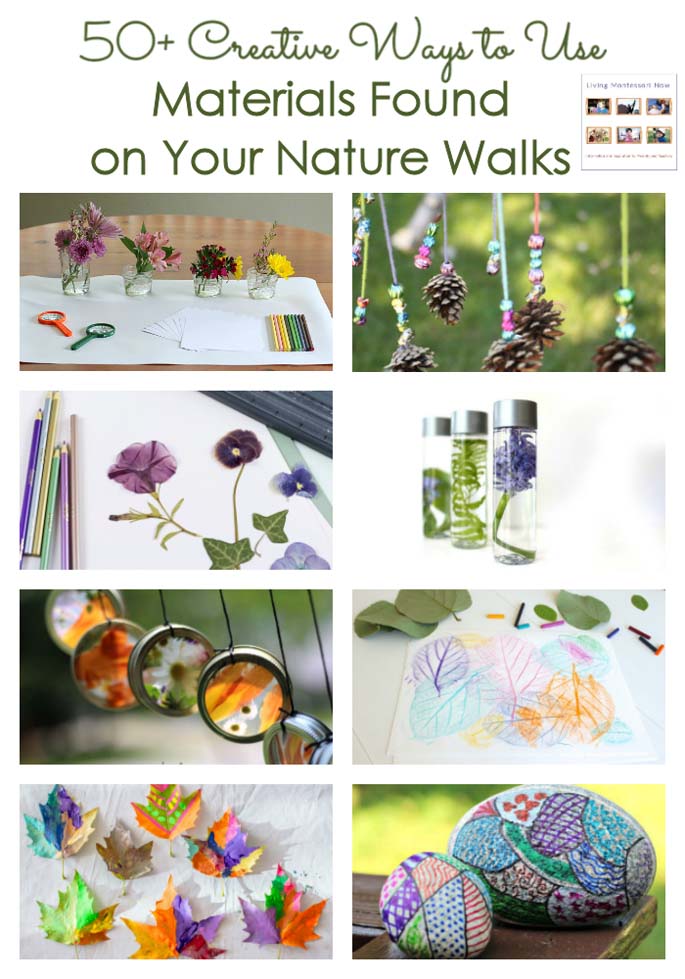 If you're looking for ways to use natural materials found outdoors, check out my roundup post with 50+ creative ways to use materials found on your nature walks.
Have fun this week! I'd love to hear how you're spending some screen-free time. 🙂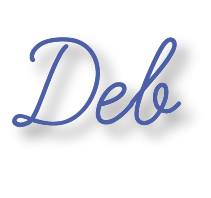 Learn more about my eBook Montessori at Home or School: How to. Teach Grace and Courtesy!
If this is your first time visiting Living Montessori Now, welcome! If you haven't already, please join us on our Living Montessori Now Facebook page where you'll find a Free Printable of the Day and lots of inspiration and ideas for parenting and teaching! And please follow me on Instagram, Pinterest (lots of Montessori-, holiday-, and theme-related boards), and YouTube. While you're here, please check out the Living Montessori Now shop.
And don't forget one of the best ways to follow me by signing up for my weekly newsletter. You'll receive some awesome freebies in the process!