Who doesn't love ladybugs?! Even though they're actually predators, they're just so cute. And they're perfect for a summer unit.
Today, I'm sharing lots of resources for a ladybug unit: ladybug activities and free ladybug printables, including our new Montessori-inspired ladybug pack (subscriber freebie)! In addition to our new ladybug pack, I have a special instant download from The Montessori Company with a hand-painted ladybug culture card!
The links are for free ladybug printables for preschoolers through 1st graders. I don't share coloring pages unless a page has a specific educational purpose related to ladybugs.
Montessori-Inspired Ladybug Activities Using Free Printables
Disclosure: This post contains affiliate links (at no cost to you).
Montessori Shelves with Ladybug-Themed Activities
My shelves with ladybug-themed activities include a free ladybug culture card designed by The Montessori Company. You'll also find Montessori-inspired ladybug numbers, letters, and and more (part of my subscriber freebie pack, so just sign up for my email to get the link and password … or check the bottom of your latest newsletter if you're already a subscriber)
I always have related books available throughout a unit. And this time, we even have a ladybug-growing activity! Fingers crossed that the larvae stay alive and become ladybugs!
You could mix your ladybug-themed activities among your shelves according to curriculum area. Or you could have a special ladybug-themed area something like the one pictured. My shelves this month have a mixture of skill levels. Many of the activities can be adapted for a variety of levels. If you're a homeschooler, just choose the activities that work for your child's interests and ability levels. If you don't have room for all the activities you'd like to do, simply rotate them.
Ladybug Culture Card with Are You a Ladybug? Book and Movable Alphabet "Ladybug"
Are you a Ladybug? is a Montessori-friendly book that gives information about ladybugs in a high-interest way.
I'm happy to share with you this lovely ladybug culture card from The Montessori Company. I'm hosting the free printable as an instant download at Living Montessori Now. You can always access the free ladybug culture card here.
The description says: "Ladybugs are actually predatory insects that eat other bugs eating our gardens, like aphids!"
For interest, I spelled "ladybug" with the movable alphabet. My 4½ year-old granddaughter, Zoey, has been interested in analyzing and spelling the word.
Ladybug Life Cycle References and Activity Growing Ladybugs
I like Ladybug (Life Cycles) because it has colorful, detailed photographs and answers the questions children will often want to know about the life cycle of a ladybug.The open book is the Ultimate Bugopedia: The Most Complete Bug Reference Ever (National Geographic Kids). I love almost all the National Geographic Kids books, and this is a fabulous reference for a study of insects. I have a number of other ladybug books, too. I'll publish a ladybug book post before long.
Zoey and I are so excited about our ladybug-growing adventure! I wanted something more versatile and natural looking than the original Ladybug Land, so I got the Insect Lore Tube of Live Baby Ladybug Larvae and an Insect Lore Bug Carrying And Catching Bag (Mesh Bug Habitat Unfolds to 8″ By 6″). It's perfect for what I wanted. Zoey and I can easily watch the ladybug larvae, and it's designed as a bug catcher for later nature walks.
I also have a Montessori Services clear acrylic tray with a magnifying glass for ladybug observations and dropper bottle filled with water to water the sponge that's in a small container that I added to the ladybug habitat. Zoey loves to add the needed 2 drops to the sponge.
You can see our results here: Ladybug Life Cycle: The Joy of Growing Ladybugs
Ladybug Life Cycle Tray and Reader
Free Printable: Ladybug Life Cycle Readers from Blessed Beyond a Doubt
Free Printable: Life Cycle of a Ladybug Printables by Monique of Living Life and Learning at 123 Homeschool 4 Me
I used a Multicraft tray, Safari Ltd. Life Cycle of a Ladybug figures, and Montessori Services basket for the figures.
There are four levels of Ladybug Life Cycle readers in the printable, so it's very versatile. This simple cut-and-paste activity is a good way to reinforce work on the ladybug's life cycle.
L is for Ladybug Salt Tray
Free Printables: Ladybug Letters for ladybug writing tray (part of my subscriber freebie pack, so just sign up for my email to get the link and password … or check the bottom of your latest newsletter if you're already a subscriber)
For the salt tray, I used the wooden tray from the Melissa & Doug Lace and Trace Shapes. You can use whatever tray or container work best for you, though. I added the ladybug from the Safari Ltd. Insects TOOB for interest. On the shelf, you'll see that I used the manuscript letter "l" along with the cursive letter "l." I like children to learn both, so I typically introduce both manuscript and cursive. There's also a D'Nealian font in the pack, too, so you can use that if you wish.
If you would like help with introducing phonetic sounds, introducing objects with sounds, or beginning phonics in general, check out my DIY Beginning Montessori Phonics with Preschoolers.
Ladybug Beginning Sounds and Movable Alphabet Activities
Free Printable: Ladybug Alphabet Game from Make, Take & Teach
This activity was super easy to prepare! The activity is designed for beginning sounds. I cut out the letters for the beginning sounds, but I also printed out an extra ladybug (the last one with the 3-letter phonetic, CVC, words). That's to make an activity for children who are working with the movable alphabet already.
For children who are working on beginning sounds, they can match the letters to the appropriate pictures.
For toddlers, you could have an extra set of pictures, too, for them to match pictures to pictures instead of letters to pictures.
The extra set of circles can be used with the Montessori movable alphabet for word building and reading.
Parts of a Ladybug Activity
Free Printable: Parts of a Ladybug from Life Cycle of a Ladybug Printables by Monique of Living Life and Learning at 123 Homeschool 4 Me
This is a extremely simple activity to prepare and reinforces any books you've read or work you've done with parts of a ladybug.
DIY Ladybug Cards and Counters and Odd and Even Labeling Activity
Free Printables: Ladybug Numbers and Odd and Even Labels (part of my subscriber freebie pack, so just sign up for my email to get the link and password … or check the bottom of your latest newsletter if you're already a subscriber)
I love making DIY themed cards and counters to introduce odd and even and add interest and variety to cards and counters. I used these adorable wooden ladybugs. (Note: If those aren't available, check out these wooden ladybugs.) You need exactly 55 ladybugs if you want to do the numbers and counters 1-10.
For Zoey and other kids who are already comfortable with symbol and quantity, I'll typically use the cards and counters for hands-on addition, subtraction, and other mathematical operations. (See some of my other themed posts for ideas.) But this month, I used the odd and even labels.
I added a new page to the ladybug pack with odd and even labels that can be used with the cards and counters to reinforce the actual words "odd" and "even." It's a great way to be sure readers understand the concept of odd and even.
Zoey doesn't need work counting objects to 10, but we did the activity to reinforce the words odd and even and for her to clearly see them in print. Zoey didn't mind counting out all the ladybugs because she was so in love with the wooden ladybugs. She put them all close to the cards because they were "baby ladybugs" trying to get to their mothers. The ones with ladybug "friends" got "even" word cards, and the ones left over got "odd" word cards.
Zoey liked the word cards, too, so she put the ladybugs for each number on the appropriate word card "cars" when she finished with the first activity. I don't mind pretend play at home with an activity like this when she already accomplished the activity's purpose and is using the materials nicely, which she was. It was actually very cute, and she focused on this for a long time.
The Grouchy Ladybug Book with Sequencing and Matching Cards
Free Printable: Grouchy Ladybug Sequencing Cards from Preschool Post
Free Printable: The Grouchy Ladybug Printables from Homeschool Share
I love Eric Carle books! They're not Montessori-style books with photographs or realistic animals, but they're classics … and they're amazing books. The Grouchy Ladybug is a great book for introducing reading time on an analog clock.
I just printed and cut out the cards from the two printables. Then I drew the correct clock arrows on each clock face and placed them in a Montessori Services basket. Older children could draw their own clock arrows.
The child can retell the story, matching the animal photographs to the animals and clock faces.
Free Ladybug Printables for Preschoolers-First Graders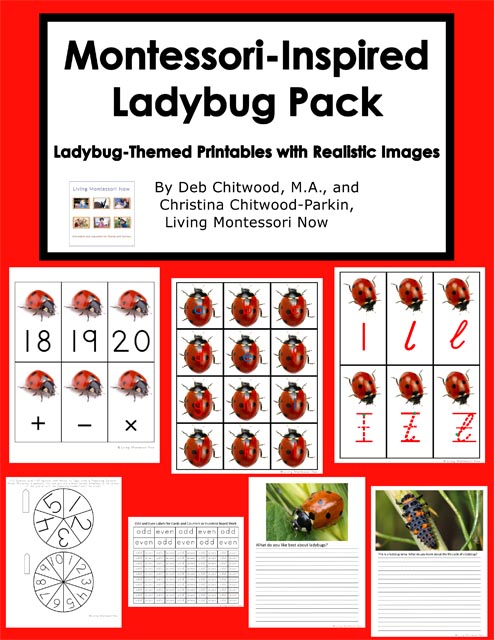 Montessori-Inspired Ladybug Pack for DIY Cards and Counters, Number or Letter Matching, Number or Letter Basket, Bead Bar Work, Hands-on Math Operations, Number or Letter Salt/Sand Writing Tray, Letter Tracing, DIY Movable Alphabet, and Creative Writing (subscriber freebie, so just sign up for my email to get the link and password – or check your inbox if you're already a subscriber)
More Insect Activities and Resources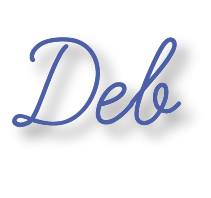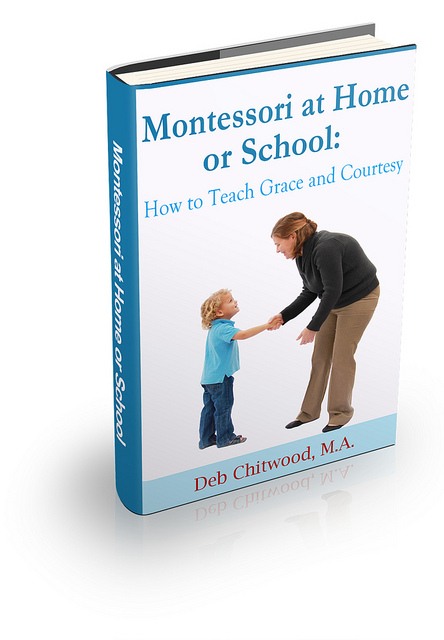 Learn more about my eBook Montessori at Home or School: How to. Teach Grace and Courtesy!
The Montessori at Home! eBook and Montessori at Home! eBook and Materials Bundle are AMAZING resources! You can learn more about them here. Buy them in the Living Montessori Now shop.
If this is your first time visiting Living Montessori Now, welcome! If you haven't already, please join us on our Living Montessori Now Facebook page where you'll find a Free Printable of the Day and lots of inspiration and ideas for parenting and teaching! And please follow me on Pinterest (lots of Montessori-, holiday-, and theme-related boards), Instagram, and YouTube. You can find me on bloglovin' and Twitter, too.
And don't forget one of the best ways to follow me by signing up for my weekly newsletter. You'll receive some awesome freebies in the process!