"…success [in music education] is bound up with the need for the production of plenty of music around the child, so that there is set up an environment calculated to develop musical sense and intelligence." Maria Montessori, The Discovery of the Child
Tomorrow is World Music Day! Music – including music appreciation – is an important part of Montessori education. You'll find some Montessori thoughts about young children and music in this article by Mario Montessori, Maria Montessori's son: Man's Spiritual Expressions: Language and Music, 1956. Music: an Integral Part of the Montessori Curriculum from North American Montessori Center also tells more about Montessori music education.
Although young children enjoy simple rhythmic activities and many kinds of musical expression, I want to focus on music appreciation today because of a special printable offered for a dime for World Music Day. I also want to provide some musical appreciation materials for families studying instruments in various parts of the world during a world travel unit study or while using Montessori continent boxes this summer.
While many aspects of music can be taught from a young age, children can enjoy classical music – along with many other types of music – when they're exposed to it early. Here are some printables and Montessori-inspired activities that can help your child and/or students develop an appreciation of music.
Montessori-Inspired Music Appreciation Printables
Free Instrument Nomenclature Cards from Counting Coconuts
Free Instruments Nomenclature Cards from The Helpful Garden
Free World Instrument Cards (9 cards) from Montessori Materials
Musical Composers 3-Part Card and Control Chart, musical instrument materials, and piano nomenclature cards available for purchase from Montessori Print Shop
Music Materials available for purchase from Montessori for Everyone
Free educational materials from Maestro Classics (Maestro Classics offers classical music for children that fits well with Montessori education, and their educational materials give extension activities for specific classical pieces.)
Montessori-Inspired Music Appreciation Activities
Montessori-inspired activities for Peter and the Wolf, Montessori-inspired activities for Swan Lake, and Montessori-Inspired Music Appreciation: Carnival of the Animals (my activity posts using Music Maestro and Montessori Print Shop materials)
Music Series Round-Up, including Musical Instruments & the Symphony Orchestra from Montessori for Everyone
Age 3-6+ – Montessori Music from Michael Olaf
Music and Art Shelves from Counting Coconuts
Montessori music posts, including Music Listening from What DID We Do All Day?
Say 'Cello' and Visions of Sugarplums (The Nutcracker) from To the Lesson!
Introduction to Music for Preschoolers from Carrots Are Orange
Music Lessons from Just Montessori
Montessori and Music: Composers from Very Montessori
Music posts from The Adventures of Bear
Composers, Instruments of the Orchestra, and Who Am I? Cards and Composers Definition Stages from Montessori By Hand
Music History Lesson from Montessori Mom
Composer Posters and Picture Cards from The Homeschool Den
AMC Montessori Summer 2012 Hands-On Creative Lesson Planning Newsletter Part 4 (with music appreciation activities)
UPDATE: Here are my latest Montessori-inspired music appreciation posts – Montessori-Inspired Music Appreciation, Montessori-Inspired Music Appreciation: Peter and the Wolf, Montessori-Inspired Music Appreciation: Swan Lake, Montessori-Inspired Music Appreciation: Carnival of the Animals, Montessori-Inspired Activities for the Tortoise and the Hare, Montessori-Inspired Activities for Mike Mulligan and His Steam Shovel, Montessori-Inspired Music Appreciation: The Sorcerer's Apprentice, Montessori-Inspired Activities for Casey at the Bat, Montessori-Inspired Music Appreciation: My Name is Handel, Montessori-Inspired Music Unit Studies, Free Nutcracker Printables and Montessori-Inspired Nutcracker Activities, Kids' Music Activities Pinterest Board
Montessori Monday Link-Up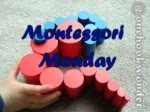 If you have some Montessori activity trays/lessons to share, please link up below. It's fine to link up a post from your archives – and you may link up anytime during the week! Your post may be any Montessori-inspired activity or idea. It doesn't need to be related to my Montessori Monday post. I publish the Montessori Monday post and linky at 6:00 a.m. EST each Monday and keep the linky open throughout the week.
Please place the Montessori Monday button (using the code from the right sidebar) in your post or put a link back to this post. Let's use Montessori Monday to gain inspiration/ideas and to encourage each other! If you would leave an encouraging comment on the post linked up ahead of you (along with any other posts you're drawn to), that would be awesome! Thanks for participating!
Note: If you have a giveaway on your blog, please add it to my Family-Friendly Giveaway Linky Page! If you enjoy entering giveaways, you'll always find some great giveaways there! 🙂



Linked to The Mommy Club Resources and Solutions at Milk and Cuddles and Crystal & Co. , The Weekly Kid's Co-op, Fun Stuff Fridays, Living Life Intentionally Linky Party, Preschool Corner, Saturday Show & Tell, Show-and-Share Saturday, The Sunday Showcase at Mom to 2 Posh Lil Divas and Classified: Mom, Link & Learn, Discover and Explore: Music and Instruments.