I may not be the norm in this, but I love word study activities! I'm so excited to be able to tell you about some Montessori word study printables that will help preschoolers through elementary-age kids develop a love of word study, too!
Disclosure: I've been given a copy of the Every Star Is Different materials to review. My opinions are honest and my own. This post contains affiliate links (at no cost to you).
I've loved all the materials I've used from Every Star Is Different. The Montessori Word Study printables are great additions to any Montessori classroom or homeschool program. You can get the individual printable packs by going through this link.
The printables are designed to be compatible with the Montessori early elementary curriculum. They can be adapted for preschoolers who can read and upper elementary as well.
My 6-year-old granddaughter, Zoey, and I have just started using the printables and love them already. We even have an activity that my toddler grandkids (Sophia at 23 months and Caleb at 20 months) had fun with, too. There are so, so many more materials that we'll have fun using in the future!
Here are the awesome word study materials available from Every Star Is Different:
Montessori Rhyming Words Printable Pack
Progresses from beginner to advanced rhyming activities
Includes rhyming word families
Encourages students to sound out words
I like to feature a book with lots of rhyming words, like the fun Sheep in a Jeep, along with the rhyming words picture matchup. Thee are many pictures available in the printable, so you can choose however many will be best for your child or classroom.
This even works for toddlers! For toddlers, we just used the pictures along with objects for 2 sets of rhyming words: tape and grape for the first set and goat and boat for the second set. First my daughter, Chrissy, demonstrated the activity to Caleb and Sophia. Here Caleb is matching the objects to the pictures.
Here, Sophia is matching the objects to the pictures. This is a great way to focus on vocabulary, matching, and the concept of rhyming with toddlers.
For Zoey, I had a large number of rhyming pictures and words available.
Montessori Compound Words Printable Pack
Montessori Compound Words Printable Pack:
Introduces compound words as math equations
Discusses the difference between compound words and root words combined with prefixes and suffixes
Prompts students to identify compound words while reading
I love the book Once There Was a Bull…(frog)! It's a silly and memorable introduction to compound words. It's available inexpensively used.
Zoey loved the compound word equations! First, she read all the equations. Then she placed each of the pictures inside the corresponding boxes. She was very careful to get them aligned correctly!
Then she added each of the control equations, checking each equation and placing the control below her completed equation.
Here, Zoey is completing her check of compound word equations. (For example, the equation she's checking says "sand + box = sandbox".)⁠ This was a fun activity that made compound words very clear!
Montessori Suffixes Printable Pack
Compares root words and suffixes to a train with box car
Introduces multiple words with suffixes and their definitions
Demonstrates students can change the whole meaning of a word by changing suffixes
Montessori Prefixes Printable Pack
Introduces concepts using true to life images
Includes prefix definitions
Provides multiple root word and prefix match ups
I featured the book If you were a Prefix with the prefix materials. I love to add interest and make concepts clearer with books. The prefix picture sorting cards are in a Montessori cards display box. The prefix definition chart, prefix matchup word strips, and prefix matchup chart are in a 6.5 x 4 x 1″ wooden tray. The prefix matchup charts are great for control of error. There are 3 sets of charts for both definitions and matchups. I just have set 1 out.
Here's a layout using the prefix picture sorting cards.
Montessori Antonyms Printable Pack
Introduces the idea of opposites to students
Helps students expand their antonym pool and apply it to writing
Encourages students to identify vocabulary while reading
Montessori Synonyms Printable Pack
Teaches the concept of synonyms using beautiful true to life matching images.
Encourages the examination of sentences for details
Boosts vocabulary possibilities when writing
Montessori Homophones Printable Pack
Features true to life image clip cards to help students understand homophones
Provides students opportunities to practice homophones together and separate
Includes sentences to enhance understanding of homophones
Montessori Homonyms Printable Pack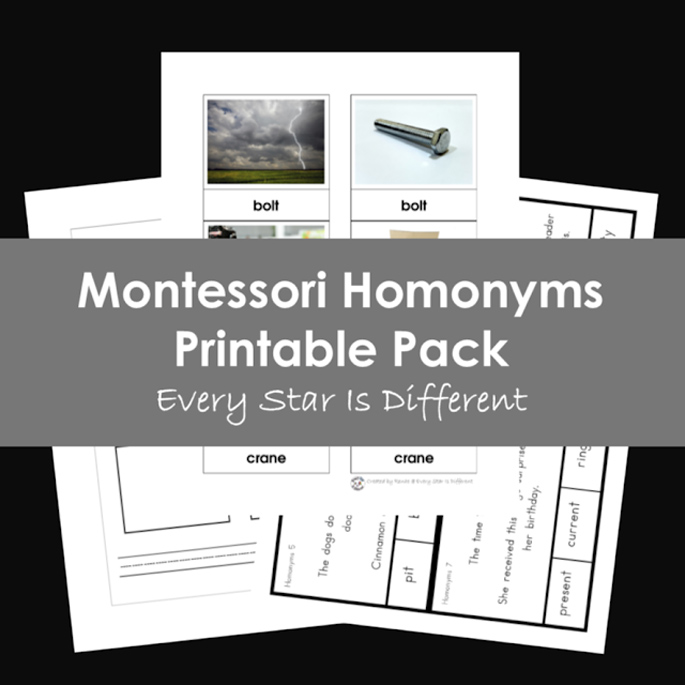 Uses pictures to teach what homonyms are
Includes a drawing activity
Enhances understanding through sentence clip cards
Montessori Homographs Printable Pack
The concept is taught through beautiful true to life images
Encourages read aloud skills
Includes a book activity
Montessori Word Families Printable Pack
Introduces students to the idea that some words can have prefixes and suffixes
Enhances understanding of vocabulary terms.
Encourages creativity exploring word families.
Added: I love that we'll be able to use the word study materials for years!
My Reviews of Montessori Printables from Every Star Is Different
After the gallery has loaded, you can see all my posts with reviews of Every Star Is Different printables. Just click on an image to go to that post!
You can see all my reviews of Every Star Is Different Printables with slightly larger cover images here.
You can see all the products in the Every Star Is Different shop here.
Thanks for being so awesome!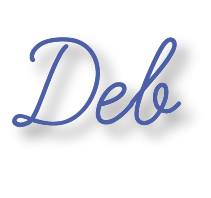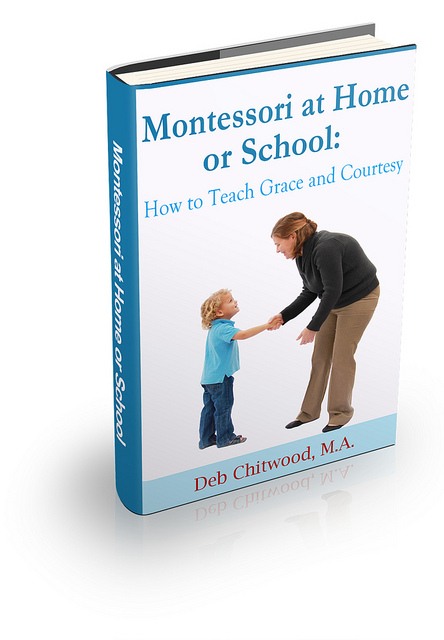 Learn more about my eBook Montessori at Home or School: How to. Teach Grace and Courtesy!
The Montessori at Home! eBook and Montessori at Home! eBook and Materials Bundle are AMAZING resources! You can learn more about them here. Buy them in the Living Montessori Now shop.
If this is your first time visiting Living Montessori Now, welcome! If you haven't already, please join us on our Living Montessori Now Facebook page where you'll find a Free Printable of the Day and lots of inspiration and ideas for parenting and teaching! And please follow me on Pinterest (lots of Montessori-, holiday-, and theme-related boards), and Twitter. You can find me on bloglovin', Instagram, and YouTube, too.
And don't forget one of the best ways to follow me by signing up for my weekly newsletter. You'll receive some awesome freebies in the process!